Environmental, social, and governance (ESG)
Our purpose of Doing It Right® is about setting a direction, believing in what we are doing, and doing it well. We constantly search for the right thing to do for our customers, our employees, our partners, and society. This guides our approach to further integrating ESG principles into our business and culture. We have a long history of prioritizing ESG values, such as quality and safety, inclusion, creative thinking, and integrity.
Setting high standards
AAR is committed to the highest level of safety performance and to meeting or exceeding regulatory requirements while delivering aviation services to our stakeholders.

Safety is part of our DNA, and we continue to focus on developing and implementing effective safety training classes and programs. Our goal is to have a culture that is engaged, proactively reduces risks, and prevents accidents. We couple our culture with our Business Management and Safety Management Systems to improve the safety of flight.
We are proud that AAR has been recognized as the first independent third-party MRO for implementing a safety management system (SMS) in accordance with requirements set forth in the SMS Voluntary Program by the Federal Aviation Administration (FAA), the European Union Aviation Safety Agency (EASA), Transport Canada Civil Aviation (TCCA), and the International Air Transport Association (IATA).

Additionally, AAR received official recognition from the FAA for its corporate SMS and is the first independent third-party MRO organization to implement this system.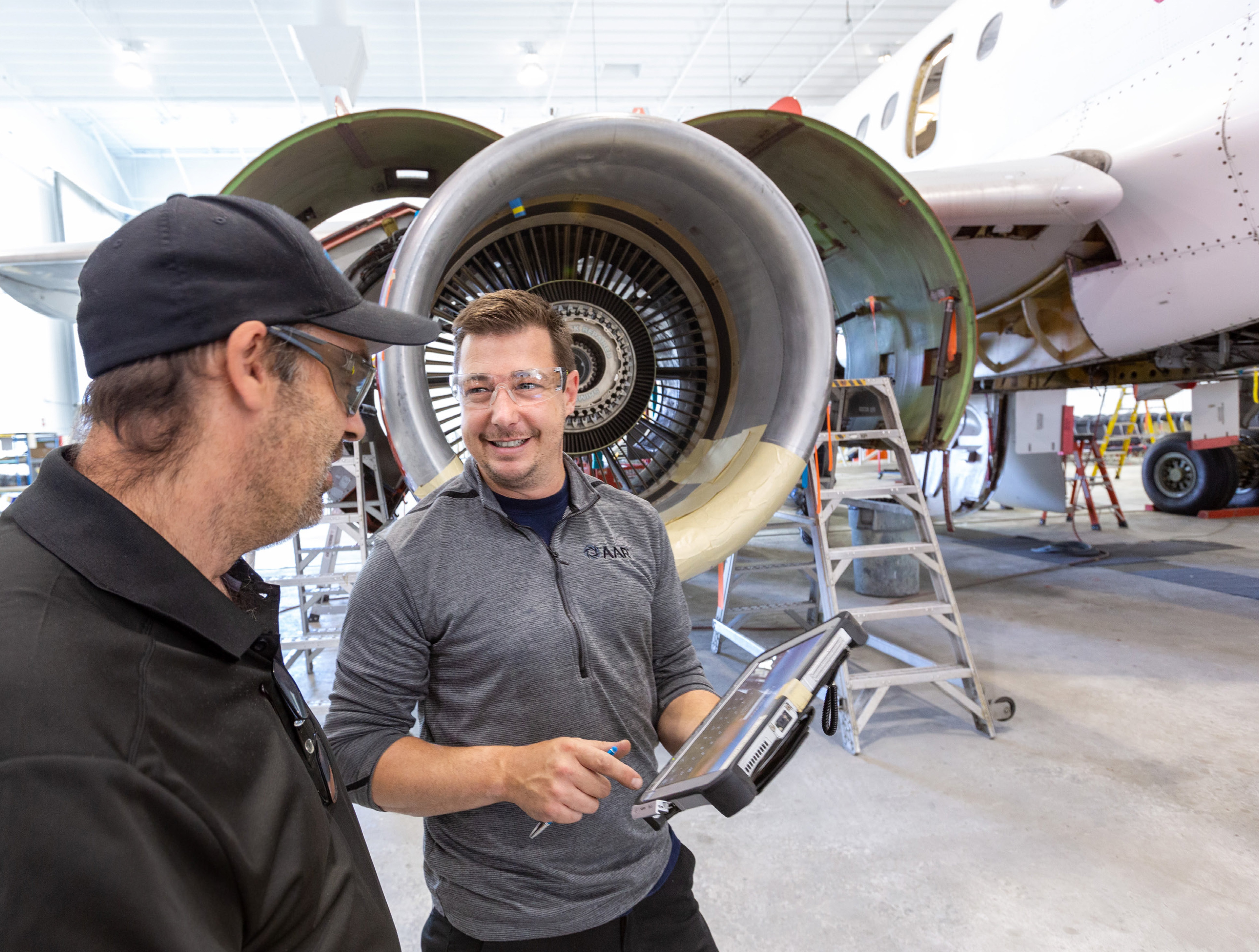 Empowering people
We continually invest in making AAR a great place to work and are committed to creating an enriching environment for our approximately 4,500 employees. As reflected in our values, we have a long-standing commitment to embracing diversity and fostering a culture of inclusion. Read more about our diversity and inclusion projects.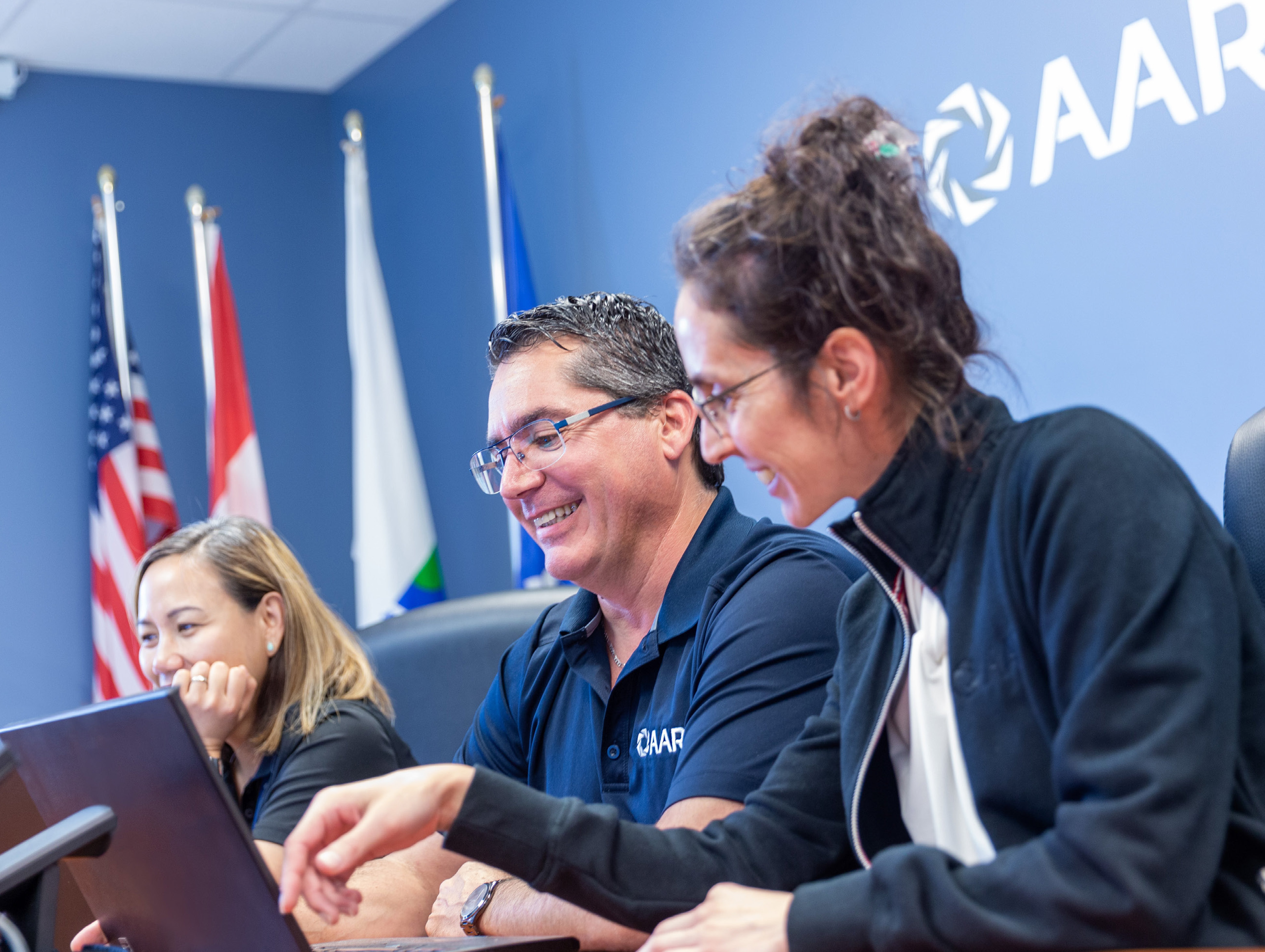 Governing with integrity
Our Doing It Right® culture is based on a foundation of strong corporate governance and values that emphasize not only ethics and compliance, but also integrity. We strive to establish, implement, and maintain an effective governance structure that is agile and responsive to business needs and evolving best practices, and to set high ethical standards. Our Code of Conduct promotes these standards and guides our business practices and procedures. We require annual Code of Conduct training for all employees and include Code of Conduct training in the new employee onboarding process.
"I am proud of the many aspects of diversity we have in so many areas of our Company. We are intentional about expanding our network of suppliers to drive innovation and enhance the resiliency of our supply chain. Supplier diversity benefits suppliers and customers alike." – John M. Holmes, Chairman, President and CEO
Protecting the planet
At the core of our business is the responsible use of resources within the aviation industry. We repair aircraft and equipment, extending not only the lifespan of airplanes but the useful life of their parts. We believe our business model is intrinsically linked to preventing and reducing waste, and helps reduce the carbon footprint of our customers and the aviation industry as a whole.
We continue to identify and evaluate opportunities to create a cleaner, safer workplace, and to adopt sustainable practices to reduce our environmental impact. Recent actions include:
Electricity
Havelock, North Carolina
Initiated replacement of office lighting and ballasts with LED products
Set thermostats to low-impact operation during off hours
Trois-Rivières, Québec
Nearing completion of replacing hangar lighting with LED lighting
Provided two electric car-charging stations for employees, with plans to add more and renew the existing stations to be even more efficient
Wood Dale, Illinois
In the process of replacing six HVAC systems with more efficient units
Water
Cadillac, Michigan
Saved on water and sewer usage after installing a chiller to recirculate chilled water
Miami, Florida
Continued to wash airplanes with recycled water
Continued to treat wastewater from our aircraft to reduce metals before discharge to the sanitary sewer
Trois-Rivières,Québec
Installed filtered water fountains and provided reusable water bottles to reduce use of plastic bottles
Air
Trois-Rivières, Québec
Partnered with local airport to reduce carbon emissions
Windsor, Ontario
Replaced an aging diesel fuel–powered tug with an electric tug (named Plug 'N' Tug through a naming competition) to move aircraft, reducing emissions and improving air quality
Waste
Garden City, New York
Installed new hazardous material storage tanks for fuel, which are equipped with an advanced monitoring system to detect overfill and leaks
Havelock, North Carolina
Utilized Green for Life for our waste and recycling efforts, including all paper and cardboard materials
Oklahoma City, Oklahoma
Continued to build on cradle-to-cradle approach for recycling hydrocarbons, metal, and paper, while advancing other waste reduction efforts
Trois-Rivières, Québec
Incorporated a solvent recycling system that reduces purchasing and disposing of chemicals.
Recycled everyday products including cardboard, paper, and plastic
Windsor, Ontario
Recycled batteries for uses big and small, from forklifts to headlamps to flashlights
In the process of purchasing a paint-separating machine to reduce waste and make it safer; the machine will allow AAR to reuse acetone and dispose of waste as a solid instead of a liquid, reducing possible spills and leakages