AAR to Showcase Growing Global Presence & New Look at Paris Air Show
Aftermarket leader to grow relationships at one of the world's premier aviation exhibitions
PARIS, June 19, 2017 – AAR, an independent provider of aviation services to airlines, OEMs, MROs and governments worldwide, arrives at the Paris Air Show (Booth #3A-132 in the U.S. Pavilion) with a new look and growing market reach across Europe, Latin America, Asia, Africa and the Middle East.
Integrated Supply Chain Solutions
Over the past year, AAR has significantly expanded its power-by-the-hour (PBH) and flight-hour component support of commercial airlines outside North America, growing from 12 to 32 programs, with more than 1,300 aircraft under contract. AAR's new international sales team based in Gatwick, England has signed new PBH contracts in every major region—Europe (Enter Air, ASL, Small Planet ); Middle East (flydubai); Australasia (Air New Zealand); Asia (IBEX); Africa (fastjet); and South America (Viva LatinAmerica group).
The supply chain innovator has enhanced its services to customers with new warehouses in Dubai World Central (DWC) Airport and Shanghai, as well as an enhanced online customer portal that allows real-time visibility on parts. AAR's award-winning component repair shops network in New York and Amsterdam has expanded to Australasia under a new partnership with Air New Zealand component repair. And AAR's offerings include component repair cycle management through its subsidiary Airinmar.
Parts Supply
Already one of the industry's leading parts suppliers, AAR added to its portfolio of new and serviceable parts by acquiring ACLAS' ATR parts inventory and establishing a new ATR sales office in West End, UK and will be meeting with ATR operators at the show.
OEM Aftermarket Services
To help OEMs better access the commercial and government parts aftermarket, AAR has formednew partnerships with OEMs including Milton, Eaton, UTC and Crane that can now leverage AAR's global sales network and online parts store to increase revenues, as well as gain expertise in working with DLA, ITAR and government contracts.
Government Services & Products
AAR has been a trusted partner of government and military customers worldwide and is uniquely suited to apply commercial best practices to help operate more efficiently, particularly in times of reduced budgets. AAR Airlift Group provides world-class expeditionary services for government, operating a diverse fleet of rotary-wing and regional turboprop aircraft to transport passengers and cargo in Afghanistan and Africa, and execute search and rescue (SAR) off the Falkland Islands. AAR Mobility Systems also supports military operations by designing, manufacturing, and integrating its industry-leading containers and shelters, which can also be used by medical, emergency and other commercial industries.
To better reflect its industry-leading services and worldwide presence, AAR is debuting a new logo and brand strategy. AAR continues to provide "best-in-class" solutions and remains nimble because it has a strong balance sheet but is not part of an airline or OEM. The solutions integrator plans to raise awareness of its unique ability to be a single supplier for operators seeking components, airframe, landing gear and component repair, as well as component inventory support - providing total support from nose to tail.
Visit AAR at Booth #3A-132 in the American Pavilion to speak with our subject matter experts, who represent every facet of AAR's diverse global operations including:
John Holmes, President & Chief Operating Officer
Chris Jessup, Chief Commercial Officer
Sal Marino, Vice President of Parts Supply
Eric Young, Vice President, OEM Aftermarket Solutions
Deepak Sharma, President, Integrated Supply Chain Solutions – Commercial
Paul Richardson, Vice President, EMEA
Cheryle Jackson, Senior Vice President, Global Development & President, Africa
Rahul Shah, Senior Vice President, Middle East
Pascal Parant, Vice President, France

About AAR
AAR is a global aftermarket solutions company that employs more than 6,000 people in over 20 countries. Based in Wood Dale, Illinois, AAR supports commercial aviation and government customers through two operating segments: Aviation Services and Expeditionary Services. AAR's Aviation Services include inventory management; parts supply; OEM parts distribution; aircraft maintenance, repair and overhaul; engineering services and component repair. AAR's Expeditionary Services include airlift operations; mobility systems; and command and control centers in support of military and humanitarian missions. More information can be found at www.aarcorp.com.
Media contact: Daniela Pietsch, Vice President Corporate Marketing & Communications, at editor@aarcorp.com or +1 630-227-5100.
This press release contains certain statements relating to future results, which are forward-looking statements as that term is defined in the Private Securities Litigation Reform Act of 1995. These forward-looking statements are based on beliefs of Company management, as well as assumptions and estimates based on information currently available to the Company, and are subject to certain risks and uncertainties that could cause actual results to differ materially from historical results or those anticipated, including those factors discussed under Item 1A, entitled "Risk Factors", included in the Company's Form 10-K for the fiscal year ended May 31, 2018. Should one or more of these risks or uncertainties materialize adversely, or should underlying assumptions or estimates prove incorrect, actual results may vary materially from those described. These events and uncertainties are difficult or impossible to predict accurately and many are beyond the Company's control. The Company assumes no obligation to update any forward-looking statements to reflect events or circumstances after the date of such statements or to reflect the occurrence of anticipated or unanticipated events. For additional information, see the comments included in AAR's filings with the Securities and Exchange Commission.
Related news
See all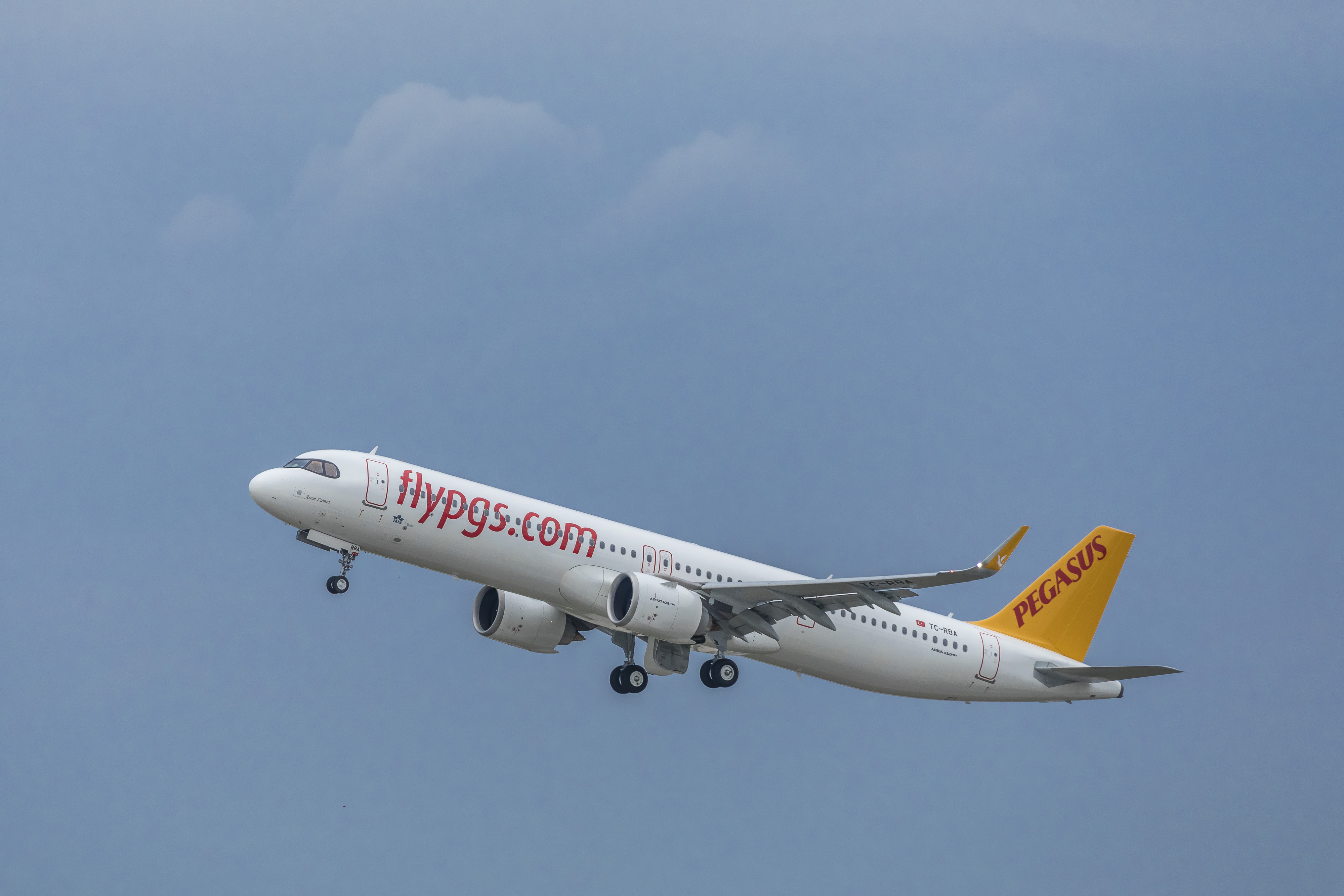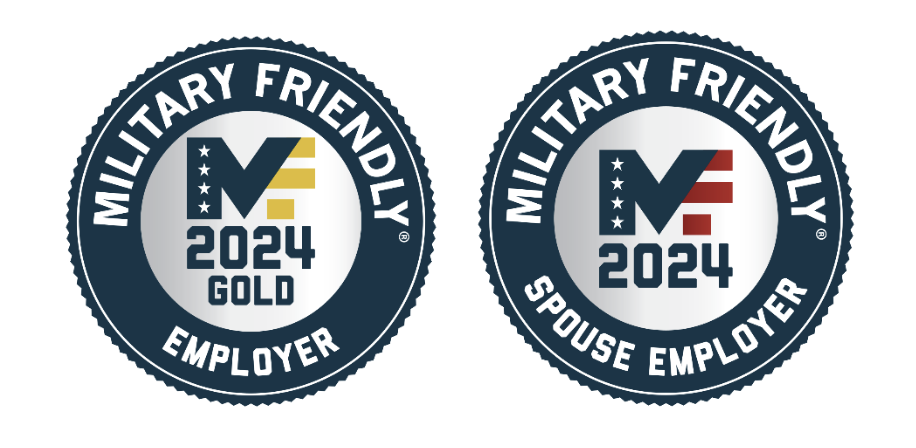 November 15, 2023
AAR earns 2024 Military Friendly® Employer designations
Wood Dale, Illinois — AAR CORP. (NYSE: AIR), a leading provider of aviation services to commercial and government operators, MROs, and OEMs, announced today that it has earned the 2024 Military Friendly® Gold Employer and Military Friendly® Spouse Employer designations.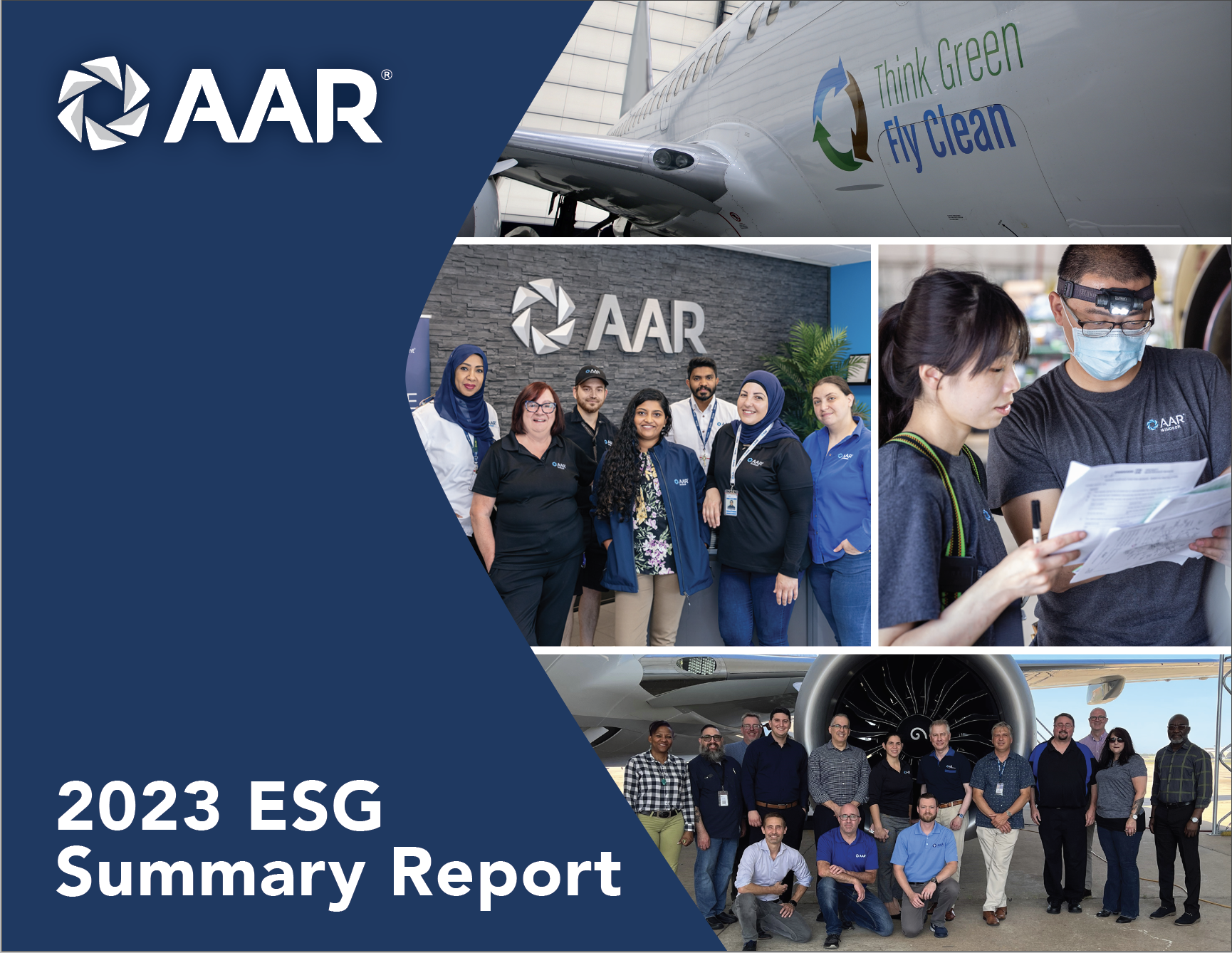 November 08, 2023
AAR launches 2023 ESG Summary Report
Wood Dale, Illinois — AAR CORP. (NYSE: AIR), a leading provider of aviation services to commercial and government operators, MROs, and OEMs, launched its 2023 ESG Summary Report, demonstrating the Company's continued efforts to focus on the environment, drive social responsibility, and govern with integrity.