AAR to Showcase Integrated Aviation Services at MRO Americas Conference 2015
Company executives to share expertise on panels about supply chain solutions, use of technology for real-time tracking, and managing flexible MRO capacity
MIAMI BEACH, April 9, 2015 – AAR (NYSE: AIR), one of the largest independent providers of aircraft MRO and supply chain solutions to the world's airlines, will exhibit its comprehensive support offerings for wide- and narrow-body aircraft at
Aviation Week's 2015 MRO Americas Conference April 14 -16.
Executives from AAR's MRO, global supply chain and enterprise IT groups will be available at Booth No. 3809. Reporters and editors are encouraged to stop by or schedule interviews in advance to learn more about AAR's future outlook – having recently sold off its cargo business to focus on its industry-leading aviation services. AAR executives can speak to the Company's expanded MRO capabilities to accommodate the return of wide-body work to the U.S.; new offering of its propriety IT solutions that enable real-time tracking and monitoring of aircraft maintenance projects; and its fast-growing single-source, comprehensive offerings for commercial airlines, including rotable component pools, repairs, and inventory management.
In addition to showcasing its new integrated approach, AAR will be celebrating its 60-year history as an independent aviation services provider with a champagne toast at its MRO Americas booth on Wednesday, April 15 at 4:30 p.m., and invites all of its customers to attend.
MRO
AAR was voted No. 1 airframe MRO provider in the Americas and is the third-largest independent provider in the world. Through its 1MRO network, AAR streamlines its airframe, technical and engineering capabilities across six aircraft repair stations in the U.S., delivering the same high-quality service at each. AAR recently completed construction of a new hangar capable of servicing an A380 at its facility in Lake Charles, La. AAR's MRO network also includes facilities in in Miami, Indianapolis, Oklahoma City, Duluth, Minn., and Hot Springs, Ark., with plans to open in Rockford, Ill., a seventh facility to serve next-generation aircraft in 2016.
Supply Chain
AAR's Supply Chain group ranks among the world's leading providers of aftermarket aircraft parts and inventory support, as well as a distributor of OEM new components. AAR maintains an extensive inventory of airframe and engine parts, and is one of the largest providers of power-by-the-hour component support including inventory and repair management options. It supports rotable parts programs through a global network of warehouses so customers get the right part at the right time. The Company also offers high-value engineering and manufacturing support services to supplement customers' internal capabilities.
The recent integration of its MRO and supply chain groups under its Aviation Services segment will allow AAR to provide customers even more value with a full menu of offerings from one company, as well as bundled solutions for total support.
"AAR's unmatched ability to invest in assets while staying nimble enough to provide custom solutions that meet customers' needs gives us a competitive advantage that we are proud to highlight at this year's MRO Americas conference," said John Holmes, AAR's Chief Operating Officer, Aviation Services.
AAR executives will be participating in the following panel discussions.
On April 14:
Ken Hein, Vice President of Operations for Supply Chain, will participate on a panel at 11:30 a.m., "Partnerships and Incentives," exploring proven methods on collaborating and communicating incentives across the MRO value chain for a win-win situation.
Chris Jessup, Vice President of Global Sales for Aviation Services, will participate on the panel at 12:45 p.m., "Flexible Capacity - A Requirement for MRO Survival," on how to meet the demands of shifting maintenance requirements and airline schedules.
On April 15:
Kevin Larson, Vice President and Chief Information Officer, will moderate "CIO Speaks Out" at 11:15 a.m. In this popular session, IT executives will examine the innovations and technologies of a demand-driven aviation MRO network, including industry trends in technology, how business priorities are shaping IT direction, ROI drivers, cyber security and more.
Mark deRu, Vice President, Supply Chain IT, will speak on the panel "Systems Integration – Tying It All Together," at 12:30 p.m. This session will showcase lessons learned during MRO application and implementation, and methodologies assimilating new technology in the workplace.
About AAR
AAR is a global aftermarket solutions company that employs more than 6,000 people in over 20 countries. Based in Wood Dale, Illinois, AAR supports commercial aviation and government customers through two operating segments: Aviation Services and Expeditionary Services. AAR's Aviation Services include inventory management; parts supply; OEM parts distribution; aircraft maintenance, repair and overhaul; engineering services and component repair. AAR's Expeditionary Services include airlift operations; mobility systems; and command and control centers in support of military and humanitarian missions. More information can be found at www.aarcorp.com.
Media contact: Daniela Pietsch, Vice President Corporate Marketing & Communications, at editor@aarcorp.com or +1 630-227-5100.
This press release contains certain statements relating to future results, which are forward-looking statements as that term is defined in the Private Securities Litigation Reform Act of 1995. These forward-looking statements are based on beliefs of Company management, as well as assumptions and estimates based on information currently available to the Company, and are subject to certain risks and uncertainties that could cause actual results to differ materially from historical results or those anticipated, including those factors discussed under Item 1A, entitled "Risk Factors", included in the Company's Form 10-K for the fiscal year ended May 31, 2018. Should one or more of these risks or uncertainties materialize adversely, or should underlying assumptions or estimates prove incorrect, actual results may vary materially from those described. These events and uncertainties are difficult or impossible to predict accurately and many are beyond the Company's control. The Company assumes no obligation to update any forward-looking statements to reflect events or circumstances after the date of such statements or to reflect the occurrence of anticipated or unanticipated events. For additional information, see the comments included in AAR's filings with the Securities and Exchange Commission.
Related news
See all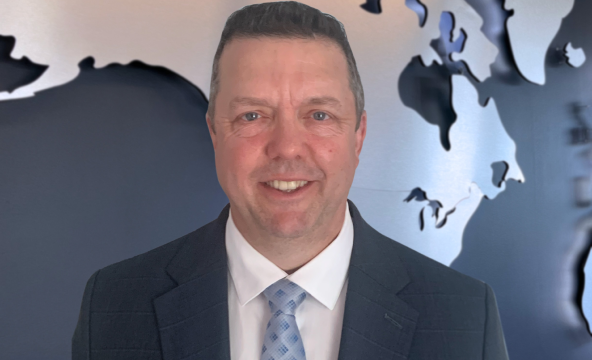 May 22, 2023
AAR names Tom Hoferer Vice President of Repair and Engineering Services
Wood Dale, Illinois — AAR CORP. (NYSE: AIR), a leading provider of aviation services to commercial and government operators, MROs, and OEMs, announced today it has selected Tom Hoferer as its Vice President of Repair and Engineering Services. In this role Hoferer will oversee the Company's Maintenance, Repair, and Overhaul (MRO) Services and Mobility Systems operations.