AAR to Exhibit Aftermarket Aviation Services at the Paris Air Show
PARIS, June 11, 2015 – AAR, an industry-leading provider of aviation services to commercial airlines, OEMs and governments will showcase its supply chain and component repair operations based in Europe, as well as its award-winning MRO network, at the Paris Air Show 2015, June 15-21.
AAR in Europe
AAR's business unit leaders will be available at Booth #3-A118 to speak to reporters and customers about the Company's global supply chain network, including the newest hub in Brussels that provides AOG and power-by-the-hour support for airlines in Europe, the Middle East and Africa, such as Kenya Airways. AAR's supply chain services also include a component repair facility in Amsterdam and Airinmar, an inventory support and repair management subsidiary based in the UK.
AAR Turns 60
AAR's booth will highlight milestones achieved over the company's 60-year history, which is a rarity in the cyclical aviation industry. And the Company has enjoyed stability at the top with just two CEOs since incorporating in 1955. The current Chairman & CEO David P. Storch will be on hand to speak with reporters about AAR's future outlook – having recently finalized the sale of its cargo business to focus on its industry-leading aviation services. Media is encouraged to schedule interviews in advance. AAR will also celebrate its 60th anniversary with the customers who made it happen during an offsite reception Tuesday evening.
"We are proud of the industry-leading aviation solutions that we have designed to help our customers save time and money and enable them to focus on what they do best – moving passengers and cargo," said David P. Storch, Chairman and CEO, AAR CORP. "This year at the Paris Air Show, we will be celebrating our history with customers and look forward to partnering with new customers as they recognize the value AAR can bring to their maintenance and supply operations."
Global Presence, Local Focus
AAR's other supply chain hubs are located in Chicago, Singapore, Amsterdam and Hannover, Germany. The Company serves customers in more than 100 countries from sales and service locations in the U.S., UK, France, Germany, Singapore, Japan, China, Australia and Abu Dhabi.
AAR executives in charge of operations in the U.S., Paris, UK and Singapore will be in attendance:
David P. Storch, Chairman and CEO of AAR CORP.
John Holmes, Chief Operating Officer of Aviation Services
Dany Kleiman, Group Vice President, Repair and Engineering
Chris Jessup, Chief Commercial Officer
Rahul Shah, Senior Vice President, Strategic Growth and Business Development, Asia Pacific, Middle East & Africa (Singapore)
Peter Chapman, Special Advisor to Aviation Services
Cheryle Jackson, Vice President, International Corporate Development & Government Relations
Pascal Parant, Vice President of Marketing (Paris)
Pat Aherne, Senior Vice President, Aircraft Sales & Leasing (UK)
Paul Richardson, Vice President of Sales, Europe, Middle East & Africa (UK)
Supply Chain Services
AAR's Supply Chain group ranks among the world's leading providers of aftermarket aircraft parts and inventory support, as well as a distributor of new OEM components. AAR maintains an extensive inventory of airframe and engine parts, and is one of the largest providers of power-by-the-hour component support including inventory and repair management options through its Airinmar subsidiary in the UK. It supports parts programs through a global network of warehouses so customers get the right part at the right time. AAR also offers a range of high-value, cost-effective engineering services to augment customers' technical requirements, specializing in interior, structural and systems modifications; avionics upgrades; and supply chain and maintenance program engineering solutions.AAR has extensive experience with supply chain and component repair management for commercial airline and government fleets with more than 800 aircraft under management.
Best Airframe MRO Provider Worldwide
AAR's 1MRO network is the largest independent MRO in the Americas and the third-largest worldwide. Its network of 6 facilities recently won the ATE&M award for Best Airframe MRO Provider Worldwide for the third time in the last four years.
Expeditionary Airlift
AAR Airlift provides expeditionary airlift services in support of contingency operations worldwide. The Company provides passenger and cargo transport, aeromedical services, night vision operations, search and rescue (SAR), airdrop and other special mission services. AAR Airlift's fleet of fixed-wing and rotary-wing aircraft serves the U.S. DoD in Afghanistan, Africa and the Western Pacific.
Media contact at the booth: Kathleen Cantillon, Vice President of Strategic Communications, Kathleen.Cantillon@aarcorp.com | +1 630-227-2081 or email: editor@aarcorp.com.
About AAR
AAR is a global aftermarket solutions company that employs more than 6,000 people in over 20 countries. Based in Wood Dale, Illinois, AAR supports commercial aviation and government customers through two operating segments: Aviation Services and Expeditionary Services. AAR's Aviation Services include inventory management; parts supply; OEM parts distribution; aircraft maintenance, repair and overhaul; engineering services and component repair. AAR's Expeditionary Services include airlift operations; mobility systems; and command and control centers in support of military and humanitarian missions. More information can be found at www.aarcorp.com.
Media contact: Daniela Pietsch, Vice President Corporate Marketing & Communications, at editor@aarcorp.com or +1 630-227-5100.
This press release contains certain statements relating to future results, which are forward-looking statements as that term is defined in the Private Securities Litigation Reform Act of 1995. These forward-looking statements are based on beliefs of Company management, as well as assumptions and estimates based on information currently available to the Company, and are subject to certain risks and uncertainties that could cause actual results to differ materially from historical results or those anticipated, including those factors discussed under Item 1A, entitled "Risk Factors", included in the Company's Form 10-K for the fiscal year ended May 31, 2018. Should one or more of these risks or uncertainties materialize adversely, or should underlying assumptions or estimates prove incorrect, actual results may vary materially from those described. These events and uncertainties are difficult or impossible to predict accurately and many are beyond the Company's control. The Company assumes no obligation to update any forward-looking statements to reflect events or circumstances after the date of such statements or to reflect the occurrence of anticipated or unanticipated events. For additional information, see the comments included in AAR's filings with the Securities and Exchange Commission.
Related news
See all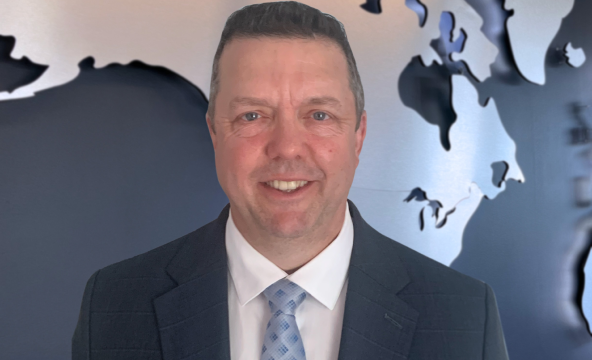 May 22, 2023
AAR names Tom Hoferer Vice President of Repair and Engineering Services
Wood Dale, Illinois — AAR CORP. (NYSE: AIR), a leading provider of aviation services to commercial and government operators, MROs, and OEMs, announced today it has selected Tom Hoferer as its Vice President of Repair and Engineering Services. In this role Hoferer will oversee the Company's Maintenance, Repair, and Overhaul (MRO) Services and Mobility Systems operations.