AAR Signs Contract for Two AW189 Helicopters for Falkland Islands Search & Rescue Requirement
AgustaWestland will also provide ten years support and training services
Delivery by year end
Important commercial SAR programme for the UK MOD
Finmeccanica – AgustaWestland announced today it has signed a contract with AAR Airlift Group to provide two next generation AW189 helicopters to perform search and rescue in the Falkland Islands.
AAR Airlift Group has been awarded a contract by the UK Ministry of Defence to deliver search and rescue services in the Falkland Islands, and will use a mix of two AW189s and two Sikorsky S-61s. The MOD's existing fleet is comprised of Sea Kings and commercial S-61s.The AW189s will be delivered by the end of 2015 to support crew and personnel familiarization and will achieve operational readiness in spring 2016. AgustaWestland will also supply a comprehensive 10 year package of support and training services.
The event marks a further significant success for the new generation AW189 helicopter for search and rescue requirements, following the contract for 11 aircraft of the same type to meet the UK search and rescue requirement replacing the iconic Sea King helicopters. An established US Department of Defense service provider, AAR Airlift Group is now awarded its first contract by a European defence ministry. The AW189s will be operated out of Mount Pleasant Airfield on the South Atlantic islands with flight operations support from subcontractor British International Helicopters (BIH), performing missions in harsh environmental conditions where modern design and enhanced capabilities, extended range/endurance, and latest safety standards are key to demanding SAR mission accomplishment.
"We are leveraging AAR Airlift Group's experience in austere environments to expand into the offshore SAR market," said David P. Storch, Chairman & CEO, AAR Corp. "Based on our expertise in civil and military aviation operations, AAR has developed an advanced commercial SAR program that will be well served by the state-of-the-art AW-189."
The AW189 8.3 / 8.6 ton, the latest helicopter produced and equipped by AgustaWestland to undertake SAR missions, builds on the Company's heritage and expertise in search and rescue worldwide. The AW189, designed to meet the growing demand for modern long range, high capacity and endurance capabilities, has become the outright market leader in its class with over 130 units sold including framework contracts and options. The AW189 helicopter is part of AgustaWestland's family of new generation helicopters that also includes the all new AW169 and the best selling AW139. These helicopters all possess the same high-performance flight characteristics and safety features whilst sharing a common cockpit design philosophy. This approach facilitates synergies for operators of these models in areas such as training, maintenance and support. The AW189 benefits from a modern maintenance and training approach, advanced HUMS (Health Usage Maintenance System) technology and an ever expanding global network of service and spare parts centres.
Background Information:
AAR Airlift Group provides expeditionary airlift services in support of contingency operations worldwide. The Company provides passenger and cargo transport, aeromedical services, night vision operations, search and rescue (SAR), airdrop and other special mission services. AAR Airlift Group's fleet of fixed-wing and rotary-wing aircraft serves defense customers in Afghanistan, Africa, the Mediterranean, Indian Ocean and the Western Pacific.
AAR Corp. is a leading provider of diverse products and services to the worldwide commercial aviation and government/defense industries. AAR combines a close-to-the-customer business model with a broad range of capabilities to help customers operate more efficiently, lower costs and maintain high levels of quality, safety and service.
About AAR
AAR is a global aftermarket solutions company that employs more than 6,000 people in over 20 countries. Based in Wood Dale, Illinois, AAR supports commercial aviation and government customers through two operating segments: Aviation Services and Expeditionary Services. AAR's Aviation Services include inventory management; parts supply; OEM parts distribution; aircraft maintenance, repair and overhaul; engineering services and component repair. AAR's Expeditionary Services include airlift operations; mobility systems; and command and control centers in support of military and humanitarian missions. More information can be found at www.aarcorp.com.
Media contact: Daniela Pietsch, Vice President Corporate Marketing & Communications, at editor@aarcorp.com or +1 630-227-5100.
This press release contains certain statements relating to future results, which are forward-looking statements as that term is defined in the Private Securities Litigation Reform Act of 1995. These forward-looking statements are based on beliefs of Company management, as well as assumptions and estimates based on information currently available to the Company, and are subject to certain risks and uncertainties that could cause actual results to differ materially from historical results or those anticipated, including those factors discussed under Item 1A, entitled "Risk Factors", included in the Company's Form 10-K for the fiscal year ended May 31, 2018. Should one or more of these risks or uncertainties materialize adversely, or should underlying assumptions or estimates prove incorrect, actual results may vary materially from those described. These events and uncertainties are difficult or impossible to predict accurately and many are beyond the Company's control. The Company assumes no obligation to update any forward-looking statements to reflect events or circumstances after the date of such statements or to reflect the occurrence of anticipated or unanticipated events. For additional information, see the comments included in AAR's filings with the Securities and Exchange Commission.
Related news
See all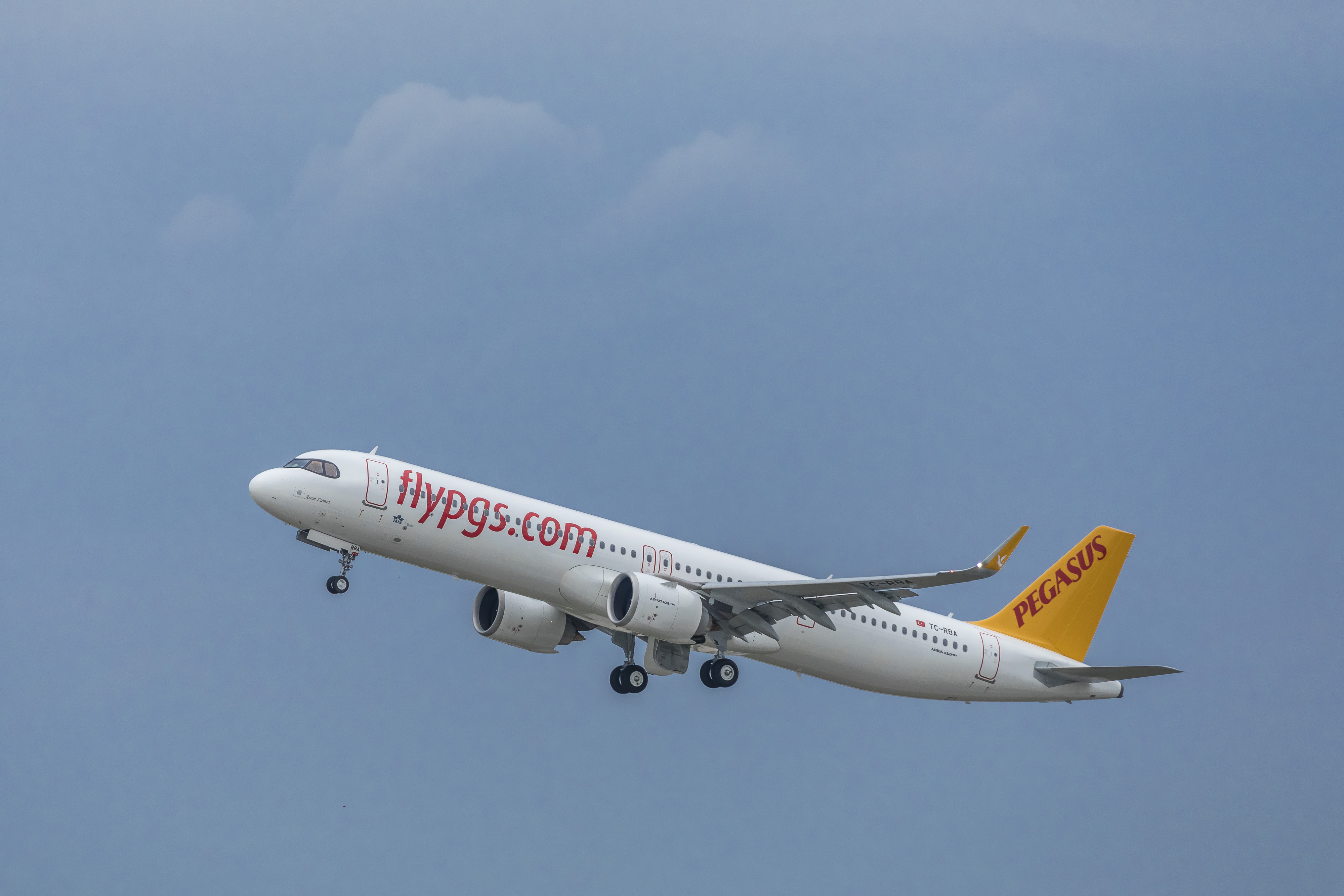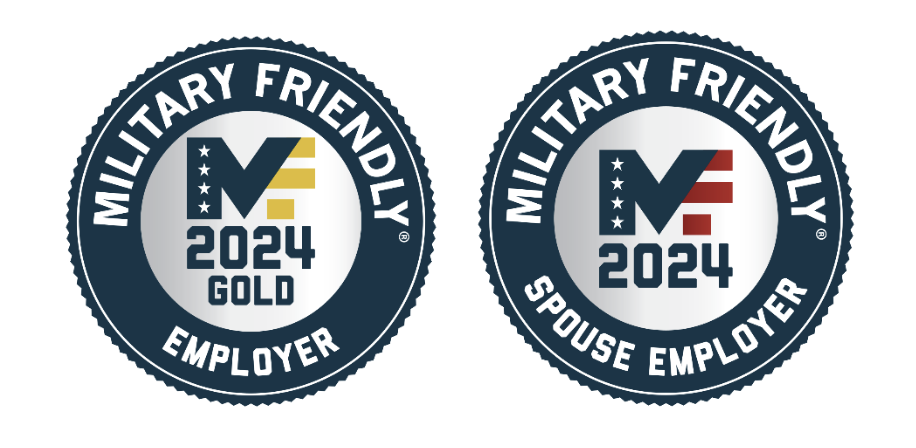 November 15, 2023
AAR earns 2024 Military Friendly® Employer designations
Wood Dale, Illinois — AAR CORP. (NYSE: AIR), a leading provider of aviation services to commercial and government operators, MROs, and OEMs, announced today that it has earned the 2024 Military Friendly® Gold Employer and Military Friendly® Spouse Employer designations.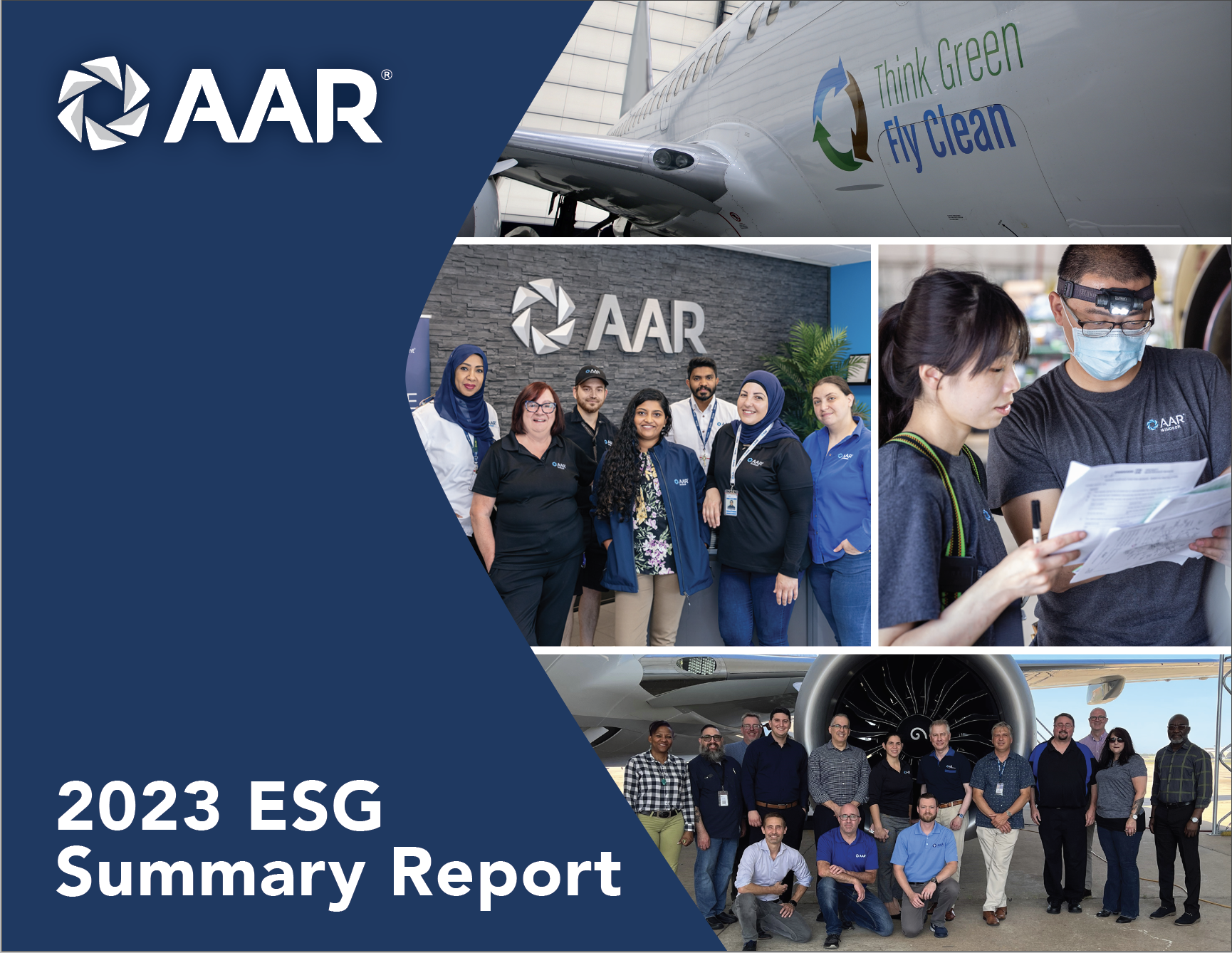 November 08, 2023
AAR launches 2023 ESG Summary Report
Wood Dale, Illinois — AAR CORP. (NYSE: AIR), a leading provider of aviation services to commercial and government operators, MROs, and OEMs, launched its 2023 ESG Summary Report, demonstrating the Company's continued efforts to focus on the environment, drive social responsibility, and govern with integrity.