AAR Provides Update on Strategic Positioning and Reports Fourth Quarter and Fiscal Year 2015 Results
Update on Strategic Positioning
Upon completing the Company's annual strategic review process and assessing its markets, AAR entered fiscal 2015 with a mission to narrow its focus and excel as an independent services provider to the global commercial aviation, government and defense markets. AAR is executing this strategy by selling manufacturing businesses and taking actions to strengthen the long-term growth potential of its industry-leading services businesses. When complete, this transformation will simplify the Company's operations, significantly strengthen its balance sheet, and improve its return to shareholders.
The financial highlights associated with the strategic positioning to date are as follows:
Received gross proceeds of $710.9 million and recorded a pre-tax gain of $198.6 million related to the sale of the Telair Cargo Group, with potential for $35.0 million of additional proceeds by December 31, 2015 subject to certain conditions.
Reclassified our Precision Systems Manufacturing operations as discontinued operations and recorded pre-tax goodwill and other impairment charges of $57.5 million.
Recorded approximately $74.5 million of pre-tax charges including costs associated with streamlining our operations and converting underperforming or excess assets to cash. Approximately $62.0 million are attributable to the Aviation Services segment, $8.0 million to Expeditionary services and $4.5 million to corporate restructuring.
Repurchased 4.7 million shares returning approximately $150.0 million of value to AAR shareholders.
Redeemed $325.0 million of 7.25% notes reducing annual interest expense by $24.0 million and incurred a pre-tax make whole premium of $45.6 million. Additionally, terminated early a swap and cap arrangement and recorded a $2.0 million charge, saving approximately $1.1 million in interest per year.
"It was a very pivotal year for AAR," said David P. Storch, Chairman and Chief Executive Officer of AAR CORP. "In the first phase of our transformation, we sold the Telair Cargo Group and placed our Precision Systems Manufacturing up for sale. In phase two, we used a portion of the proceeds from the sale to redeem our High-Yield notes and return capital to shareholders by repurchasing shares. In phase three, we took actions to streamline our remaining businesses, including realigning the Company's corporate office and reducing expenses. In phase four, we will be using our strengthened balance sheet to grow our remaining industry-leading services businesses."
Fourth Quarter FY15 Results
The results in the fourth quarter Fiscal Year 2015 were impacted by costs incurred to streamline operations and convert underperforming assets to cash as reported above. The Company's fourth quarter consolidated sales were $415.8 million, with net income of $15.1 million or $0.36 per share. For the fourth quarter of the prior fiscal year, the Company reported sales of $420.6 million, net income of $17.1 million and earnings per share of $0.43. Full Fiscal Year 2015 consolidated net income was $10.2 million or $0.24 per share, as compared to $72.9 million or $1.83 per share reported in Fiscal Year 2014.
The Company reported a loss from continuing operations of $82.1 million in the fourth quarter, or $2.12 per diluted share reflecting the impact of the actions reported above. Income from continuing operations was $14.9 million or $0.37 per diluted share in the prior year period.
Sales in the Aviation Services segment increased 17.1% to $360.2 million in the quarter largely due to higher sales at the Company's supply chain business. Sales in the Expeditionary Services segment declined 50.8% to $55.6 million, due to fewer aircraft flying positions at airlift, as well as lower volumes of mobility systems.
During the fourth quarter and in June and July of calendar 2015, the Company announced the following new contracts:
Support contract with Bell Helicopter Textron Inc. to provide warehouse and logistics services in support of upgrading T64 engines.
Component repair and inventory management contract with the UK Ministry of Defence to become the exclusive manager and single source of all repairs, spare parts and unit exchanges for its fleet of BAe146 aircraft.
A five-year contract with the Afghan Air Force to sustain a fleet of C-130H aircraft.
An MOU for establishing a joint venture with South African Airways Technical to assist the airline with improving efficiencies and driving sales growth for their third party maintenance activity.
Fourth quarter sales to commercial customers represented 65% of consolidated sales as compared to 57% of consolidated sales in the same period last year, with government and defense customers representing the balance. In Aviation Services, sales to commercial customers represented 74% of segment sales.
Net interest expense in the fourth quarter was $7.1 million, which included $2.0 million for termination of derivatives, as compared to $5.8 million net interest expense in prior year quarter. As a result of the actions described above, the Company reduced its net indebtedness by $445.5 million since June 1, 2014 and expects to have significantly reduced interest expense of less than $9.0 million for the next fiscal year.
Fiscal Year 2015 Results
Full year Fiscal 2015 loss from continuing operations was $54.5 million, or $1.40 per share reflecting the actions reported above. Income from continuing operations was $67.2 million or $1.68 per share in Fiscal Year 2014
Full Fiscal Year 2015 consolidated sales were $1.6 billion driven by strong growth in supply chain sales, Aviation Services segment sales increased by 6.9% to $1.3 billion. As a result of weak airlift results and lower volumes in mobility systems sales, Expeditionary Services segment sales declined 42% to $278.2 million. The Company ended fiscal 2015 with 19 contracted aircraft positions flying in its airlift operations and is currently at 21.
Sales to commercial customers represented 63% of consolidated sales as compared to 55% of consolidated sales in the same period last year, with government and defense customers representing the balance. In Aviation Services, sales to commercial customers represented 75% of segment sales.
Financial Position
AAR's financial position improved over the course of Fiscal Year 2015. The Company started with a total debt to total capital ratio of 38.8% on May 31, 2014 and ended the year with a ratio of 15.4% (net debt ratio of 10.5% taking into consideration the Company's May 31, 2015 cash position). The Company now has $434.6 million cash and available liquidity under its revolving credit facility.
Looking Forward
AAR recently announced the closure of its MRO facility in Hot Springs, Ark. in August and the transfer of its regional aircraft maintenance operations to the Company's Oklahoma City facility to optimize its 1MRO network capacity and improve operating margins. The consolidation should contribute to improved performance at the Company's MRO business in Fiscal 2016. Growth in supply chain is expected to continue. Airlift will experience lower results over the next several quarters as it looks to add flying positions and incurs startup costs on new programs, which are expected to begin generating revenues in the Company's fiscal fourth quarter. Once implementation of new contract wins materialize in the airlift business, the Company expects overall improvement in financial and operating leverage.
Storch concluded, "We have taken numerous actions during Fiscal Year 2015 to position the Company for future growth. We are focused on growing our industry-leading Aviation and Expeditionary Service businesses as we are confident in our prospects to provide customers with a "best-in-class" value proposition. Our balance sheet is very strong and the Company is more nimble, which will allow us to invest, expand our leadership positions, and take advantage of opportunities to grow the business."
Conference Call Information
AAR will hold its quarterly conference call at 7:30 a.m. CDT on July 14, 2015. The conference call can be accessed by calling 866-802-4322 from inside the U.S. or 703-639-1319 from outside the U.S. A replay of the conference call will be available by calling 888-266-2081 from inside the U.S. or 703-925-2533 from outside the U.S. (access code 1623126). The replay will be available from 12:00 p.m. CDT on July 14, 2015, until 11:59 p.m. CDT on July 21, 2015.
Contact: John Fortson, Vice President, Chief Financial Officer | (630) 227-2075. john.fortson@aarcorp.com
About AAR
AAR is a global aftermarket solutions company that employs more than 6,000 people in over 20 countries. Based in Wood Dale, Illinois, AAR supports commercial aviation and government customers through two operating segments: Aviation Services and Expeditionary Services. AAR's Aviation Services include inventory management; parts supply; OEM parts distribution; aircraft maintenance, repair and overhaul; engineering services and component repair. AAR's Expeditionary Services include airlift operations; mobility systems; and command and control centers in support of military and humanitarian missions. More information can be found at www.aarcorp.com.
Media contact: Daniela Pietsch, Vice President Corporate Marketing & Communications, at editor@aarcorp.com or +1 630-227-5100.
This press release contains certain statements relating to future results, which are forward-looking statements as that term is defined in the Private Securities Litigation Reform Act of 1995. These forward-looking statements are based on beliefs of Company management, as well as assumptions and estimates based on information currently available to the Company, and are subject to certain risks and uncertainties that could cause actual results to differ materially from historical results or those anticipated, including those factors discussed under Item 1A, entitled "Risk Factors", included in the Company's Form 10-K for the fiscal year ended May 31, 2018. Should one or more of these risks or uncertainties materialize adversely, or should underlying assumptions or estimates prove incorrect, actual results may vary materially from those described. These events and uncertainties are difficult or impossible to predict accurately and many are beyond the Company's control. The Company assumes no obligation to update any forward-looking statements to reflect events or circumstances after the date of such statements or to reflect the occurrence of anticipated or unanticipated events. For additional information, see the comments included in AAR's filings with the Securities and Exchange Commission.
Related news
See all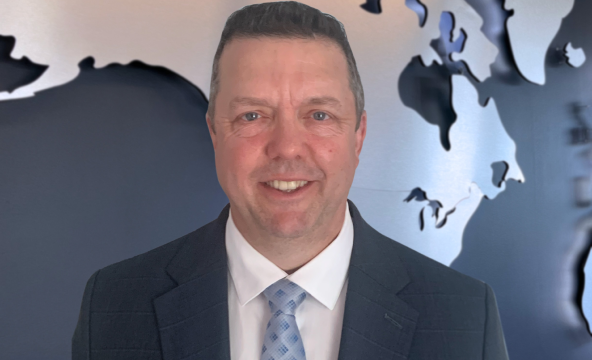 May 22, 2023
AAR names Tom Hoferer Vice President of Repair and Engineering Services
Wood Dale, Illinois — AAR CORP. (NYSE: AIR), a leading provider of aviation services to commercial and government operators, MROs, and OEMs, announced today it has selected Tom Hoferer as its Vice President of Repair and Engineering Services. In this role Hoferer will oversee the Company's Maintenance, Repair, and Overhaul (MRO) Services and Mobility Systems operations.