RFD Agreement with International MRO Provider, AAR, to Bring Jobs, Offer Expanded Service Capabilities to Rockford
Support from Gov. Quinn, Sen. Durbin Integral to Region's Economic Growth
Rockford, Ill. – The Greater Rockford Airport Authority (GRAA), in partnership with Governor Quinn, Senator Durbin, Congresswoman Bustos, Winnebago County Chairman Christensen and City of Rockford Mayor Morrissey, have reached an agreement with the largest nationwide and third-largest global Maintenance, Repair and Overhaul (MRO) provider, AAR, to build a new hangar facility on Chicago Rockford International Airport (RFD) grounds. The facility is expected to employ up to 500 people and expands RFD's current service offerings and infrastructure.
"This is a monumental economic and workforce development opportunity for RFD and the Rockford region," said Mike Dunn, RFD Executive Director. "We look forward to welcoming AAR and are thankful for the collaboration and tireless dedication of Governor Quinn, Senator Durbin and all of the partners to make this a reality."
The 200,000 square-foot MRO facility is expected to operate 24 hours a day and will service next-generation, wide-body aircraft. This will allow for scheduled and unscheduled service, modification and overhaul and all other support services for military and commercial aircraft.
"I'm proud to have played a role in the negotiations that took place over the course of the past two years between AAR, a first-class Illinois employer, and GRAA, an airport authority determined to take full advantage of its own untapped potential," said U.S. Senator Dick Durbin. "With this exciting agreement and the new pipeline of aviation mechanics from Rock Valley College, the local landscape has changed. Rockford has solidified its role as an aerospace giant and businesses across the nation should take notice. Today's announcement of a new state-of-the-art facility that will soon employ 500 people in good paying jobs is only the beginning. The future is bright at RFD."
Final agreements between the partners are currently being developed and construction is expected to begin within the year. The hangar will be located in the mid-field area of the airport and is slated to open in Spring 2016.
Rockford joins AAR's four other MRO locations (Duluth, MN; Oklahoma City, OK; Miami, FL; Indianapolis, IN) and was ultimately selected due to the region's centralized location, cost-effectiveness, availability of specialized technical talent and RFD development amenability. The region's noted supply chain, which supports all aspects of the aerospace cluster including manufacturing, assembly, maintenance, repair and overhaul services, warehousing and distribution, was also a strong factor.
The agreement is a result of more than two and a half years of discussions and follows a series of aerospace wins for the region including the current construction of a second campus for Woodward and the recent ground-breaking of the 40,000 square-foot Rock Valley College (RVC) Aviation Maintenance Technology Program (AMT) facility. Graduates of the AMT Program are prepared to join the ranks of the more than 6,500 workers in the region who are currently employed in aerospace companies like AAR, assuming positions as airline or general aviation engine and/or airframe mechanics.
Governor Pat Quinn today announced a $15 million state investment to build the new maintenance facility. The announcement is part of Governor Quinn's agenda to create jobs and drive Illinois' economy forward.
"Today's announcement means Rockford's economy is taking off," Governor Quinn said. "We welcome AAR to Rockford and are pleased to be a partner with them in creating hundreds of jobs that will be in demand for many years to come."
The $15 million investment comes through the Illinois Department of Commerce and Economic Opportunity (DCEO) from Build Illinois bond funds. DCEO also will provide the company with a $600,000 investment toward training costs for its new employees.
The Rockford region is a prominent hub of aerospace activity and aviation manufacturing in the country, boasting more than 200 industry specific companies and is home to a critical mass of tier-one aerospace suppliers including Boeing, Woodward, UTC Aerospace Systems and GE Aviation. The region's rate of manufacturing employment is twice the national average, with more than 80 percent of Illinois' aerospace workforce located in the Rockford area.
About RFD
RFD is served by two airlines: Allegiant and Apple Vacations. RFD serves eight non-stop destinations including Cancun, Ft. Myers, Las Vegas, Orlando, Phoenix, Puerto Vallarta, Punta Cana and Tampa Bay. RFD was named the 2013 Primary Airport of the Year by the Illinois Department of Transportation's Division of Aeronautics. For more information on RFD and flight schedules, visit FlyRFD.com.
About AAR
AAR is a global aftermarket solutions company that employs more than 6,000 people in over 20 countries. Based in Wood Dale, Illinois, AAR supports commercial aviation and government customers through two operating segments: Aviation Services and Expeditionary Services. AAR's Aviation Services include inventory management; parts supply; OEM parts distribution; aircraft maintenance, repair and overhaul; engineering services and component repair. AAR's Expeditionary Services include airlift operations; mobility systems; and command and control centers in support of military and humanitarian missions. More information can be found at www.aarcorp.com.


Contact
Media Team
Corporate Marketing & Communications
+1-630-227-5100
Editor@aarcorp.com



This press release contains certain statements relating to future results, which are forward-looking statements as that term is defined in the Private Securities Litigation Reform Act of 1995. These forward-looking statements are based on beliefs of Company management, as well as assumptions and estimates based on information currently available to the Company, and are subject to certain risks and uncertainties that could cause actual results to differ materially from historical results or those anticipated, including those factors discussed under Item 1A, entitled "Risk Factors", included in the Company's Form 10-K for the fiscal year ended May 31, 2018. Should one or more of these risks or uncertainties materialize adversely, or should underlying assumptions or estimates prove incorrect, actual results may vary materially from those described. These events and uncertainties are difficult or impossible to predict accurately and many are beyond the Company's control. The Company assumes no obligation to update any forward-looking statements to reflect events or circumstances after the date of such statements or to reflect the occurrence of anticipated or unanticipated events. For additional information, see the comments included in AAR's filings with the Securities and Exchange Commission.
Related news
See all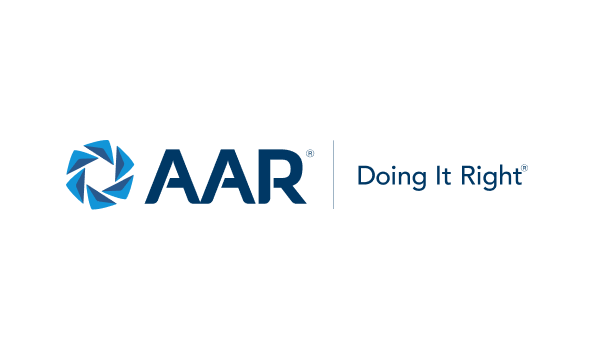 September 26, 2023
AAR reports first quarter fiscal year 2024 results
Wood Dale, Illinois, September 26, 2023 — AAR CORP. (NYSE: AIR), a leading provider of aviation services to commercial and government operators, MROs, and OEMs, today reported first quarter fiscal year 2024 consolidated sales of $549.7 million and loss from continuing operations of $0.6 million, or $0.02 per diluted share. For the first quarter of the prior year, the Company reported sales of $446.3 million and income from continuing operations of $22.3 million, or $0.62 per diluted share.
September 12, 2023
AAR to announce first quarter fiscal year 2024 results on September 26, 2023
Wood Dale, Illinois — AAR CORP. (NYSE: AIR), a leading provider of aviation services to commercial and government operators, MROs, and OEMs, today announced that it will release financial results for its first quarter of fiscal year 2024, ended August 31, 2023, after the close of the New York Stock Exchange trading session on Tuesday, September 26, 2023.