Cargolux Launches New Line of ULDs from Telair
CAEROe ® transport system raises the bar for durability, fuel savings and capacity
MIESBACH, Germany – Cargolux International, S.A., the leading global all-cargo carrier, has agreed to become the first airline to carry AAR Telair's full line of CAEROe ®advanced lightweight unit load devices (ULDs). Cargolux launched the CAEROe ®product portfolio of cookie-sheet pallets, heavy gross weight pallets and fuel-saving containers on its Boeing 747s.
The CAEROe ® (pronounced zero) pallets are up to 40 percent lighter than standard all-aluminum ULDs, but can carry more weight without additional strapping to the aircraft structure. The pallets are certified for strapping the maximum allowable load against the pallet edge rails by using tie-downs. This way, fewer ULD positions get blocked during heavy weight transport, providing extra space and, potentially, more revenue for the customer.
"The increased capacity in addition to the fuel and time savings we gain from using the CAEROe ® product line will provide the airline with a unique opportunity to increase mainstream revenue while at the same time save money and reduce carbon emissions," said Onno Pietersma, Sr. Vice President, Maintenance and Engineering, for Cargolux. "We're excited to launch this new product line for Telair and believe CAEROe ® will set a new industry standard."
By working closely with the industry on cargo loading systems, Telair's designers observed mismatches between ULDs and aircraft capabilities. The CAEROe ® product line addresses common challenges. The containers can be flat-packed for delivery and on-site assembly, and have doors that swing open the full width of the ULD for easier loading.
The ULD base plate, which is extra thick and stiff, has been tested by Telair to last up to three times longer than the industry standard base plates. A similar base plate is used for the CAEROe ® containers in the lower deck cargo compartments. It is also coupled with Telair's state-of-the-art automated RFID ULD Tracking Technology for a Complete Cargo Competence ®solution.
"Add durability to the fuel savings and increased capacity they are getting, and CAEROe ®customers will enjoy a competitive advantage," said Thomas Huber, Containerized Cargo System and CAEROe ®Product Line Manager for Telair International. "We appreciate the faith Cargolux has put in Telair's products and services and are pleased to have this product launched by the world's No. 1 ranked freight carrier."
Telair International has served the airline industry for more than 40 years, with facilities on three continents. AAR, through its Telair and Nordisk subsidiaries, is the premier designer and manufacturer of advanced cargo loading systems, ULDs and aftermarket services for the world's airlines and OEMS. The CAEROe ® is the latest in a full line of AAR main-deck and lower-deck cargo systems and a variety of baggage-handling and freight solutions that enable increased payload and fuel savings. More information on Telair can be found at www.telair.com
About Cargolux Airlines International, S.A.
Cargolux, based in Luxembourg, is Europe's leading all-cargo airline with a modern and efficient fleet composed of nine Boeing 747-8 freighters and 11 Boeing 747-400 freighters. The Cargolux worldwide network covers over 90 destinations, 60 of which are served on scheduled all-cargo flights. The company has more than 85 offices in over 50 countries and offers an extensive global trucking network to more than 250 destinations, as well as charter and aircraft maintenance services. Cargolux employs more than 1,600 worldwide. Contact: Martine Scheuren, Director Corporate Communications at martine.scheuren@cargolux.com| +352 4211 3204.
About AAR
AAR is a global aftermarket solutions company that employs more than 6,000 people in over 20 countries. Based in Wood Dale, Illinois, AAR supports commercial aviation and government customers through two operating segments: Aviation Services and Expeditionary Services. AAR's Aviation Services include inventory management; parts supply; OEM parts distribution; aircraft maintenance, repair and overhaul; engineering services and component repair. AAR's Expeditionary Services include airlift operations; mobility systems; and command and control centers in support of military and humanitarian missions. More information can be found at www.aarcorp.com.


Contact
Media Team
Corporate Marketing & Communications
+1-630-227-5100
Editor@aarcorp.com



This press release contains certain statements relating to future results, which are forward-looking statements as that term is defined in the Private Securities Litigation Reform Act of 1995. These forward-looking statements are based on beliefs of Company management, as well as assumptions and estimates based on information currently available to the Company, and are subject to certain risks and uncertainties that could cause actual results to differ materially from historical results or those anticipated, including those factors discussed under Item 1A, entitled "Risk Factors", included in the Company's Form 10-K for the fiscal year ended May 31, 2018. Should one or more of these risks or uncertainties materialize adversely, or should underlying assumptions or estimates prove incorrect, actual results may vary materially from those described. These events and uncertainties are difficult or impossible to predict accurately and many are beyond the Company's control. The Company assumes no obligation to update any forward-looking statements to reflect events or circumstances after the date of such statements or to reflect the occurrence of anticipated or unanticipated events. For additional information, see the comments included in AAR's filings with the Securities and Exchange Commission.
Related news
See all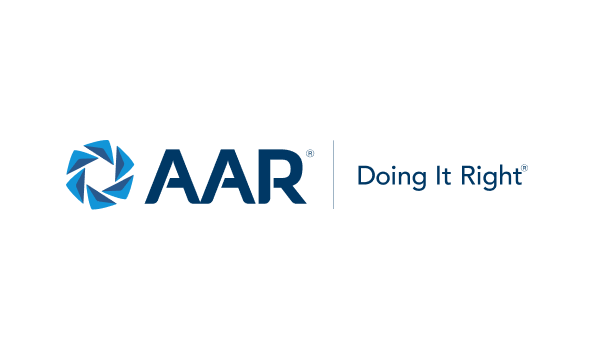 December 07, 2023
AAR to announce second quarter fiscal year 2024 results on December 21, 2023
Wood Dale, Illinois — AAR CORP. (NYSE: AIR), a leading provider of aviation services to commercial and government operators, MROs, and OEMs, today announced that it will release financial results for its second quarter of fiscal year 2024, ended November 30, 2023, after the close of the New York Stock Exchange trading session on Thursday, December 21, 2023.