AAR to Showcase Global Capabilities at Singapore Airshow 2014
Customer-focused solutions drive aerospace company's expansion in Asia-Pacific
SINGAPORE – As organizers of the Singapore Airshow roll out the red carpet for the United States as its first ever "feature country," key executives of U.S.-based AAR, a global leader in aviation products and services for commercial and defense customers, will join industry leaders in Asia's aviation hub in search of new business opportunities and expansion partners at Singapore Airshow 2014, Feb. 11-16 at the Changi Exhibition Centre.
AAR is a recognized leader in the areas of aviation supply chain services, aircraft MRO, cargo systems and specialized mobility products. From its global operations AAR serves customers in 110 countries around the world, with international sales making up nearly a quarter of AAR's annual sales.
With support from the U.S. Departments of Commerce and Defense, and branded with the theme "Iconically American," the "feature country" status provides U.S. companies with a unique opportunity to promote their global business segments and capabilities to generate sales leads in the Asia-Pacific region. Key executives from AAR's global headquarters in the U.S., AAR International in Japan, Singapore and Abu Dhabi, and its European subsidiaries Nordisk Aviation Products, Telair International and Airinmar will be on hand (Booth S01) to discuss its full portfolio of products and services, from its parts and supply chain hubs in Singapore and Amsterdam; AAR Engineering Services in Singapore; innovative cargo systems and lightweight, fire-resistant unit load devices made in Europe; and its expansion across Asia, the Middle East and Africa.
AAR has the experience and the talent to meet the needs of customers in different regions and regulatory environments, and is well-positioned to create solutions for the growing commercial sector.
The "feature country" series was created to provide a platform for companies to make strides into the global aerospace market as well as to elevate bilateral trade relations between Singapore and the United States, according to the show's Web site.
"We look forward to the opportunity to showcase our products and services at the Singapore Airshow and appreciate how the show organizers, the U.S. Departments of Commerce and Defense are working together to shine a spotlight on U.S. companies with a growing global presence, such as AAR," said Peter Chapman, Vice Chairman and Co-chief Commercial Officer for AAR CORP. "We view this as a major opportunity to educate potential customers and the media about AAR's capabilities and our winning customer-centric business model."
Besides Chapman, attending AAR executives include John Holmes, Group Vice President, Aviation Supply Chain; Rahul Shah, Senior Vice President and Managing Director of Middle East, Africa and India Operations; Toshifumi Hari, AAR International in Japan; Boon Yang Sim, Nordisk Vice President of Sales, Asia-Pacific; Axel Hauner, President, Telair; and Paul Richardson, Vice President of Sales, AAR Supply Chain, in Singapore.
Media professionals and bloggers are encouraged to stop by AAR's futuristic booth to pick up literature and set up interviews with key executives. Dwayne Foo of AAR International in Singapore will be on site to assist media. AAR officials also will be actively engaged with attendees and trade media via Twitter. Follow @aarcorp.
In recent years, the U.S.-based commercial aviation and defense contractor has increased its global presence through acquisitions and customer-driven solutions, such as its parts supply warehouses in Amsterdam and Singapore, and component repair facility in Germany. AAR designs lightweight transport solutions that save on fuel costs and its advanced cargo loading systems help reduce manpower and the chance of injury. The innovation of AAR businesses led to the first lightweight cargo solution that can contain an onboard fire for six hours of flight. The company procures and leases aircraft and is the largest independent operator of airlift services to the U.S. Department of Defense in Afghanistan.
Other services being presented in Singapore include AAR's inventory management programs; aircraft and engine parts supply operations; parts repair management; aircraft and engine sales and leasing; component repairs; services for landing gear, wheels and brakes; and engineering services. Technology products and solutions will include advanced cargo handling and loading systems; communications systems integration; metals machining; composites manufacturing; and design and engineering services.
About AAR
AAR is a global aftermarket solutions company that employs more than 6,000 people in over 20 countries. Based in Wood Dale, Illinois, AAR supports commercial aviation and government customers through two operating segments: Aviation Services and Expeditionary Services. AAR's Aviation Services include inventory management; parts supply; OEM parts distribution; aircraft maintenance, repair and overhaul; engineering services and component repair. AAR's Expeditionary Services include airlift operations; mobility systems; and command and control centers in support of military and humanitarian missions. More information can be found at www.aarcorp.com.

Contact
Media Team
Corporate Marketing & Communications
+1-630-227-5100
Editor@aarcorp.com



This press release contains certain statements relating to future results, which are forward-looking statements as that term is defined in the Private Securities Litigation Reform Act of 1995. These forward-looking statements are based on beliefs of Company management, as well as assumptions and estimates based on information currently available to the Company, and are subject to certain risks and uncertainties that could cause actual results to differ materially from historical results or those anticipated, including those factors discussed under Item 1A, entitled "Risk Factors", included in the Company's Form 10-K for the fiscal year ended May 31, 2018. Should one or more of these risks or uncertainties materialize adversely, or should underlying assumptions or estimates prove incorrect, actual results may vary materially from those described. These events and uncertainties are difficult or impossible to predict accurately and many are beyond the Company's control. The Company assumes no obligation to update any forward-looking statements to reflect events or circumstances after the date of such statements or to reflect the occurrence of anticipated or unanticipated events. For additional information, see the comments included in AAR's filings with the Securities and Exchange Commission.
Related news
See all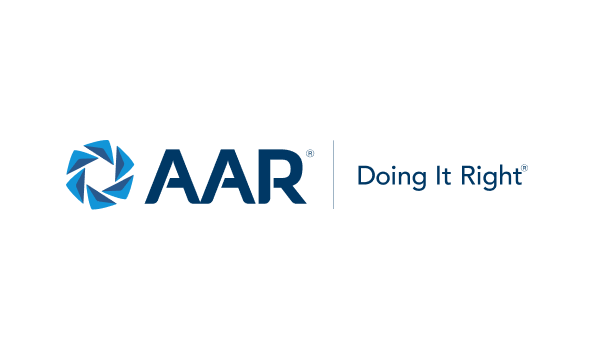 September 26, 2023
AAR reports first quarter fiscal year 2024 results
Wood Dale, Illinois, September 26, 2023 — AAR CORP. (NYSE: AIR), a leading provider of aviation services to commercial and government operators, MROs, and OEMs, today reported first quarter fiscal year 2024 consolidated sales of $549.7 million and loss from continuing operations of $0.6 million, or $0.02 per diluted share. For the first quarter of the prior year, the Company reported sales of $446.3 million and income from continuing operations of $22.3 million, or $0.62 per diluted share.
September 12, 2023
AAR to announce first quarter fiscal year 2024 results on September 26, 2023
Wood Dale, Illinois — AAR CORP. (NYSE: AIR), a leading provider of aviation services to commercial and government operators, MROs, and OEMs, today announced that it will release financial results for its first quarter of fiscal year 2024, ended August 31, 2023, after the close of the New York Stock Exchange trading session on Tuesday, September 26, 2023.