Aerospace CEO Creates $500,000 Venture Capital Fund for Minority Small Businesses
Impressed by firms at A.R.I.S.E. Business Expo, AAR's David P. Storch personally invests in Salem Baptist Church's A.R.I.S.E. 2.0 accelerator program to spur business growth, job creation
CHICAGO – This Saturday, four minority small business owners will find out whether they have been selected to receive a minimum capital investment of $20,000 and a coveted slot in A.R.I.S.E. 2.0, a business accelerator program that connects minority small business owners with capital, mentors and a board of trusted advisors to help grow their enterprises and create jobs.
Thanks to a $500,000 venture capital investment fund created exclusively for A.R.I.S.E. 2.0 by AAR Chairman and CEO David P. Storch, graduates of the A.R.I.S.E. Entrepreneurship Program run by Salem Baptist Church of Chicago will be eligible to compete to enter A.R.I.S.E. 2.0 for the next 10 years.
The first A.R.I.S.E. 2.0 class will be announced this Saturday at the A.R.I.S.E. Business Expo and Career Fair at the House of Hope, 752 E. 114th St. The expo runs from 10 a.m. to 4 p.m., and the winners will be introduced following the keynote address at 10:30 a.m. by broadcast journalist Roland Martin, host of TV One's "News One Now" program.
Storch delivered the keynote address at the A.R.I.S.E. Business Expo last year. He was impressed by the number of high-potential businesses and reached out to A.R.I.S.E. and A.R.I.S.E. 2.0 founder and Executive Director Jamell Meeks to discuss investment opportunities.
"Great things happen in communities when entrepreneurs have an opportunity to grow and prosper," said Storch. "Promising business ventures like the ones I saw at the A.R.I.S.E. expo need capital to kick-start their enterprises. Ideally, in addition to providing capital, I will be able to help these entrepreneurs think through their go to market strategies and help them reach a broader marketplace with their products and services. Small businesses create jobs, and helping them reach the next level of business success will lead to even more economic vitality."
More than 1,100 business owners have graduated from the A.R.I.S.E. Entrepreneurship Program since it launched in 2004. Only A.R.I.S.E. graduates are eligible for A.R.I.S.E. 2.0, and more than 90 applied for the four-month program, which begins in January. Staff from the University of Chicago Booth School of Business' Polsky Center for Entrepreneurship and Innovation, Social Enterprise Initiative, and private investor Tony Wilkins worked with Meeks and Storch's son, Michael, Product Manager, Airbus 320 at AAR, to set the selection criteria, vet the candidates and choose the winners.
"Bringing together community, church and the business world is the perfect storm," said Meeks, wife of Rev. James Meeks, pastor at Salem. "A.R.I.S.E. 2.0 gets them to the next phase, which is capital. To have the business expertise, mentors and the funding will increase their faith to keep moving forward. Those are the kinds of things that have been lacking in the African American community to help sustain businesses through those first critical five years."
A.R.I.S.E. 2.0 targets businesses that are poised to improve the economic health of the community; generate a return on investment to help sustain the venture capital fund; and serve as role models, mentors and benefactors to subsequent A.R.I.S.E. graduates and the community at large.
"We were thrilled to help bring this initiative together. Part of our mission is to foster venture creation, and we are eager to help business owners within the community by connecting them with experienced entrepreneurs and investors who know their industry and can provide informative counsel based on their own successful track records," said Robert Gertner, Joel F. Gemunder professor of strategy and finance, deputy dean, and co-faculty director of the Social Enterprise Initiative.
For news about A.R.I.S.E. and A.R.I.S.E. 2.0, go to the Salem Baptist Church Web site at www.sbcoc.org.
About AAR
AAR is a global aftermarket solutions company that employs more than 6,000 people in over 20 countries. Based in Wood Dale, Illinois, AAR supports commercial aviation and government customers through two operating segments: Aviation Services and Expeditionary Services. AAR's Aviation Services include inventory management; parts supply; OEM parts distribution; aircraft maintenance, repair and overhaul; engineering services and component repair. AAR's Expeditionary Services include airlift operations; mobility systems; and command and control centers in support of military and humanitarian missions. More information can be found at www.aarcorp.com.


Contact
Media Team
Corporate Marketing & Communications
+1-630-227-5100
Editor@aarcorp.com



This press release contains certain statements relating to future results, which are forward-looking statements as that term is defined in the Private Securities Litigation Reform Act of 1995. These forward-looking statements are based on beliefs of Company management, as well as assumptions and estimates based on information currently available to the Company, and are subject to certain risks and uncertainties that could cause actual results to differ materially from historical results or those anticipated, including those factors discussed under Item 1A, entitled "Risk Factors", included in the Company's Form 10-K for the fiscal year ended May 31, 2018. Should one or more of these risks or uncertainties materialize adversely, or should underlying assumptions or estimates prove incorrect, actual results may vary materially from those described. These events and uncertainties are difficult or impossible to predict accurately and many are beyond the Company's control. The Company assumes no obligation to update any forward-looking statements to reflect events or circumstances after the date of such statements or to reflect the occurrence of anticipated or unanticipated events. For additional information, see the comments included in AAR's filings with the Securities and Exchange Commission.
Related news
See all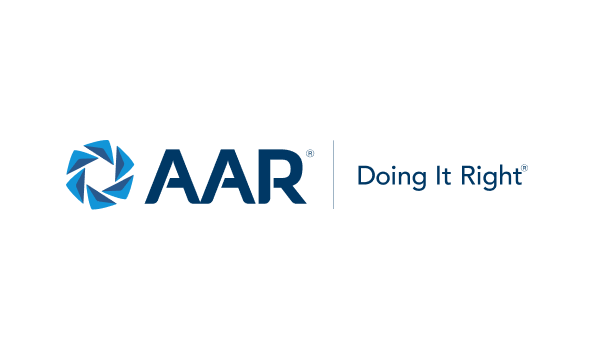 December 07, 2023
AAR to announce second quarter fiscal year 2024 results on December 21, 2023
Wood Dale, Illinois — AAR CORP. (NYSE: AIR), a leading provider of aviation services to commercial and government operators, MROs, and OEMs, today announced that it will release financial results for its second quarter of fiscal year 2024, ended November 30, 2023, after the close of the New York Stock Exchange trading session on Thursday, December 21, 2023.