AAR's Nordisk Announces Lightest Weight Cargo Container Now Has Advanced Fire Resistance
Providing up to 6 hours of protection, innovation could set a new safety standard
PARIS, France — Setting a milestone for in-flight safety, commercial aerospace and defense contractor AAR (NYSE: AIR) announces development of a Fire Resistant Container (FRC) that has proved capable of containing an onboard fire for up to six hours of flight. By partnering with DuPont, a leading science and innovation company, AAR was able to incorporate DuPontTMKevlar® brand fiber and Nomex® XF flame barrier into the innovation, making it the lightest weight FRC on the market, up to 30 percent lighter than aluminum containers.
Positive testing of the main deck container incorporating DuPontTM Kevlar® and Nomex® XF has benefits for cargo carriers at heightened risk of experiencing onboard fires linked to hazardous materials, chemicals or lithium batteries.
"This is an improvement over other fire-resistant containers, which give pilots anywhere from 18 minutes to 4 hours to land an aircraft from the time smoke detectors go off," said Hector Plaza, Vice President, The Americas, for Nordisk, the AAR subsidiary that collaborated with DuPont. "Our new product can provide the pilot up to six hours to land."
The design breakthrough comes as AAR (Hall 3, Stand B117) and DuPont (Hall 3, Stand D20) showcase their broad capabilities, products and services in the U.S. Pavilion at the 50th International Paris Air Show at the Le Bourget Center June 17-23.
The results could set a new technical standard for in-flight fire containment.
"Regulatory agencies currently have no specification for certification of this type of product," said William F. Weber, Vice President, DuPont Protection Technologies. "So we're actually well ahead of the current standard in developing a product that reduces fire risk while also providing weight savings. These are two significant benefits for air cargo carriers."
One type of fire-suppression system installed on cargo planes uses argon-based foam. If smoke is detected inside a cargo container, the system punctures the container and delivers the foam to extinguish the fire. A drawback is that carrying the argon on board adds weight, Plaza said.
The new FRC, which passed testing performed at Intertek, an independent third-party testing facility in San Antonio, Texas, is a main deck container designated with the airline industry code AAD, referring to its size and shape, which is over 485 cubic feet. Testing strictly measured fire containment, not blast resistance. Depending on the aircraft's size, anywhere from 24 to 30 FRCs could fit inside the aircraft.
The National Safety Transportation Board, the Federal Aviation Administration and the Department of Defense have been encouraging groups such as SAE International, a global association of engineers and technical experts in aerospace and other industries, as well as ISO, the International Organization for Standardization, to help develop fire-resistant containers for aircraft.
For more than 25 years, AAR subsidiary Nordisk has collaborated with DuPont on safety advancements for air cargo containers. The FRC is the latest in a series of innovations that have included Hardened Unit Load Devices (HULDs), developed in the aftermath of the Pan Am explosion over Lockerbie, Scotland, in 1988.
About AAR and Nordisk Aviation Products
Nordisk is a supplier of air cargo equipment (ULD) to the global commercial aviation industry. Based in Norway, Nordisk has facilities in Europe, Asia and the United States, and is used by almost every airline operating wide-bodied aircraft, enabling huge amounts of cargo and baggage to be transported safely and securely.
December 2011, Nordisk was acquired by AAR, a global aerospace and defense contractor that employs more than 6,000 people in 17 countries. Based in Wood Dale, Illinois, AAR supports commercial, government and defense customers through two operating segments: Aviation Services and Technology Products. AAR's services include inventory management and parts distribution; aircraft maintenance, repair and overhaul; and expeditionary airlift. AAR's products include cargo systems and containers; mobility systems and shelters; advanced aerostructures; and command and control systems. More information and AAR's 50th International Paris Air Show press kit can be found at www.aarcorp.com.
About DuPont Protection Technologies
DuPont Protection Technologies offers a wide range of proven, science-based solutions including some of the most trusted brands in the industry: Tyvek® for dry particulate hazards, Tychem® for liquid and gas chemical hazards, Nomex® for thermal hazards, and Kevlar® for cut and abrasion protection, plus ballistic protection for law enforcement and military applications. DuPontTM, Kevlar®, Nomex®, Tyvek® and Tychem® are registered trademarks of E.I. du Pont de Nemours and Company.
About AAR
AAR is a global aftermarket solutions company that employs more than 6,000 people in over 20 countries. Based in Wood Dale, Illinois, AAR supports commercial aviation and government customers through two operating segments: Aviation Services and Expeditionary Services. AAR's Aviation Services include inventory management; parts supply; OEM parts distribution; aircraft maintenance, repair and overhaul; engineering services and component repair. AAR's Expeditionary Services include airlift operations; mobility systems; and command and control centers in support of military and humanitarian missions. More information can be found at www.aarcorp.com.


Contact
Media Team
Corporate Marketing & Communications
+1-630-227-5100
Editor@aarcorp.com



This press release contains certain statements relating to future results, which are forward-looking statements as that term is defined in the Private Securities Litigation Reform Act of 1995. These forward-looking statements are based on beliefs of Company management, as well as assumptions and estimates based on information currently available to the Company, and are subject to certain risks and uncertainties that could cause actual results to differ materially from historical results or those anticipated, including those factors discussed under Item 1A, entitled "Risk Factors", included in the Company's Form 10-K for the fiscal year ended May 31, 2018. Should one or more of these risks or uncertainties materialize adversely, or should underlying assumptions or estimates prove incorrect, actual results may vary materially from those described. These events and uncertainties are difficult or impossible to predict accurately and many are beyond the Company's control. The Company assumes no obligation to update any forward-looking statements to reflect events or circumstances after the date of such statements or to reflect the occurrence of anticipated or unanticipated events. For additional information, see the comments included in AAR's filings with the Securities and Exchange Commission.
Related news
See all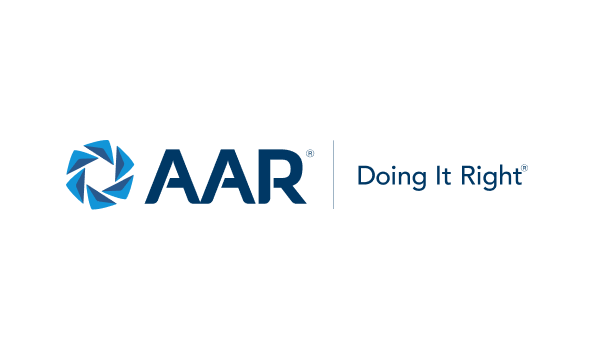 December 07, 2023
AAR to announce second quarter fiscal year 2024 results on December 21, 2023
Wood Dale, Illinois — AAR CORP. (NYSE: AIR), a leading provider of aviation services to commercial and government operators, MROs, and OEMs, today announced that it will release financial results for its second quarter of fiscal year 2024, ended November 30, 2023, after the close of the New York Stock Exchange trading session on Thursday, December 21, 2023.