AAR to Honor Dr. King's Legacy with Access to Career Opportunities
Candidates sought for 70 positions during MLK Day of Service Job Fair at aircraft repair station
INDIANAPOLIS – On a history-making day – and a day off for many Americans – AAR will honor Dr. Martin Luther King's legacy with an economic opportunity: access to 70 open positions at its aircraft repair station near the airport.
The MLK Day of Service Job Fair on January 21st from noon to 6 p.m. will be held at AAR Aircraft Services' 1.6 million-square-foot Indianapolis Maintenance Center, at 2825 W. Perimeter Drive. The event kicks off aggressive recruitment by AAR nationwide to staff up the five aircraft maintenance, repair and overhaul (MRO) facilities in its 1MRO™ service delivery network.
"On Martin Luther King Day we remember that economic opportunity is the key to equality; the City of Indianapolis is fortunate to have employers like AAR that offer more than just jobs, but tools for a lifelong career path," said Maggie Lewis, President of the Indianapolis-Marion City-County Council.
Media are invited to tour the facility and get a glimpse of the critically important work AAR does to support air travel in the U.S. and abroad. AAR is coordinating its recruitment efforts with EmployIndy; Indianapolis Mayor Greg Ballard's and Lewis' offices; Ivy Tech Corporate College; Work One; Vincennes University; and the Indiana Economic Development Corp.
"Technically skilled jobs, like those required by AAR Aircraft Services, are critical for economic growth in Indianapolis. It's these middle-skills jobs that will get people back to work and ensure sustainability in our community," said Brooke Huntington, President and CEO of EmployIndy.
As the nation's unemployment rate hovers at 7.8 percent, 10.8 percent for military veterans, growth at midsized companies such as AAR is putting people back to work. AAR will be taking applications for good-paying jobs, with benefits, for A&P mechanics, avionics technicians, sheet metal mechanics, quality inspectors, lead technicians and aircraft maintenance supervisor. These positions require specialized skills and FAA certification, but not a bachelor's degree.
"We're looking for experienced professionals and people who are good at working with hand tools, even if they do not have direct aviation experience," said Troy Jonas, General Manager, AAR Aircraft Services, Indianapolis. "We'll train people who can demonstrate they have the requisite skills sets, aptitude to conduct and adhere to quality control standards, and a commitment to safety."
Today, less than half of Americans between ages 25 and 34 earn four-year college degrees, according to the Wall Street Journal. One-fourth of men with only a high school degree don't have jobs. http://www.nationaljournal.com/next-economy/the-no-good-very-bad-outlook-for-the-working-class-american-man-20121205.
Against this challenging backdrop, mechanics fresh out of neighboring Vincennes University have landed full-time jobs as a result of their AAR internships. The Company also aggressively recruits military veterans, which comprise 20 percent of AAR's workforce.
"A lot of military people don't have a license, but we count that military experience and we bring those people in and help them complete their training and licensing," said Rodney Fuller, who was hired by AAR nine years ago as an aircraft mechanic and has since advanced from supervisor to recruiter to project manager.
At the end of King's life, his focus turned to economic empowerment and defense of the poor. Fuller, who is African American, said he hopes that holding a job fair on MLK Day, when President Barack Obama will begin his second term, will shed light on aviation careers in communities of color.
"AAR is a great company to work for," Fuller said. "The company invests in employee opportunities and gives each person a voice in his or her success."
AAR is also hiring at its maintenance, repair and overhaul facilities in Miami, Oklahoma City, Hot Springs, Ark., and Duluth, Minnesota. A job fair will be held in the Minneapolis/St. Paul area on January 23.
About AAR
AAR is a global aftermarket solutions company that employs more than 6,000 people in over 20 countries. Based in Wood Dale, Illinois, AAR supports commercial aviation and government customers through two operating segments: Aviation Services and Expeditionary Services. AAR's Aviation Services include inventory management; parts supply; OEM parts distribution; aircraft maintenance, repair and overhaul; engineering services and component repair. AAR's Expeditionary Services include airlift operations; mobility systems; and command and control centers in support of military and humanitarian missions. More information can be found at www.aarcorp.com.


Contact
Media Team
Corporate Marketing & Communications
+1-630-227-5100
Editor@aarcorp.com



This press release contains certain statements relating to future results, which are forward-looking statements as that term is defined in the Private Securities Litigation Reform Act of 1995. These forward-looking statements are based on beliefs of Company management, as well as assumptions and estimates based on information currently available to the Company, and are subject to certain risks and uncertainties that could cause actual results to differ materially from historical results or those anticipated, including those factors discussed under Item 1A, entitled "Risk Factors", included in the Company's Form 10-K for the fiscal year ended May 31, 2018. Should one or more of these risks or uncertainties materialize adversely, or should underlying assumptions or estimates prove incorrect, actual results may vary materially from those described. These events and uncertainties are difficult or impossible to predict accurately and many are beyond the Company's control. The Company assumes no obligation to update any forward-looking statements to reflect events or circumstances after the date of such statements or to reflect the occurrence of anticipated or unanticipated events. For additional information, see the comments included in AAR's filings with the Securities and Exchange Commission.
Related news
See all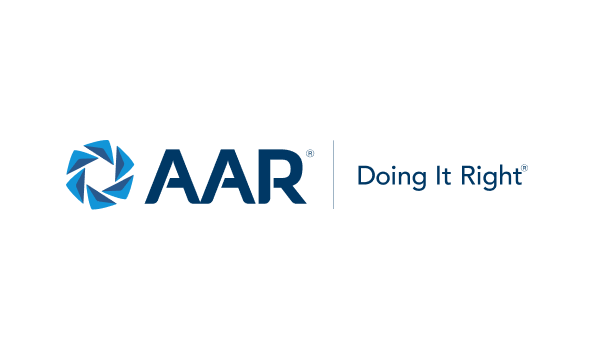 December 07, 2023
AAR to announce second quarter fiscal year 2024 results on December 21, 2023
Wood Dale, Illinois — AAR CORP. (NYSE: AIR), a leading provider of aviation services to commercial and government operators, MROs, and OEMs, today announced that it will release financial results for its second quarter of fiscal year 2024, ended November 30, 2023, after the close of the New York Stock Exchange trading session on Thursday, December 21, 2023.