AAR Reports Third Quarter Fiscal Year 2013 Results
Third quarter sales of $520 million
Diluted earnings per share of $0.46
Cash from operations of $27.5 million; $34 million reduction in net debt in third quarter
Raised full year guidance to a range of $1.78 to $1.82 diluted earnings per share
WOOD DALE, Ill., /PRNewswire/ -- AAR (AIR) today reported third quarter fiscal year 2013 consolidated sales of $520.2 million and net income of $18.4 million, or $0.46 per diluted share. This compares to year-ago sales of $534.2 million and net income of $20.6 million, or $0.50 per diluted share. The prior year's third quarter included an income tax benefit of $4.0 million, or $0.09 per share.
Sales in the Aviation Services segment increased 9% to $408.2 million and sales in the Technology Products segment declined 30% to $112 million. Commercial sales increased 7% over the prior year's third quarter, increasing to 62% of consolidated sales as compared to 57% of consolidated sales in the same period last year. Increased sales in the commercial market were driven by growth in the Company's parts supply businesses and airframe maintenance centers, including a modest contribution from the Company's recently opened Duluth MRO facility. The Company noted that revenues from the Telair and Nordisk acquisitions were included, for the first time, in both current and prior year quarter results.
Sales to government and defense customers represented 38% of consolidated sales and declined 15% compared to the year-ago third quarter. As expected and as experienced in the second quarter of this fiscal year, the reduction was primarily due to lower mobility product revenues.
"We are pleased to report another solid quarter driven by continued positive trends in the commercial aftermarket and our ability to drive strong cash flow and improved profitability," said David P. Storch, Chairman and Chief Executive Officer of AAR CORP.
This quarter's results include two unrelated transactions that impacted operating results but essentially offset each other. First, the Company finalized a payment on an earn-out liability related to a recent acquisition, which resulted in a $9.0 million gain. This was recorded as a reduction to selling, general and administrative expenses. Second, the Company entered into a sales agreement with a buyer to acquire certain inventory and entered into a separate agreement with the buyer to market the inventory for a commission. The Company received $9.1 million cash and recorded a $9.1 million loss on inventory as a result of the transaction. Revenue will be recognized on this transaction as the inventory is sold to third parties.
Consolidated gross profit margin for the third quarter, excluding the 1.7 percentage point impact for the above inventory transaction, was consistent with the prior year, but was reported as 14.6% compared to 16.3% in the year-ago period. Operating income in the third quarter was $37.6 million, a margin of 7.2% as compared to $35.8 million, or 6.7% of sales in the prior year.
Net interest expense in the third quarter declined $0.4 million to $9.8 million reflecting lower interest costs on reduced debt levels.
The Company generated $27.5 million in cash flow from operations and had capital expenditures of $4.8 million in the third quarter. The Company declared and paid dividends of $3.0 million and further reported that it has reduced its net indebtedness by $86 million since the third quarter of last fiscal year when it made the Telair and Nordisk acquisitions.
On January 31, 2013, certain holders of the 1.75% Convertible Senior Notes (the "Notes") surrendered their securities for purchase by AAR pursuant to the terms of the indenture. The aggregate purchase price for the Notes surrendered was $62.8 million. The Company also entered into an exchange transaction with a holder of $22.7 million of the Notes whereby the holder exchanged its Note and $7.3 million cash, for a new $30 million note due February 1, 2015, priced to yield 3.75%. These transactions reduced the number of shares used in the diluted earnings per share calculation by approximately 0.9 million shares in the third quarter, and will reduce the number of shares used in the fourth quarter diluted earnings per share calculation by an additional 2.2 million shares.
The Company increased full year earnings guidance to $1.78 to $1.82 earnings per share and expects full year revenues to be approximately $2.15 billion.
AAR will hold its quarterly conference call at 3:45 p.m. CDT on March 19, 2013. The conference call can be accessed by calling 866-227-1582 from inside the U.S. or 703-639-1129 from outside the U.S. A replay of the conference call will be available by calling 888-266-2081 from inside the U.S. or 703-925-2533 from outside the U.S. (access code 1607276). The replay will be available from 7:45 p.m. CDT on March 19, 2013, until 11:59 p.m. CDT on March 29, 2013.
About AAR
AAR is a global aftermarket solutions company that employs more than 6,000 people in over 20 countries. Based in Wood Dale, Illinois, AAR supports commercial aviation and government customers through two operating segments: Aviation Services and Expeditionary Services. AAR's Aviation Services include inventory management; parts supply; OEM parts distribution; aircraft maintenance, repair and overhaul; engineering services and component repair. AAR's Expeditionary Services include airlift operations; mobility systems; and command and control centers in support of military and humanitarian missions. More information can be found at www.aarcorp.com.


Contact
Media Team
Corporate Marketing & Communications
+1-630-227-5100
Editor@aarcorp.com



This press release contains certain statements relating to future results, which are forward-looking statements as that term is defined in the Private Securities Litigation Reform Act of 1995. These forward-looking statements are based on beliefs of Company management, as well as assumptions and estimates based on information currently available to the Company, and are subject to certain risks and uncertainties that could cause actual results to differ materially from historical results or those anticipated, including those factors discussed under Item 1A, entitled "Risk Factors", included in the Company's Form 10-K for the fiscal year ended May 31, 2018. Should one or more of these risks or uncertainties materialize adversely, or should underlying assumptions or estimates prove incorrect, actual results may vary materially from those described. These events and uncertainties are difficult or impossible to predict accurately and many are beyond the Company's control. The Company assumes no obligation to update any forward-looking statements to reflect events or circumstances after the date of such statements or to reflect the occurrence of anticipated or unanticipated events. For additional information, see the comments included in AAR's filings with the Securities and Exchange Commission.
Related news
See all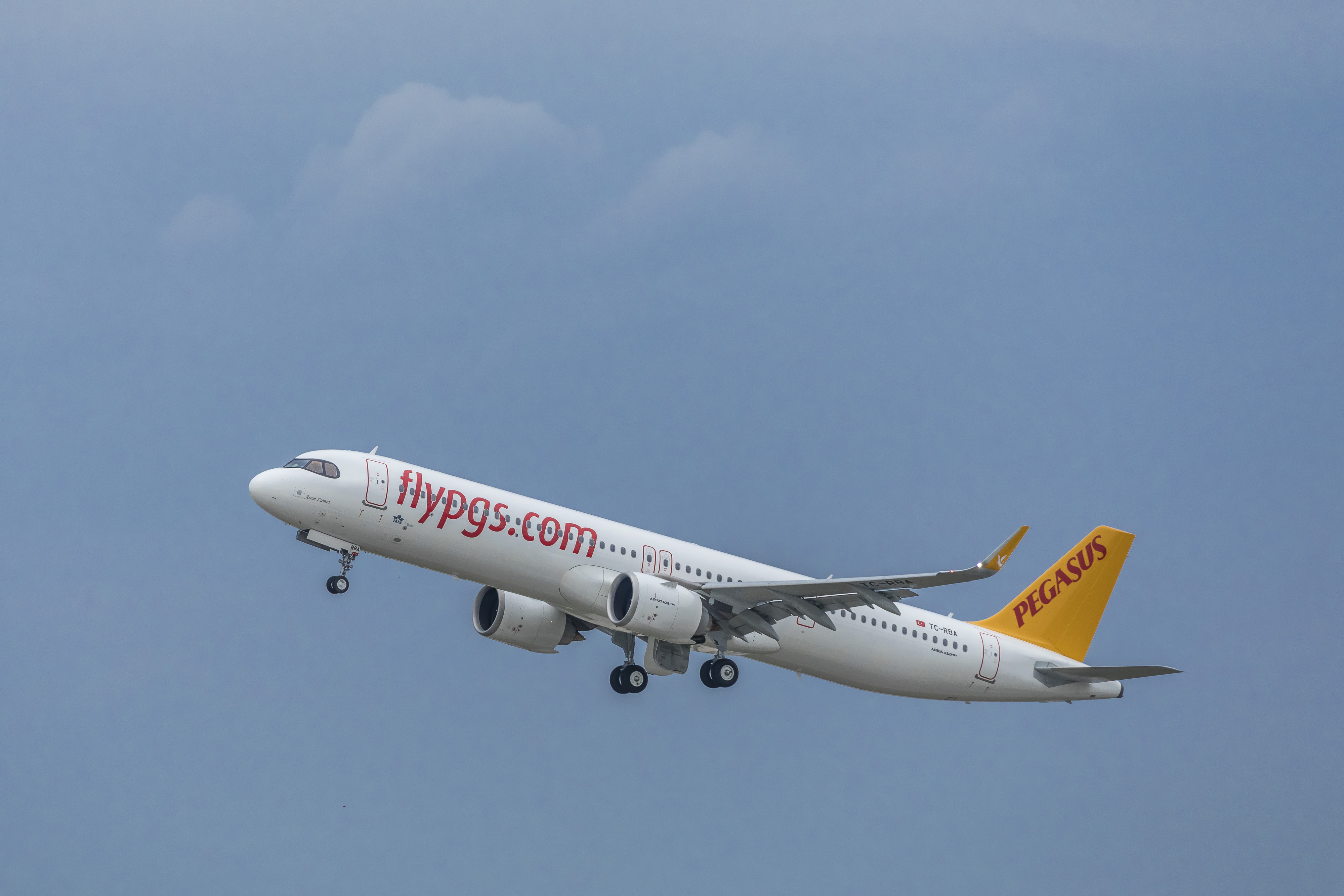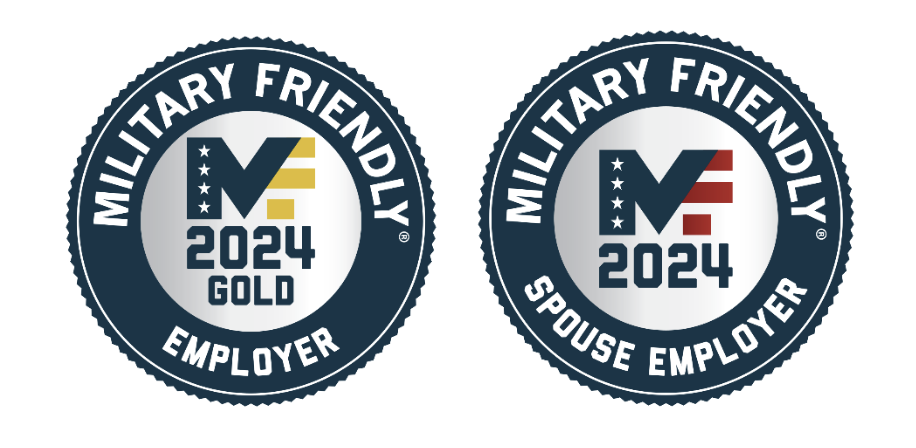 November 15, 2023
AAR earns 2024 Military Friendly® Employer designations
Wood Dale, Illinois — AAR CORP. (NYSE: AIR), a leading provider of aviation services to commercial and government operators, MROs, and OEMs, announced today that it has earned the 2024 Military Friendly® Gold Employer and Military Friendly® Spouse Employer designations.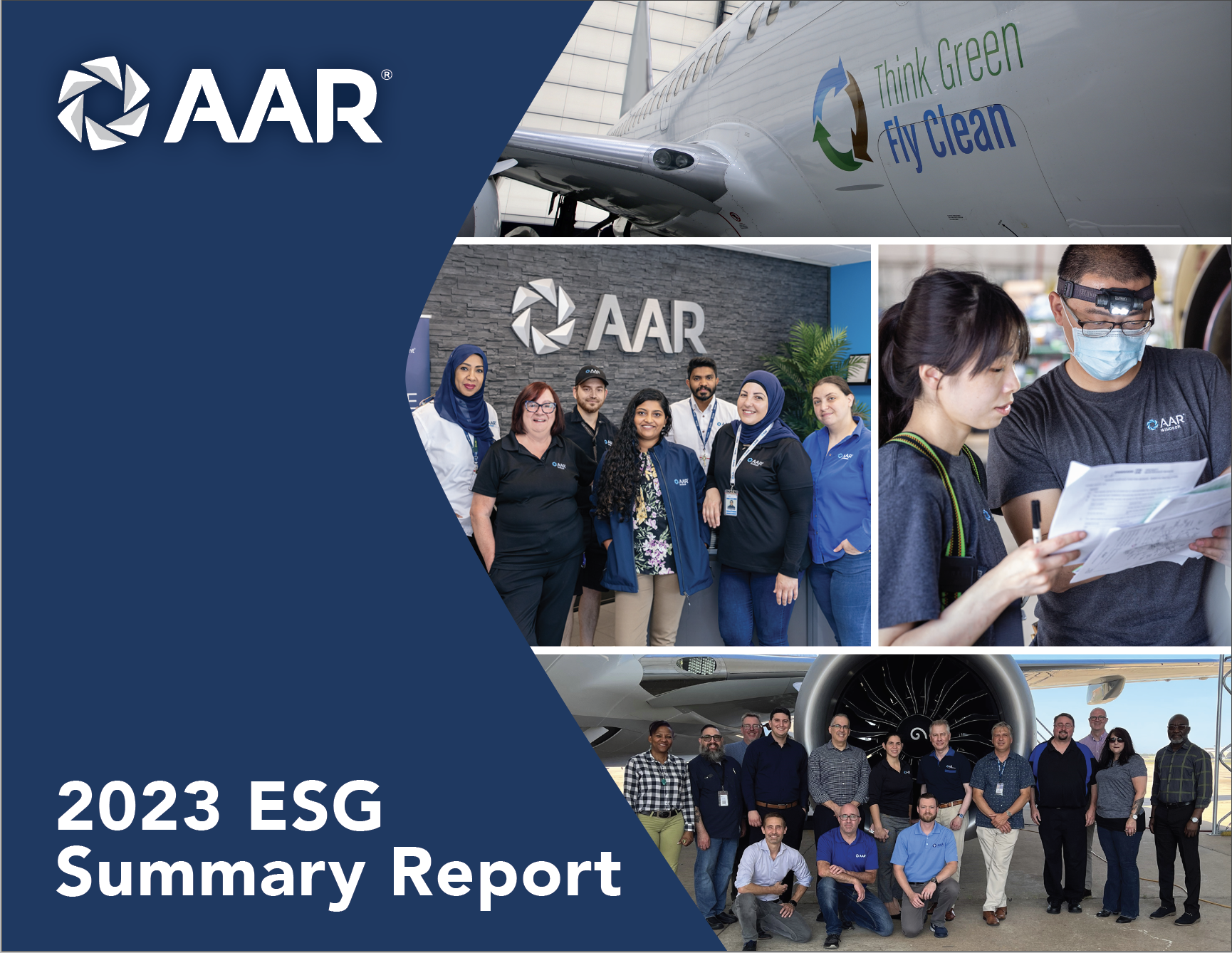 November 08, 2023
AAR launches 2023 ESG Summary Report
Wood Dale, Illinois — AAR CORP. (NYSE: AIR), a leading provider of aviation services to commercial and government operators, MROs, and OEMs, launched its 2023 ESG Summary Report, demonstrating the Company's continued efforts to focus on the environment, drive social responsibility, and govern with integrity.