AAR and Vincennes University Host 'Tug and Tour' on April 18
Government, business and other leaders get inside look at Indianapolis aviation industry
INDIANAPOLIS – AAR and Vincennes University are issuing a pre-boarding call for their "Tug & Tour" event April 18, which illuminates the local aviation industry for a guest list that includes government and economic development officials, community leaders, educators, military veterans and recruiters.
The itinerary starts at 11 a.m. with a tour of the two aircraft hangars at Vincennes University's Aviation Technology Center at Indianapolis International Airport. Students there, ages 18 to 60, include veterans transitioning into civilian life and displaced workers who are striving for degrees and licenses in aviation maintenance or flight.
Guests then board the university's Boeing 737 airplane and taxi across the tarmac – with on-board lunch service – to the neighboring AAR Aircraft Services at the Indianapolis Maintenance Center. There, they will glimpse the maintenance, repair and overhaul work that AAR performs on a wide range of commercial aircraft in a state-of-the-art, 1.6 million-square-foot facility.
Attendees will learn about job and education opportunities that may interest their constituencies. Growing from 40 employees in December 2004 to around 1,000 today, AAR Aircraft Services in Indianapolis has openings for qualified mechanics, technicians and inspectors, including in lead roles. AAR values the experience of military veterans, who make up about 20 percent of AAR's workforce.
"This is a fun way for community leaders to get the inside scoop on the aviation industry's impact on the local, national and global economy," said Christine Wayne, Government Affairs Manager at AAR. "AAR's collaboration with Vincennes is a model for other industries."
AAR hires some Vincennes students as paid interns even before they graduate, giving them hands-on, real-world experience.
"That's really unheard of in the industry; most companies will only hire licensed airframe and powerplant technicians," said Joseph Lee, Director of Marketing for Vincennes' Aviation Technology Center. "But as the older workforce starts to retire, the need for a new generation of A&P technicians is greater than ever. AAR is wisely building the talent pipeline."
The Indianapolis site complements AAR's MRO facilities in Miami, Oklahoma City, Duluth, Minn. and Hot Springs, Ark. All are part of AAR's award-winning 1MRO (SM) network, designed to leverage the company's vast maintenance, engineering and technical capabilities to offer airlines integrated, high-quality services that lower costs and turnaround times. Customers have voted AAR the Best Airframe MRO Provider — The Americas in 2012, Parts Supplier of the Year and one of the Top Five MROs in the world.
"In Indianapolis alone, we worked on more than 300 airplanes last year," said Troy Jonas, Vice President and General Manager of AAR Aircraft Services. "We've been talking with the airport authority on some improvements to the facility to increase capacity, which means more jobs."
Every job at AAR generates another 0.635 jobs in the four-county area, and every dollar of AAR revenue drives 57 cents of additional revenue in the area, according to an economic impact study commissioned by AAR.
"We now hire nearly 60 percent of the mechanic graduates out of Vincennes University," said Greg Dellinger, Director of Recruiting for AAR. "Every dollar AAR spends and earns ripples positively through the Indiana economy."
People interested in attending the Tug and Tour may e-mail Lee at jmlee@vinu.edu or call 317-381-6000. Arrival is between 10:30 and 11 a.m. at the Aviation Technology Center, 2175 South Hoffman Rd. (AviationTechCenter.com). The tour concludes at 2 p.m.
About AAR
AAR is a global aftermarket solutions company that employs more than 6,000 people in over 20 countries. Based in Wood Dale, Illinois, AAR supports commercial aviation and government customers through two operating segments: Aviation Services and Expeditionary Services. AAR's Aviation Services include inventory management; parts supply; OEM parts distribution; aircraft maintenance, repair and overhaul; engineering services and component repair. AAR's Expeditionary Services include airlift operations; mobility systems; and command and control centers in support of military and humanitarian missions. More information can be found at www.aarcorp.com.


Contact
Media Team
Corporate Marketing & Communications
+1-630-227-5100
Editor@aarcorp.com



This press release contains certain statements relating to future results, which are forward-looking statements as that term is defined in the Private Securities Litigation Reform Act of 1995. These forward-looking statements are based on beliefs of Company management, as well as assumptions and estimates based on information currently available to the Company, and are subject to certain risks and uncertainties that could cause actual results to differ materially from historical results or those anticipated, including those factors discussed under Item 1A, entitled "Risk Factors", included in the Company's Form 10-K for the fiscal year ended May 31, 2018. Should one or more of these risks or uncertainties materialize adversely, or should underlying assumptions or estimates prove incorrect, actual results may vary materially from those described. These events and uncertainties are difficult or impossible to predict accurately and many are beyond the Company's control. The Company assumes no obligation to update any forward-looking statements to reflect events or circumstances after the date of such statements or to reflect the occurrence of anticipated or unanticipated events. For additional information, see the comments included in AAR's filings with the Securities and Exchange Commission.
Related news
See all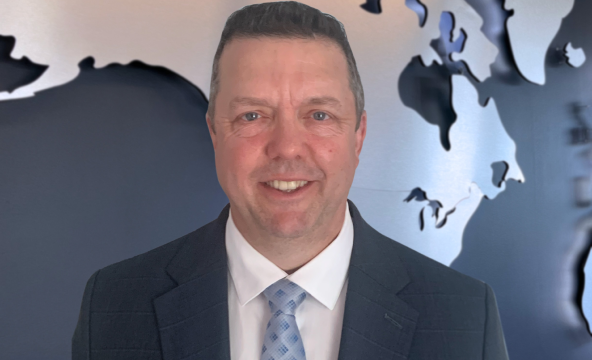 May 22, 2023
AAR names Tom Hoferer Vice President of Repair and Engineering Services
Wood Dale, Illinois — AAR CORP. (NYSE: AIR), a leading provider of aviation services to commercial and government operators, MROs, and OEMs, announced today it has selected Tom Hoferer as its Vice President of Repair and Engineering Services. In this role Hoferer will oversee the Company's Maintenance, Repair, and Overhaul (MRO) Services and Mobility Systems operations.