AAR Reports Fourth Quarter and Fiscal Year 2012 Results
Fourth quarter sales of $563 million, up 15.5% year-over-year
Fourth quarter diluted earnings per share of $0.45 before special items, $0.32 on a reported basis
Fourth quarter cash flow from operations of $76 million
Fiscal year 2012 sales of $2.065 billion, up 14.4% year-over-year
Fiscal year 2012 diluted earnings per share of $1.65
WOOD DALE, ILLINOIS — AAR (NYSE: AIR) today reported fourth quarter fiscal 2012 results that were in line with the preliminary results released on June 14, 2012. Fourth quarter sales were $563.3 million and diluted earnings per share were $0.45 before the effects of special items and $0.32 after the effects of the special items. For the fourth quarter of last fiscal year, the Company reported sales of $487.8 million and $0.52 diluted earnings per share.
For the Company's fiscal year 2012, sales were a record $2.1 billion, a 14.4% increase versus the prior year, and net income attributable to AAR was $67.7 million, or $1.65 per diluted share, compared with sales of $1.8 billion, net income attributable to AAR of $69.8 million and diluted earnings per share of $1.73 in the prior fiscal year.
Sales to commercial customers increased 48.5% compared to the fourth quarter of last year and 32.4% in fiscal 2012 compared to fiscal 2011. Fourth quarter sales growth included 16.5% organic sales growth to commercial customers primarily due to strength in the Company's Aviation Supply Chain and Maintenance Repair and Overhaul segments. The balance of the commercial sales growth came primarily from the newly acquired businesses, Telair and Nordisk, which were acquired by the Company in early December 2011. Sales to commercial customers represented 60% of total sales for the fourth quarter of fiscal 2012.
Sales to government and defense customers decreased 13.5% in the fourth quarter and 1.9% for the fiscal year. The sales decline was primarily due to lower program activity at the Company's defense logistics business and the fourth quarter fiscal 2012 adjustment to the KC10 support contract.
Commenting on fourth quarter results in the Company's commercial markets, David P. Storch, Chairman and Chief Executive Officer of AAR CORP. stated, "We had exceptional sales growth in our businesses supporting commercial markets, including organic growth that outpaced the overall growth rate in the airline market. Our Aviation Supply Chain and Maintenance, Repair and Overhaul segments reported their highest quarterly sales in the past ten years, and benefitted from solid execution and market share gains. In addition, the newly acquired businesses Telair and Nordisk performed well and exceeded our expectations."
Commenting on fourth quarter results in the Company's government and defense markets, Storch continued, "Our defense logistics business experienced lower activity and results at AAR Airlift were unfavorably impacted by aircraft availability. While we expect results at our defense logistics business to be slightly down in fiscal 2013, we are expecting a significant improvement in earnings at AAR Airlift."
During the fourth quarter, the Company recorded a $9.5 million charge as a result of lowering its profit expectation on the KC10 support contract, and $3.7 million in restructuring charges in the Structures and Systems segment to streamline operations and improve efficiencies. The Company also recorded a $3.3 million favorable tax adjustment to fourth quarter income tax expense. Fourth quarter diluted earnings per share was $0.32 after these special items.
Consolidated gross profit margin was 13.7% for the fourth quarter compared to 17.1% last year. The fourth quarter gross profit margin was unfavorably impacted by the KC10 contract adjustment, the restructuring charges and performance at certain business units.
Selling, general and administrative expenses decreased $2.1 million compared to the fourth quarter of last year. Cash flow from operations was $76 million in the fourth quarter. Net interest expense increased $3.5 million primarily due to higher average outstanding borrowings incurred to fund the fiscal year 2012 acquisitions.
The effective income tax rate for the fourth quarter was 17.0% versus 27.0% a year ago. The decline in the effective income tax rate was due to the previously mentioned $3.3 million favorable tax adjustment. For fiscal year 2013, the Company expects its effective income tax rate to be approximately 34.0 to 35.0%.
Storch concluded, "Consistent with our earlier guidance, for fiscal 2013 we expect consolidated sales of approximately $2.1 to $2.2 billion and diluted earnings per share of $1.55 to $1.65. We anticipate continued strength in our businesses supporting the commercial markets in fiscal 2013. We also expect improved results at AAR Airlift, while we anticipate lower sales at our mobility products and defense logistics businesses."
About AAR
AAR is a global aftermarket solutions company that employs more than 6,000 people in over 20 countries. Based in Wood Dale, Illinois, AAR supports commercial aviation and government customers through two operating segments: Aviation Services and Expeditionary Services. AAR's Aviation Services include inventory management; parts supply; OEM parts distribution; aircraft maintenance, repair and overhaul; engineering services and component repair. AAR's Expeditionary Services include airlift operations; mobility systems; and command and control centers in support of military and humanitarian missions. More information can be found at www.aarcorp.com.


Contact
Media Team
Corporate Marketing & Communications
+1-630-227-5100
Editor@aarcorp.com



This press release contains certain statements relating to future results, which are forward-looking statements as that term is defined in the Private Securities Litigation Reform Act of 1995. These forward-looking statements are based on beliefs of Company management, as well as assumptions and estimates based on information currently available to the Company, and are subject to certain risks and uncertainties that could cause actual results to differ materially from historical results or those anticipated, including those factors discussed under Item 1A, entitled "Risk Factors", included in the Company's Form 10-K for the fiscal year ended May 31, 2018. Should one or more of these risks or uncertainties materialize adversely, or should underlying assumptions or estimates prove incorrect, actual results may vary materially from those described. These events and uncertainties are difficult or impossible to predict accurately and many are beyond the Company's control. The Company assumes no obligation to update any forward-looking statements to reflect events or circumstances after the date of such statements or to reflect the occurrence of anticipated or unanticipated events. For additional information, see the comments included in AAR's filings with the Securities and Exchange Commission.
Related news
See all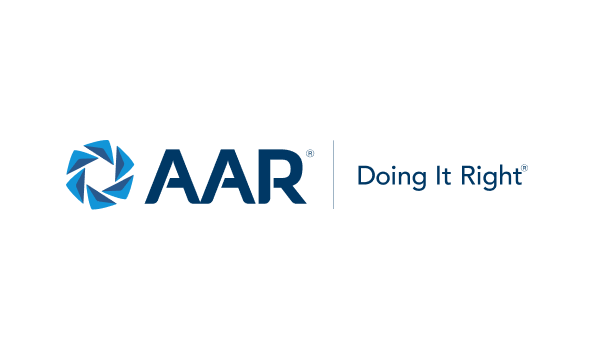 December 07, 2023
AAR to announce second quarter fiscal year 2024 results on December 21, 2023
Wood Dale, Illinois — AAR CORP. (NYSE: AIR), a leading provider of aviation services to commercial and government operators, MROs, and OEMs, today announced that it will release financial results for its second quarter of fiscal year 2024, ended November 30, 2023, after the close of the New York Stock Exchange trading session on Thursday, December 21, 2023.