AAR to Distribute and Develop Innovative Active Air Filtration System With Quest International
WOOD DALE, Ill., /PRNewswire via COMTEX/ -- AAR (NYSE: AIR) announced today that it has joined forces with Quest International UK Ltd (Quest) to distribute and develop AirManager, an innovative active air filtration system that eliminates potentially harmful airborne contaminates.
AAR and Quest signed an agreement that names AAR as an authorized distributor of the CCFT AirManager active air filtration and sterilization system. In addition to distributing the product to its worldwide network of commercial airline, government and defense customers, AAR will provide design engineering services and manage the Supplemental Type Certificate (STC) processes required to install and operate the product on a variety of commercial aircraft. AAR and Quest are working together to develop aerospace applications for the product, streamline the manufacturing process and penetrate new addressable markets.
"We are excited to work with Quest to introduce AirManager to our customers and leverage AAR's engineering capabilities and regulatory experience to make the product available for a wide range of applications and markets," said James Clark, Group Vice President of AAR's Aviation Supply Chain Group. "We believe that this product is a highly effective and affordable solution that represents a major milestone for health and air quality."
AirManager can be installed in existing air filtration systems. The device uses patented Close Coupled Field Technology (CCFT), a safe and contained electrical field, to destroy and break down airborne pathogens, contaminants and toxins at the molecular level. Chemical and viral contaminants are essentially disassembled when subjected to the disruptive effects of this electrical field. Remaining particles are captured by electrostatic filters prior to the air being released.
"The key to the AirManager system is the variety of contaminants it can destroy and the speed at which it can process and produce clean air. The scalable system has achieved a 99.999% single-pass kill rate on bio-hazards and can filter out particles as small as 0.1 micron, with very little power consumption," said David Hallam, Managing Director of Quest International UK and inventor of the Air Manager system. "AAR contributes both product life-cycle management expertise and a commitment to innovation, which will be invaluable as we work together to bring the AirManager product to new customers and markets."
Based in Cheadle, England, Quest International UK Ltd first developed AirManager for the healthcare sector. Today, AirManager is in use in as many as 5,000 different healthcare, commercial and industrial facilities located throughout Europe.
AAR is a leading provider of value-added products and services to the worldwide aerospace and defense industry. With facilities and sales locations around the world, AAR uses its close- to-the-customer business model to serve aviation and government/defense customers through three operating segments: Aviation Supply Chain; Maintenance, Repair and Overhaul; and Structures and Systems. More information can be found at www.aarcorp.com.
This press release contains certain statements relating to future results, which are forward-looking statements as that term is defined in the Private Securities Litigation Reform Act of 1995. These forward-looking statements are based on beliefs of Company management, as well as assumptions and estimates based on information currently available to the Company, and are subject to certain risks and uncertainties that could cause actual results to differ materially from historical results or those anticipated, including those factors discussed under Item 1A, entitled "Risk Factors", included in the Company's May 31, 2009 Form 10-K. Should one or more of these risks or uncertainties materialize adversely, or should underlying assumptions or estimates prove incorrect, actual results may vary materially from those described. These events and uncertainties are difficult or impossible to predict accurately and many are beyond the Company's control. The Company assumes no obligation to update any forward-looking statements to reflect events or circumstances after the date of such statements or to reflect the occurrence of anticipated or unanticipated events. For additional information, see the comments included in AAR's filings with the Securities and Exchange Commission.
Related news
See all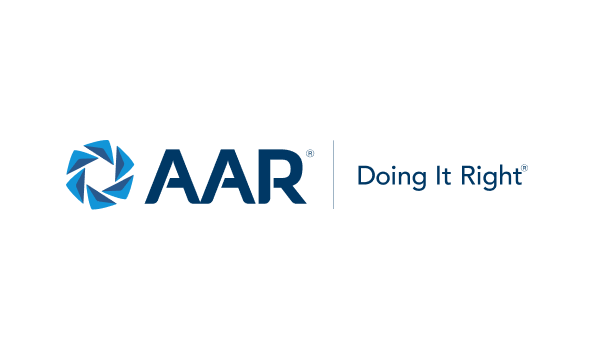 December 07, 2023
AAR to announce second quarter fiscal year 2024 results on December 21, 2023
Wood Dale, Illinois — AAR CORP. (NYSE: AIR), a leading provider of aviation services to commercial and government operators, MROs, and OEMs, today announced that it will release financial results for its second quarter of fiscal year 2024, ended November 30, 2023, after the close of the New York Stock Exchange trading session on Thursday, December 21, 2023.