AAR to Develop Parts Exchange Pool in Hong Kong; Cathay Pacific Signs on as Initial Customer
WOOD DALE, Ill., /PRNewswire-FirstCall/ -- AAR (NYSE: AIR) announced today that the Company's parts trading division, AAR Allen Aircraft, is developing a parts exchange pool in Hong Kong to service airlines in the Asia/Pacific region.
Hong Kong Aircraft Engineering Company Ltd. (HAECO) signed a purchase agreement with AAR for an inventory support program to provide initial provisioning of airframe rotable materials, airframe accessories and avionics for Air Hong Kong's new fleet of A300-600F cargo aircraft. In addition to the initial provisioning, the cooperation program between HAECO and AAR also includes forming a rotable inventory exchange pool to support the Air Hong Kong operation. Air Hong Kong is a joint venture between Cathay Pacific Airways and DHL Worldwide Express. The first A300-600F was delivered and entered into service in September 2004 and Air Hong Kong expects to receive an additional five aircraft by the end of the first quarter 2005.
"We are very excited about expanding our business in the fast growing Asian region and look forward to building upon our relationship with HAECO," said John Holmes, Vice President and General Manager of AAR Allen Aircraft and AAR Distribution. "Airlines around the world can benefit from AAR's cost- saving inventory solutions including parts exchange pools. By establishing a parts exchange pool in Hong Kong, AAR can offer airlines across the Asia/Pacific region access to immediate replacements for virtually any airframe part or accessory without tying up capital in inventory costs."
"The tremendous growth the Asia/Pacific region is experiencing is leading airlines to increase the size of their fleets," said Rahul Shah, Managing Director, Asia/Pacific Operations for AAR. "By providing the right solution to our customers at the right time, we are helping them expand their fleets without having the added costs of expanding their infrastructure."
About HAECO
Hong Kong Aircraft Engineering Company Ltd., better known as HAECO, is the largest aeronautical engineering company in Asia. HAECO provides comprehensive engineering / maintenance for a wide range of Boeing and Airbus aircraft types, including inventory total care package (ITCP). The company has over 50 years experience in aircraft maintenance and is headquartered at Hong Kong International Airport, Hong Kong. HAECO was awarded the Best Asia - Pacific MRO in 2002. Further information can be found at http://www.haeco.com.
About AAR Allen Aircraft
AAR Allen Aircraft offers a vast inventory of new and refurbished airframe parts for virtually every commercial aircraft type in use worldwide. They offer the most reliable and cost-effective approach in the industry, including supply management, supply integration and supply innovation.
About AAR
AAR is a leading provider of products and value-added services to the worldwide aviation/aerospace industry. Products and services include customized inventory management and logistics programs; maintenance, repair and overhaul of aircraft, aircraft components and engine components; engine and aircraft sales and leasing; and the manufacture of cargo systems, composite structures and mobility systems. Headquartered in Wood Dale, Illinois, AAR serves commercial and government aircraft fleet operators, original equipment manufacturers and independent service customers throughout the world. Further information can be found at http://www.aarcorp.com.
This press release contains certain statements relating to future results, which are forward-looking statements as that term is defined in the Private Securities Litigation Reform Act of 1995. These forward-looking statements are based on beliefs of Company management, as well as assumptions and estimates based on information currently available to the Company, and are subject to certain risks and uncertainties that could cause actual results to differ materially from historical results or those anticipated, including those factors discussed under Item 7, entitled "Factors Which May Affect Future Results", included in the Company's May 31, 2004 Form 10-K. Should one or more of these risks or uncertainties materialize adversely, or should underlying assumptions or estimates prove incorrect, actual results may vary materially from those described. These events and uncertainties are difficult or impossible to predict accurately and many are beyond the Company's control. The Company assumes no obligation to publicly release the result of any revisions that may be made to any forward-looking statements to reflect events or circumstances after the date of such statements or to reflect the occurrence of anticipated or unanticipated events. For additional information, see the comments included in AAR's filings with the Securities and Exchange Commission.
SOURCE AAR CORP.


CONTACT: Chris Mason, Director of Corporate Communications of AAR, +1-630-227-2062, chris.mason@aarcorp.com
Related news
See all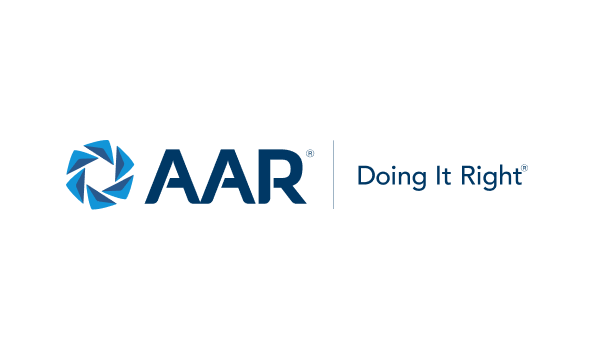 December 07, 2023
AAR to announce second quarter fiscal year 2024 results on December 21, 2023
Wood Dale, Illinois — AAR CORP. (NYSE: AIR), a leading provider of aviation services to commercial and government operators, MROs, and OEMs, today announced that it will release financial results for its second quarter of fiscal year 2024, ended November 30, 2023, after the close of the New York Stock Exchange trading session on Thursday, December 21, 2023.