AAR Reports Third Quarter Fiscal Year 2004 Results
WOOD DALE, Ill., /PRNewswire-FirstCall via COMTEX/ -- AAR (NYSE: AIR) today reported its third consecutive quarter of sales growth and improved profitability, with net sales of $161.2 million and net income of $3.0 million or $0.09 per share for the third quarter ended February 29, 2004. The results represent the highest quarterly sales, gross profit, operating income and net income since the events of September 11, 2001 and include the benefit of a lower effective income tax rate. For the third quarter of last fiscal year, the Company reported net sales of $157.0 million and net income of $0.7 million or $0.02 per share.
"We are pleased to report another quarter of sales and earnings growth. Demand for mobility products and performance based logistics services from government customers and their contractors remained strong during the period," said David P. Storch, President and CEO of AAR. "We have initiatives in place to increase sales through more long-term program activity and are focused on improving our operating margins and optimizing our asset efficiency. We've stepped up efforts to identify strategic customers for additional long-term sales programs, similar to the recently announced Avio and Vietnam Airlines programs. We're working to improve our operating margins through better labor utilization and materials management and by increasing the engineering and technical content in our products. Our prudent inventory acquisitions have resulted in improved asset efficiency for our parts trading operations, as evidenced by inventory turns of 3.2x for parts purchased since November 2001."
The year-over-year sales growth and improved profitability were driven primarily by record shipments of manufactured products that support the U.S. Military's mobility requirements, resulting in a 30.4% increase in sales for the Manufacturing segment. In the Inventory & Logistics Services segment, demand for logistics support services from government customers continued to grow. Overall sales in this segment declined 3.9% due primarily to the Company's strategy to de-emphasize low-margin new parts distribution sales. Sales in the Maintenance, Repair and Overhaul (MRO) segment were 4.9% lower compared with the prior year as the Company experienced lower sales of component repair services. The Company did, however, experience higher sales at its airframe maintenance facility.
The Company achieved higher margins during the third quarter, with gross profit margin increasing to 16.5% from 15.6% in the prior year and operating income increasing 34.3% versus the prior year. The Company also improved working capital turnover to 3.1x from 2.6x in the prior year and increased order backlog 2% during the quarter and 47% since the beginning of the fiscal year.
Upon completing its fiscal 2003 federal income tax return, the Company determined that it qualified for additional tax benefits of $0.6 million related primarily to its export activities. The Company also reviewed its expected income tax rate for fiscal 2004 and now expects that tax benefits related to current-year export activities will offset federal income tax expense for the year. Taking these items into account, the Company's net income tax benefit was $0.1 million for the third quarter of fiscal 2004.
During the quarter, the Company issued $75.0 million principal amount of 2.875% convertible notes due February 1, 2024. The senior, unsecured notes are convertible, under certain circumstances, into approximately 4.03 million shares of AAR common stock at a conversion price of $18.59 per share. "We are very pleased with this recent financing, which has enabled us to enhance our liquidity, lower our interest expense and increase our operating flexibility. This added financial flexibility enables us to support our businesses by providing resources to expand capabilities and capitalize on new market opportunities," Storch added. The Company used a portion of the proceeds to repurchase $35.0 million of accounts receivable which had been sold under its accounts receivable securitization facility, to repay $16.9 million of 8.00% notes prior to their maturity, and to repay $4.0 million outstanding under its revolving credit facility. The annual interest expense savings related to these debt repayments is approximately $1.3 million pre tax. The Company ended the quarter with $100.6 million of cash and available lines of credit. Subsequent to February 29, 2004, the Company repaid notes payable in the amount of $13.5 million.
AAR (NYSE: AIR) is a leading provider of aftermarket support to the worldwide aviation/aerospace industry. Products and services include customized inventory management and logistics programs, encompassing supply, repair and manufacture of spare parts and systems. Headquartered in Wood Dale, Illinois, AAR serves commercial and government aircraft fleet operators and independent service customers throughout the world. Further information can be found at www.aarcorp.com .
AAR will hold its quarterly conference call at 10:30 AM (CST) on March 17, 2004. The conference call can be accessed via dial-in (1-913-981-5542; conference code 457532). A replay of the call will be available (1-719-457- 0820; conference code 457532) until 12:00 AM (CST) on March 23, 2004.
This press release contains certain statements relating to future results, which are forward-looking statements as that term is defined in the Private Securities Litigation Reform Act of 1995. These forward-looking statements are based on beliefs of Company management, as well as assumptions and estimates based on information currently available to the Company, and are subject to certain risks and uncertainties that could cause actual results to differ materially from historical results or those anticipated, including those factors discussed under Item 7, entitled "Factors Which May Affect Future Results", included in the Company's May 31, 2003 Form 10-K. Should one or more of these risks or uncertainties materialize adversely, or should underlying assumptions or estimates prove incorrect, actual results may vary materially from those described. These events and uncertainties are difficult or impossible to predict accurately and many are beyond the Company's control. The Company assumes no obligation to publicly release the result of any revisions that may be made to any forward-looking statements to reflect events or circumstances after the date of such statements or to reflect the occurrence of anticipated or unanticipated events. For additional information, see the comments included in AAR's filings with the Securities and Exchange Commission.

    AAR CORP. and Subsidiaries

    Comparative Statement of Operations
    (In thousands except per         Three Months Ended    Nine Months Ended
    share data)                        February 29/28,       February 29/28,
                                       2004      2003        2004      2003
                                         (Unaudited)           (Unaudited)
    Sales                          $ 161,151 $ 156,992   $ 472,784 $ 461,208
    Cost of sales                    134,578   132,467     399,965   395,988
    Gross profit                      26,573    24,525      72,819    65,220
    SG&A and other                    19,172    19,016      58,322    59,240
    Operating income                   7,401     5,509      14,497     5,980
    Interest expense                   4,720     4,803      14,394    14,553
    Interest income                      284       296       1,200     1,049
    Pretax income (loss)               2,965     1,002       1,303    (7,524)
    Provision (benefit) for
      income taxes                       (84)      351        (666)   (2,633)
    Net income (loss)                  3,049       651       1,969    (4,891)
    Earnings (loss) per
      share-Basic                  $    0.09 $    0.02   $    0.06 $   (0.15)
    Earnings (loss) per
      share-Diluted                $    0.09 $    0.02   $    0.06 $   (0.15)
    Average shares
      outstanding-Basic               32,168    31,846      31,999    31,852
    Average shares
      outstanding-Diluted             32,732    31,849      32,246    31,852



    Balance Sheet Highlights                       February 29,     May 31,
    (In thousands except per share data)               2004          2003
                                                    (Unaudited) (Derived from
                                                                    audited
                                                                   financial
                                                                   statements)
    Cash and cash equivalents                       $  48,885    $  29,154
    Current assets                                    437,750      396,412
    Current maturities of recourse LTD                  6,860       59,729
    Current maturities of non-recourse LTD*               726       32,527
    Current liabilities (excluding current
      maturities of LTD)                              122,791      111,319
    Net property, plant and equipment                  83,188       94,029
    Total assets                                      721,229      686,621
    Recourse long-term debt                           229,598      164,658
    Non-recourse long-term debt*                       31,406          -
    Stockholders' equity                              297,471      294,988
    Book value per share                            $    9.23    $    9.26
    Shares outstanding                                 32,245       31,850

    * The Company's non-recourse debt associated with an aircraft was
      refinanced in January of 2004 with the maturity date extended to July of
      2005.  Accordingly, a portion of the non-recourse debt has been
      classified as long-term.



    Sales By Business Segment          Three Months Ended   Nine Months Ended
    (In thousands - unaudited)           February 29/28,      February 29/28,
                                         2004      2003       2004      2003
    Inventory & Logistics Services   $  61,148 $  63,654   $ 192,142 $ 190,151
    Maintenance, Repair & Overhaul      49,899    52,496     156,324   151,810
    Manufacturing                       44,246    33,930     101,212    91,233
    Aircraft & Engine Sales & Leasing    5,858     6,912      23,106    28,014
                                     $ 161,151 $ 156,992   $ 472,784 $ 461,208

SOURCE AAR CORP.


Timothy J. Romenesko, Vice President, Chief Financial Officer of AAR, +1-630-227-2090, tromenesko@aarcorp.com
Related news
See all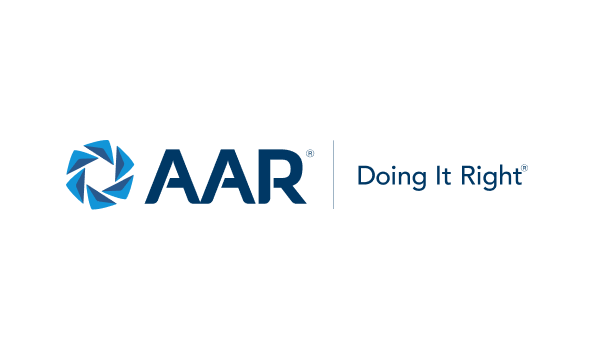 December 07, 2023
AAR to announce second quarter fiscal year 2024 results on December 21, 2023
Wood Dale, Illinois — AAR CORP. (NYSE: AIR), a leading provider of aviation services to commercial and government operators, MROs, and OEMs, today announced that it will release financial results for its second quarter of fiscal year 2024, ended November 30, 2023, after the close of the New York Stock Exchange trading session on Thursday, December 21, 2023.