AAR Reports Second Quarter Fiscal Year 2005 Results
Significant Earnings Improvement; 12% Sales Growth
Commercial Aviation Sales Growth of 14%
Military Sales Growth of 16%
Planned Decline in General Aviation and Industrial Sales
WOOD DALE, Ill., /PRNewswire-FirstCall via COMTEX/ -- AAR (NYSE: AIR) today reported continued improvement in its results, with net sales of $178.7 million and net income of $4.8 million or $0.15 per share for the second quarter ended November 30, 2004. The results include a federal income tax benefit of $1.6 million or $0.05 per share associated with a deferred tax valuation allowance adjustment resulting from a tax law change. For the second quarter of last fiscal year, the Company reported net sales of $159.5 million and net income of $0.9 million or $0.03 per share.
The 12% sales increase and the $2.7 million increase in pre-tax income during the quarter were driven by continued robust sales of the Company's products supporting the U.S. defense efforts, increased sales of parts and services to commercial aviation customers and lower interest expense due to reduced borrowings. As of November 30, 2004 the Company's backlog was $172.5 million; up 6% since the beginning of the fiscal year.
"In addition to continued strong demand from our government customers, sales to commercial aviation customers increased 14%, reflecting the airlines' developing trend toward outsourcing their maintenance and supply requirements," said David P. Storch, President and CEO of AAR. "Sales to customers in Europe and Asia increased 40% and 14%, respectively as the Company continued to focus on strengthening its market presence in these regions."
"At the mid point of our fiscal year, we are pleased with the Company's progress in many areas including sales growth, profitability improvement and cash flow. We have also made numerous investments which we believe will position the Company for future growth. For the first six months, sales have increased 11% and pre-tax income has improved $8.7 million over the prior year. The Company also generated $8.6 million in cash flow from operations during the first half of this year." Storch continued, "Our Indianapolis maintenance facility received FAA repair station certification, and we expect revenue-generating activities to begin during the third quarter of our fiscal year. We also anticipate revenue from the Northrop Grumman U. K. AWACS support program during the latter part of the fiscal year. In another recently announced program, AAR Mobility Systems delivered the first of its mobile shelters for the U.S. Army as part of the Stewart & Stevenson Light Mobile Tactical Vehicle Systems program, and we expect increasing revenue from this program during the fourth quarter. Further, since the start of the fiscal year, we have acquired four 737-300 aircraft with a joint venture partner; we have placed one aircraft on lease and anticipate placing the remaining three aircraft on lease in the near term."
Second Quarter Tax Benefit
In October 2004, the President of the United States signed the American Jobs Creation Act of 2004 (the "Act") which included a number of federal income tax reforms, including an extension of the foreign tax credit carryforward period from five years to ten years. In previous fiscal years, the Company had established a deferred tax valuation allowance of $1.6 million against foreign tax credits expiring in fiscal year 2006. As a result of the new ten year carryforward period established by the Act, the Company now believes that it will utilize the foreign tax credits and recorded a $1.6 million credit to the provision for income taxes during the second quarter of Fiscal 2005.
AAR is a leading provider of products and value-added services to the worldwide aviation/aerospace industry. Products and services include customized inventory management and logistics programs; maintenance, repair and overhaul of aircraft, aircraft components and engine components; engine and aircraft sales and leasing; and the manufacture of cargo systems, composite structures and mobility systems. Headquartered in Wood Dale, Illinois, AAR serves commercial and government aircraft fleet operators, original equipment manufacturers and independent service customers throughout the world. Further information can be found at http://www.aarcorp.com.
AAR will hold its quarterly conference call at 10:30 AM (CST) on December 17, 2004. The conference call can be accessed via dial-in (1-888-255-8210; conference code 2574608). A replay of the call will be available (1-800-642- 1687; conference code 2574608) until 11:59 PM (CST) on December 24, 2004.
This press release contains certain statements relating to future results, which are forward-looking statements as that term is defined in the Private Securities Litigation Reform Act of 1995. These forward-looking statements are based on beliefs of Company management, as well as assumptions and estimates based on information currently available to the Company, and are subject to certain risks and uncertainties that could cause actual results to differ materially from historical results or those anticipated, including those factors discussed under Item 7, entitled "Factors Which May Affect Future Results", included in the Company's May 31, 2004 Form 10-K. Should one or more of these risks or uncertainties materialize adversely, or should underlying assumptions or estimates prove incorrect, actual results may vary materially from those described. These events and uncertainties are difficult or impossible to predict accurately and many are beyond the Company's control. The Company assumes no obligation to publicly release the result of any revisions that may be made to any forward-looking statements to reflect events or circumstances after the date of such statements or to reflect the occurrence of anticipated or unanticipated events. For additional information, see the comments included in AAR's filings with the Securities and Exchange Commission.
    AAR CORP. and Subsidiaries

    Comparative Statement of Operations
    (In thousands except per share data)

                                    Three Months Ended      Six Months Ended
                                       November 30,            November 30,
                                       2004      2003       2004       2003
                                        (Unaudited)          (Unaudited)

    Sales                          $ 178,655 $ 159,519   $ 344,708  $ 311,633
    Cost of sales                    150,077   134,389     289,515    265,387
    Gross profit                      28,578    25,130      55,193     46,246
    SG&A and other                    20,625    19,502      41,072     39,150
    Operating income                   7,953     5,628      14,121      7,096
    Interest expense                   4,259     4,761       7,759      9,674
    Interest income                      382       541         665        916
    Pretax income (loss)               4,076     1,408       7,027     (1,662)
    Provision (benefit) for
     income taxes                       (763)      492         (98)      (582)
    Net income (loss)                  4,839       916       7,125     (1,080)
    Earnings (loss) per share-Basic    $0.15     $0.03       $0.22     ($0.03)
    Earnings (loss) per share-Diluted  $0.15     $0.03       $0.22     ($0.03)
    Average shares outstanding-Basic  32,246    31,979      32,244     31,915
    Average shares outstanding-
     Diluted                          32,808    32,263      32,706     31,915

    Balance Sheet Highlights                   November 30,          May 31,
    (In thousands except per share data)          2004                2004
                                              (Unaudited)        (Derived from
                                                             audited financial
                                                                  statements)

    Cash and cash equivalents                 $   19,667         $   41,010
    Current assets                               426,439            432,204
    Current maturities of recourse LTD             3,278              2,656
    Current liabilities
     (excl current maturities)                   125,715            127,869
    Net property, plant and equipment             81,540             81,866
    Total assets                                 710,927            709,292
    Recourse long-term debt                      207,219            217,434
    Total recourse debt                          210,497            220,090
    Total non-recourse debt                       31,666             31,968
    Stockholders' equity                         311,129            301,684
    Book value per share                      $     9.65         $     9.36
    Shares outstanding                            32,248             32,245


    Sales By Business Segment       Three Months Ended        Six Months Ended
    (In thousands - unaudited)         November 30,              November 30,
                                     2004       2003           2004       2003
    Inventory & Logistic
     Services                     $  66,226  $  69,257    $ 128,818  $ 130,994
    Maintenance, Repair & Overhaul   53,679     53,000      100,329    106,425
    Manufacturing                    47,521     31,796       91,310     56,966
    Aircraft & Engine Sales &
     Leasing                         11,229      5,466       24,251     17,248
                                  $ 178,655  $ 159,519    $ 344,708  $ 311,633

SOURCE AAR CORP.


Contact: Timothy J. Romenesko, Vice President, Chief Financial Officer, AAR, +1-630-227-2090, tromenesko@aarcorp.com
Related news
See all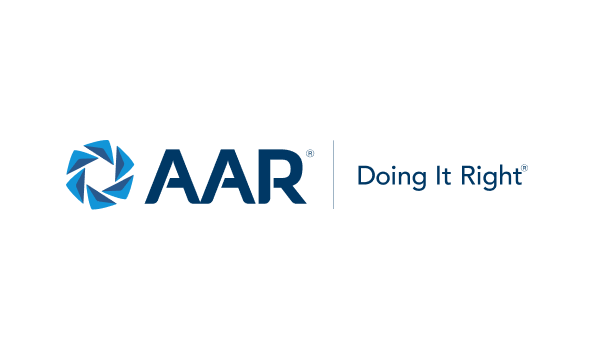 December 07, 2023
AAR to announce second quarter fiscal year 2024 results on December 21, 2023
Wood Dale, Illinois — AAR CORP. (NYSE: AIR), a leading provider of aviation services to commercial and government operators, MROs, and OEMs, today announced that it will release financial results for its second quarter of fiscal year 2024, ended November 30, 2023, after the close of the New York Stock Exchange trading session on Thursday, December 21, 2023.