AAR Reports Fiscal Year 2005 First Quarter Results
9.2% Sales Growth
Significant Earnings Improvement
Continued Strong Demand from Government Customers
WOOD DALE, Ill., /PRNewswire-FirstCall/ -- AAR (NYSE: AIR) today reported results for its first quarter ended August 31, 2004, including net sales of $166.1 million, an increase of 9.2% over the prior year, and net income of $2.3 million or $0.07 per share, versus a loss of $2.0 million or $0.06 per share a year earlier. The Company also reported that it generated $5.6 million of cash flow from operations.
During the first quarter, the Company experienced robust demand for its products supporting the U.S. Military's tactical deployment requirements and increased sales of cargo systems and composite structures. The Company achieved double-digit sales growth for its traditional parts business supporting commercial airlines, while sales for its new parts distribution business declined as a result of its ongoing strategy to de-emphasize lower- margin parts sales, mostly to general aviation customers. Sales of maintenance, repair and overhaul services declined primarily as a result of lower sales of industrial gas turbine services and the timing of airframe maintenance due to heavy summer aircraft utilization for a major customer. The Company also reported an 11% increase in Aircraft Sales & Leasing and added two more aircraft to its portfolio through investments with joint venture partners.
The Company reported improvement in its gross profit margin, which increased to 16.0% from 13.9% in the prior year. Order backlog remained strong and increased 5.6% during the quarter, with the increase distributed across a number of different businesses. In addition, the Company repurchased $14.9 million of its long-term debt prior to maturity, contributing to the net interest expense reduction during the first quarter.
"We are pleased with the overall results for the quarter. Sales to government customers remained strong and we experienced double-digit growth in our core parts business supporting air carriers around the world," said David P. Storch, President and CEO of AAR. "We are particularly pleased with the improvement in our balance sheet as we generated strong cash flow enabling us to reduce our debt and invest in our businesses. We made progress on our strategy to grow sales outside of North America, reflected by a 33% year-over- year increase in sales to European and Asian customers. Although the U.S. airline market remains volatile, we believe that AAR is well positioned to benefit as the airlines look to outsource maintenance as a way to reduce their costs."
    Significant Events for First Quarter 2005:

     * Expanded AAR's airframe maintenance capability by leasing the
       Indianapolis Maintenance Center (formerly operated by United Airlines),
       and are on track to begin operations this calendar year.
     * Elected Ronald B. Woodard, former President of the Boeing Commercial
       Airplane Group, as a director of the Company.
     * Was selected to provide supply chain management as a member of the
       Northrop Grumman team awarded preferred bidder status to provide
       complete aircraft maintenance and design engineering for the United
       Kingdom's fleet of seven AWACS aircraft.
     * Was selected by Alenia Aeronautica, a Finmeccanica Company, to supply
       cargo systems for the C-27J Medium Tactical Transport Aircraft, jointly
       developed and produced by Alenia Aeronautica and Lockheed Martin.  The
       original order covers 24 aircraft.
     * Was selected by Nova Scotia-based CanJet Airlines to provide component
       maintenance and support for a portion of their 737 fleet.

AAR is a leading provider of products and value-added services to the worldwide aviation/aerospace industry. Products and services include customized inventory management and logistics programs; maintenance, repair and overhaul of aircraft, aircraft components and engine components; engine and aircraft sales and leasing; and the manufacture of cargo systems, composite structures and mobility systems. Headquartered in Wood Dale, Illinois, AAR serves commercial and government aircraft fleet operators, original equipment manufacturers and independent service customers throughout the world. Further information can be found at http://www.aarcorp.com.
AAR will hold its quarterly conference call at 10:30 AM (CDT) on September 22, 2004. The conference call can be accessed via dial-in (1-877-872-1405; conference code 8527282). A replay of the call will be available (1-800-642-1687; conference code 8527282) until 11:59 PM (CDT) on September 29, 2004.
This press release contains certain statements relating to future results, which are forward-looking statements as that term is defined in the Private Securities Litigation Reform Act of 1995. These forward-looking statements are based on beliefs of Company management, as well as assumptions and estimates based on information currently available to the Company, and are subject to certain risks and uncertainties that could cause actual results to differ materially from historical results or those anticipated, including those factors discussed under Item 7, entitled "Factors Which May Affect Future Results", included in the Company's May 31, 2004 Form 10-K. Should one or more of these risks or uncertainties materialize adversely, or should underlying assumptions or estimates prove incorrect, actual results may vary materially from those described. These events and uncertainties are difficult or impossible to predict accurately and many are beyond the Company's control. The Company assumes no obligation to publicly release the result of any revisions that may be made to any forward-looking statements to reflect events or circumstances after the date of such statements or to reflect the occurrence of anticipated or unanticipated events. For additional information, see the comments included in AAR's filings with the Securities and Exchange Commission.
    AAR CORP. and Subsidiaries

    Comparative Statement of Operations                 Three Months Ended
    (In thousands except per share data)                    August 31,
                                                        2004          2003
                                                            (Unaudited)
    Sales                                             $166,053      $152,114
    Cost of sales                                      139,438       130,998
    Gross profit                                        26,615        21,116
    SG&A                                                20,447        19,648
    Operating income                                     6,168         1,468
    Interest expense                                     3,500         4,913
    Interest income                                        283           375
    Pretax income (loss)                                 2,951        (3,070)
    Provision for (benefit from) income taxes              665        (1,074)
    Net income (loss)                                    2,286        (1,996)
    Earnings (loss) per share-Basic                      $0.07        ($0.06)
    Earnings (loss) per share-Diluted                    $0.07        ($0.06)
    Average shares outstanding-Basic                    32,243        31,850
    Average shares outstanding-Diluted                  32,594        31,850


    Balance Sheet Highlights                          August 31,     May 31,
    (In thousands except per share data)                 2004         2004
                                                     (Unaudited)    (Derived
                                                                  from audited
                                                                    financial
                                                                   statements)
    Cash and cash equivalents                         $ 26,802      $ 41,010
    Current assets                                     415,203       432,204
    Current maturities of recourse LTD                   3,768         2,656
    Current liabilities (excl current maturities)      122,873       127,869
    Net property, plant and equipment                   81,473        81,866
    Total assets                                       699,304       709,292
    Recourse long-term debt                            207,708       217,434
    Total recourse debt                                211,476       220,090
    Total non-recourse debt                             31,834        31,968
    Stockholders' equity                               303,202       301,684
    Book value per share                              $   9.40      $   9.36
    Shares outstanding                                  32,242        32,245


    Sales By Business Segment                           Three Months Ended
    (In thousands)                                          August 31,
                                                        2004          2003
                                                            (Unaudited)
    Inventory & Logistic Services                     $ 62,592      $ 61,737
    Maintenance, Repair & Overhaul                      46,650        53,425
    Manufacturing                                       43,789        25,170
    Aircraft & Engine Sales & Leasing                   13,022        11,782
                                                      $166,053      $152,114

SOURCE AAR CORP.


CONTACT:
Timothy J. Romenesko
Vice President, Chief Financial Officer of AAR
1-630-227-2090
tromenesko@aarcorp.com
Related news
See all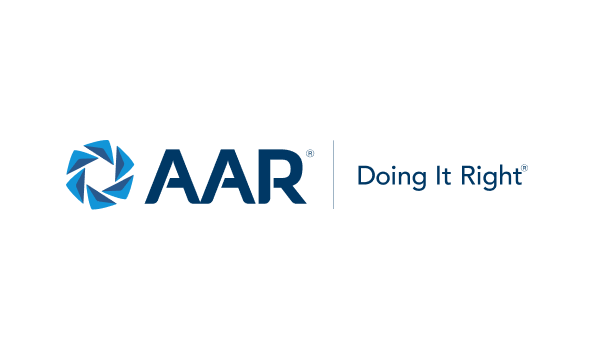 December 07, 2023
AAR to announce second quarter fiscal year 2024 results on December 21, 2023
Wood Dale, Illinois — AAR CORP. (NYSE: AIR), a leading provider of aviation services to commercial and government operators, MROs, and OEMs, today announced that it will release financial results for its second quarter of fiscal year 2024, ended November 30, 2023, after the close of the New York Stock Exchange trading session on Thursday, December 21, 2023.