AAR Reports 3rd Quarter Fiscal Year 2003 Results
WOOD DALE, Ill., /PRNewswire-FirstCall via COMTEX/ -- AAR (NYSE: AIR) today reported net sales of $157.0 million and net income of $0.7 million or $0.02 per share for the third quarter ended February 28, 2003 compared to net sales of $143.5 million and a net loss of $2.3 million or $0.08 per share for the third quarter of last fiscal year. These results represent the highest quarterly sales, gross profit and earnings and lowest selling, general and administrative costs since the tragic events of September 11, 2001.
Manufacturing segment sales increased 25.9% over third quarter last year driven by higher sales of the Company's manufactured products that support the U.S. Military's mobility requirements and increased sales of non-aviation related composite structure products. Inventory & Logistic Services segment sales increased 7.7% over the prior year's quarter reflecting increased sales of aftermarket parts and logistics support services to airline and government customers, partially offset by lower new parts distribution sales. Sales in the Maintenance, Repair & Overhaul (MRO) segment increased 4.2% from the third quarter last year primarily as result of increased demand for aircraft component repair services in Europe and increased volume in support of industrial power generation customers. Third quarter sales in Europe and Asia increased 63.1% and 14.5%, respectively, over sales in the prior fiscal year. Similarly, sales to the U.S. and foreign militaries and subcontractors in the quarter grew 21.8% comprising 32.4% of consolidated sales.
"While we are encouraged by the improvement in our results, we are concerned about the potential near-term effect on demand for parts and services in the commercial aviation industry as a result of reduced passenger traffic caused by economic uncertainties and the war in Iraq," said AAR President and CEO David P. Storch. "However, longer term the airline industry must seek lower cost solutions to survive, and we are well positioned to benefit as the airlines move to lower cost maintenance and supply solutions."
During the third quarter, the Company generated $2.8 million of cash from operations. Capital expenditures were up slightly in the quarter primarily due to investments in the Company's mobility systems business and completion of an MRO facility consolidation. The Company expects these investments to result in a $1.5 million reduction in annual operating expenses and will receive cash proceeds from the sale of the vacated facility.
Storch continued, "We will continue to make investments in technology and efficiency enhancements to improve our market position and operating results. We will also continue to align our cost structure to reflect current demand, allocating resources in areas where we see growth and reducing investment in areas experiencing lower demand. During the quarter, we added resources in our growing businesses while reducing overall expenses compared to the third quarter of last year. Additionally, we made significant investments in newer generation assets while still decreasing our overall inventory position by $6.0 million."
As announced earlier this week, the Company completed a new $35 million accounts receivable securitization facility with LaSalle Bank N.A./ABN Amro which replaces the Company's expiring accounts receivable securitization facility and substantially replaces an existing LaSalle Bank credit facility. This is the first in a series of planned financing transactions which, if completed, together with the Company's current cash position and internal cash generation initiatives, are expected to provide adequate liquidity for the Company as it replaces its maturing credit arrangements, including its 71/4% Notes due in October 2003.
AAR (NYSE: AIR) is the leading provider of aftermarket support to the worldwide aviation/aerospace industry. Products and services include customized inventory management and logistics programs, encompassing supply, repair and manufacture of spare parts and systems. Headquartered in Wood Dale, Illinois, AAR serves commercial and government aircraft fleet operators and independent service customers throughout the world. Further information can be found at www.aarcorp.com.
AAR will hold its quarterly conference call at 10:30 AM (CST) on March 27, 2003. The conference call can be accessed via dial-in (1-312-461-0644; conference 740848). A replay of the call will be available (1-719-457-0820; conference code 740848) until 12 AM on April 2, 2003.
This press release contains certain statements relating to future results, which are forward-looking statements as that term is defined in the Private Securities Litigation Reform Act of 1995. These forward-looking statements are based on beliefs of Company management, as well as assumptions and estimates based on information currently available to the Company, and are subject to certain risks and uncertainties that could cause actual results to differ materially from historical results or those anticipated, including the war on Iraq and those factors discussed under Item 7, entitled "Factors Which May Affect Future Results", included in the Company's May 31, 2002 Form 10-K. Should one or more of these risks or uncertainties materialize adversely, or should underlying assumptions or estimates prove incorrect, actual results may vary materially from those described. These events and uncertainties are difficult or impossible to predict accurately and many are beyond the Company's control. The Company assumes no obligation to publicly release the result of any revisions that may be made to any forward-looking statements to reflect events or circumstances after the date of such statements or to reflect the occurrence of anticipated or unanticipated events. For additional information, see the comments included in AAR's filings with the Securities and Exchange Commission.
                                 AAR and Subsidiaries

    Comparative Statement of Operations  Three Months Ended  Nine Months Ended
    (In thousands except per share data)    February 28,          February 28,
                                        2003       2002        2003      2002
                                         (Unaudited)            (Unaudited)
    Sales                          $ 156,992  $ 143,457   $ 461,208 $ 491,339
    Cost of sales*                   132,467    123,946     395,988   422,180
    Gross profit*                     24,525     19,511      65,220    69,159
    Gross profit margin*                15.6%      13.6%       14.1%     14.1%
    SG&A*                             19,016     19,468      59,240    63,842
    Impairment and other
     special charges                    ---        ---         ---     86,000
    Operating income (loss)            5,509         43       5,980   (80,683)
    Interest expense                   4,803      4,505      14,553    15,475
    Interest income                      296        652       1,049     2,341
    Pretax income (loss)               1,002     (3,810)     (7,524)  (93,817)
    Provision (benefit) for
     income taxes                        351     (1,520)     (2,633)  (37,529)
    Net income (loss)                    651     (2,290)     (4,891)  (56,288)
    Earnings (loss) per share-Basic    $0.02     ($0.08)     ($0.15)   ($2.08)
    Earnings (loss) per share-Diluted  $0.02     ($0.08)     ($0.15)   ($2.08)
    Average shares outstanding-Basic  31,846     27,409      31,852    27,075
    Average shares
     outstanding-Diluted              31,849     27,409      31,852    27,075

    * Before consideration of impairment and other special charges recorded in
      the quarter ended 11/30/2001


    Balance Sheet Highlights                      February 28,         May 31,
    (In thousands except per share data)             2003               2002
                                                 (Unaudited)     (Derived from
                                                             audited financial
                                                                   statements)
    Cash and cash equivalents                     $  35,572        $   34,522
    Current assets                                  431,556           436,656
    Current maturities of recourse long-term debt    50,898               394
    Current maturities  of non-recourse LTD**        32,832                -
    Current liabilities
     (excluding current maturities)                 139,681           150,070
    Working capital                                 208,145           286,192
    Net property, plant and equipment                95,548           102,591
    Total assets                                    723,019           710,199
    Bank lines & notes payable                       38,059            42,131
    Recourse long-term debt                         161,362           217,699
    Stockholders' equity                            309,093           310,235
    Book value per share                          $    9.70        $     9.73
    Shares outstanding                               31,850            31,870

    ** On June 20, 2002 the Company purchased the equity interest in an
       aircraft joint venture from its partner for nominal consideration as
       disclosed in the Company's May 31, 2002 Form 10-K. As a result, the
       book value of the aircraft and the associated non-recourse debt were
       recorded on the Company's consolidated balance sheet. The debt is
       currently being serviced by the underlying aircraft lease.


    Sales By Business Segment         Three Months Ended     Nine Months Ended
    (In thousands - unaudited)           February 28,            February 28,
                                         2003       2002        2003      2002
    Inventory & Logistic Services  $  63,654  $  59,104   $ 190,151  $ 196,172
    Maintenance, Repair & Overhaul    52,496     50,395     151,810    162,233
    Manufacturing                     33,930     26,944      91,233     74,381
    Aircraft & Engine Sales
     & Leasing                         6,912      7,014      28,014     58,553
                                   $ 156,992  $ 143,457   $ 461,208  $ 491,339

SOURCE AAR CORP.
CONTACT: Timothy J. Romenesko, Vice President, Chief Financial Officer of AAR, +1-630-227-2090, tromenesko@aarcorp.com
Related news
See all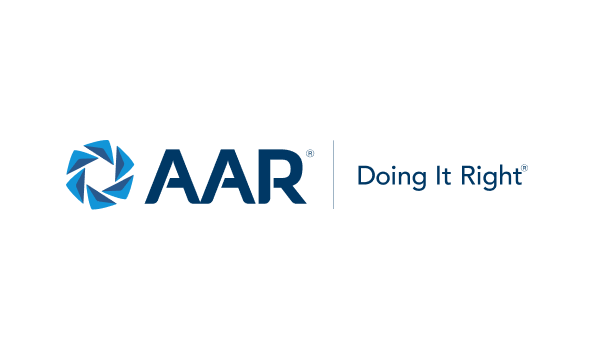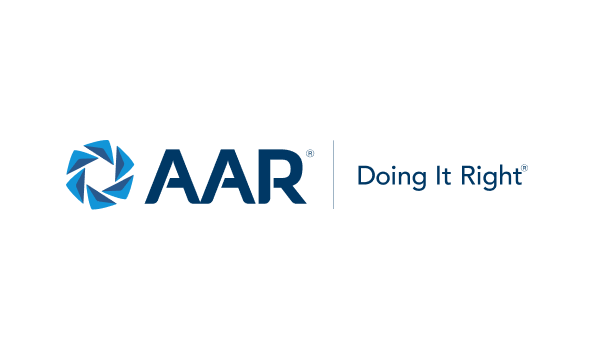 December 07, 2023
AAR to announce second quarter fiscal year 2024 results on December 21, 2023
Wood Dale, Illinois — AAR CORP. (NYSE: AIR), a leading provider of aviation services to commercial and government operators, MROs, and OEMs, today announced that it will release financial results for its second quarter of fiscal year 2024, ended November 30, 2023, after the close of the New York Stock Exchange trading session on Thursday, December 21, 2023.