AAR Reports 1st Quarter Fiscal Year 2003 Results
WOOD DALE, Ill., /PRNewswire-FirstCall via COMTEX/ -- AAR (NYSE: AIR) today reported net sales of $151.2 million and a net loss of $4.9 million or $0.15 per share for the first quarter ended August 31, 2002.
Lower than anticipated sales and margins in the Inventory & Logistic Services and Maintenance, Repair & Overhaul segments reflect reduced demand from the Company's commercial airline customers due to their difficult environment. Net sales in the Manufacturing segment increased 27% over last year driven by continued strong demand for the Company's products that support the U.S. Military's tactical deployment needs. The Company expects continued growth in this market.
"Although sales and margins for our businesses supporting the commercial airline industry continue to experience pressure, I am pleased that we generated $4.8 million of cash flow from operations and $2.5 million in free cash flow during the quarter. We remain very focused on improving capital turns and generating cash," said AAR President and CEO David P. Storch. "In addition, during the first quarter we further reduced corporate, administrative and other overhead costs associated with under-performing business units and are on track to complete the consolidation and sale of two facilities by the end of the fiscal year. The annual savings from these actions exceed $8 million and we will begin to realize savings in the second quarter of the fiscal year."
"Our funded backlog is 13% higher than the beginning of the quarter and we are seeing increased deal flow," Storch continued. "Over the past year, we have enhanced the Company's competitive position by investing in our stronger businesses with newer technology assets and capabilities. We believe that the airlines will outsource more services as they continue to reduce their cost structure and focus on core competencies. This, in combination with strong military demand and a lower cost structure, will improve the Company's performance."
Recent Wins
In early September the Company entered into the following agreements that should benefit this fiscal year:
A 28-month agreement with Alaska Airlines to provide heavy airframe maintenance services for its fleet of MD-80 and B737 series aircraft.
A five-year agreement with Midwest Express Airlines, Inc. to provide landing gear overhaul services for its fleet of DC-9 and MD-80 series aircraft.
An agreement with IAI / Bedek Aviation Group to design and manufacture new 767-200 special freighter cargo loading systems for the Airborne Express freighter conversion program.
The Company also announced today that Mr. Storch would assume the additional role of Chief Operating Officer following the resignation of Joseph M. Gullion, who had been Executive Vice President and Chief Operating Officer since June 2001. Gullion resigned to accept an opportunity with a company outside the aviation industry.
Storch said, "We appreciate the contributions Joe made in his short tenure with the Company and wish him well in his future endeavors."
AAR (NYSE: AIR) is the leading provider of aftermarket support to the worldwide aviation/aerospace industry. Products and services include customized inventory management and logistics programs, encompassing supply, repair and manufacture of spare parts and systems. Headquartered in Wood Dale, Illinois, AAR serves commercial and government aircraft fleet operators and independent service customers throughout the world. Further information can be found at www.aarcorp.com.
AAR will hold its quarterly conference call at 10:30 AM (CST) on September 26, 2002. The conference call can be accessed via dial-in (1-719-457-2661; conference 627050). A replay of the call will be available (1-719-457-0820; conference code 627050) until 12 AM on October 2, 2002.
This press release contains certain statements relating to future results, which are forward-looking statements as that term is defined in the Private Securities Litigation Reform Act of 1995. These forward-looking statements are based on beliefs of Company management, as well as assumptions and estimates based on information currently available to the Company, and are subject to certain risks and uncertainties that could cause actual results to differ materially from historical results or those anticipated, including those factors discussed under Item 7, entitled "Factors Which May Affect Future Results", included in the Company's May 31, 2002 Form 10-K. Should one or more of these risks or uncertainties materialize adversely, or should underlying assumptions or estimates prove incorrect, actual results may vary materially from those described. These events and uncertainties are difficult or impossible to predict accurately and many are beyond the Company's control. The Company assumes no obligation to publicly release the result of any revisions that may be made to any forward-looking statements to reflect events or circumstances after the date of such statements or to reflect the occurrence of anticipated or unanticipated events. For additional information, see the comments included in AAR's filings with the Securities and Exchange Commission.
                           AAR and Subsidiaries


    Comparative Statement of Earnings                  Three Months Ended
    (In thousands except per share data)                    August 31,
                                                          2002      2001
                                                            (Unaudited)
    Sales                                              $151,165   $202,993
    Cost of sales                                       133,400    173,853
    Gross profit                                         17,765     29,140
    SG&A                                                 20,781     23,695
    Operating income (loss)                              (3,016)     5,445
    Interest expense                                      4,867      5,544
    Interest income                                         376        747
    Pretax income (loss)                                 (7,507)       648
    Provision (benefit) for income taxes                 (2,628)       162
    Net income (loss)                                    (4,879)       486
    Earnings (loss) per share-Basic                      ($0.15)     $0.02
    Earnings (loss) per share-Diluted                    ($0.15)     $0.02
    Average shares outstanding-Basic                     31,866     26,945
    Average shares outstanding-Diluted                   31,866     27,209

    Balance Sheet Highlights                        August 31,       May 31,
    (In thousands except per share data)              2002             2002
                                                 (Unaudited)     (Derived from
                                                                     audited
                                                                    financial
                                                                   statements)
    Cash and cash equivalents                      $   35,553      $   34,522
    Current assets                                    418,117         436,656
    Net property, plant and equipment                 101,259         102,591
    Current liabilities                               142,645         150,464
    Working capital                                   275,472         286,192
    Total assets                                      722,944         710,199
    Short-term debt                                    41,989          42,525
    Non-recourse debt*                                 33,108             -
    Long-term debt                                    213,714         217,699
    Stockholders' equity                              306,560         310,235
    Book value per share                              $  9.62         $  9.73
    Shares outstanding                                 31,865          31,870

* On June 20, 2002 the Company purchased the equity interest in an aircraft joint venture from its partner for nominal consideration as disclosed in the Company's May 31, 2002 Form 10-K. As a result, the book value of the aircraft and the associated non-recourse debt were recorded on the Company's consolidated balance sheet. The debt is currently being serviced by the underlying aircraft lease.
    Sales By Business Segment                          Three Months Ended
    (In thousands)                                         August 31,
                                                        2002       2001
                                                          (Unaudited)
    Inventory & Logistic Services                     $61,299    $81,186
    Maintenance, Repair & Overhaul                     46,926     56,687
    Manufacturing                                      27,987     21,955
    Aircraft & Engine Sales & Leasing                  14,953     43,165
                                                     $151,165   $202,993

SOURCE AAR CORP.
CONTACT: Timothy J. Romenesko, Vice President, Chief Financial Officer of AAR, +1-630-227-2090, tromenesko@aarcorp.com
Related news
See all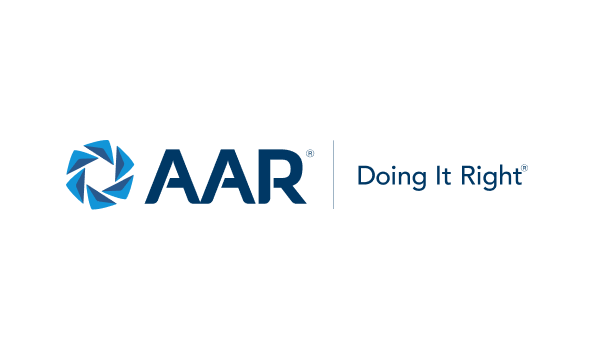 December 07, 2023
AAR to announce second quarter fiscal year 2024 results on December 21, 2023
Wood Dale, Illinois — AAR CORP. (NYSE: AIR), a leading provider of aviation services to commercial and government operators, MROs, and OEMs, today announced that it will release financial results for its second quarter of fiscal year 2024, ended November 30, 2023, after the close of the New York Stock Exchange trading session on Thursday, December 21, 2023.