AAR Reports 4th Quarter and Fiscal Year 2001 Results
WOOD DALE, Ill., /PRNewswire/ -- AAR (NYSE: AIR) today reported sales, excluding pass through sales, of $221.1 million for the fourth quarter ended May 31, 2001 compared to $207.0 million a year ago. Diluted earnings per share was $0.21 for the fourth quarter compared to $0.09 in the fourth quarter of last year. Cash flow from operations was $44.2 million for the quarter compared to $4.4 million a year ago. For the full fiscal year 2001, the Company reported sales, excluding pass through sales, of $853.7 million and diluted earnings per share of $0.69.
Special items recorded in the fourth quarter included a pre-tax charge of $5.4 million to write-down certain inventories previously dedicated to support the GE inventory management programs, which terminated in December. The Company also recorded a $4.0 million reduction in income tax expense due to increased benefits from the Company's foreign sales corporation and a reduction in tax liabilities no longer required.
"We placed great emphasis this past year on developing new customer relationships, adding repair technology and winning new inventory and logistics programs," said President and CEO David P. Storch. "These initiatives together with cost reductions and lower interest expense allowed us to achieve our objective of sequential earnings per share improvement for each quarter of fiscal 2001 despite challenging industry conditions and the loss of our largest inventory management program."
"We are pleased with the cash flow generated from operations during the year which is the result of intensified sales efforts, improved accounts receivable performance and lower investment in inventory while still investing in newer technology products," continued Storch. "By year end, we eliminated our short-term bank debt and reduced our fiscal 2001 interest expense by $1.5 million."
Outlook for Fiscal Year 2002
Most leading economic indicators suggest that the world economy, and in particular the U.S. economy, is experiencing a slowdown. Profitability in the airline industry is lower due to the effect of this economic slowdown and higher fuel prices. Further, demand for older generation aircraft and engines is declining and major OEMs are aggressively expanding their position in the aviation aftermarket. Major airlines are seeking cost effective solutions for their maintenance and supply requirements while there is an emerging need to support the fast growing regional jet market. Additionally, the Company is seeing an increase in logistic program opportunities in support of the U.S. Government and their major contractors. In light of these external factors and the Company's forecast, fiscal 2002 sales are projected to be between $875 and $925 million. Diluted earnings per share is expected to be in the $0.90 to $1.00 range, representing an improvement of approximately 30% to 40% over fiscal 2001.
"AAR seamlessly integrates and delivers highly focused supply chain management through a wide range of products and services," said Storch. "Current airline industry conditions of declining profitability will lead airlines and maintenance organizations to take greater advantage of the value added cost savings alternatives provided by AAR, which has always been the basis of our product offerings. Our financial strength allows us to offer a broader range of products and services to our customers and make complementary, accretive acquisitions."
AAR Significant Events in Fiscal 2001
In September 2000, AAR acquired substantially all of the net assets of Hermetic Aircraft International Corp., a wholly-owned subsidiary of Honeywell International Inc. Hermetic, renamed AAR Hermetic, provides repair and distribution services to the North American aviation aftermarket on behalf of European aircraft component manufacturers.

AAR was awarded a ten-year service center agreement by Honeywell as an authorized repair center for the maintenance, repair and overhaul of Honeywell environmental control systems in certain markets, including Europe, Asia/Pacific, Africa and most of the Middle East.

AAR entered into several agreements in support of the U.S. military, including supply chain management services for the U.S. Air Force E-8 JSTARS program and leasing and maintenance of two training aircraft for the U.S. Navy TACAMO program.

AAR was awarded a number of new engine parts inventory management programs, including agreements with MTU Maintenance Canada, Delta Air Lines and Air France.

AAR entered into an agreement with Boeing to provide warranty management, rotable maintenance, inventory management and logistics handling in support of the new B717-200 aircraft.

AAR signed multi-year contracts to provide landing gear support to United Air Lines in support of its fleet of 50 Boeing 777 commercial aircraft and with SkyWest and Comair in support of their combined fleet of over 200 regional aircraft.
Subsequent Events
In early June 2001, AAR completed a $75 million private placement of long-term debt. Proceeds will be used to supplement the Company's existing capital structure in anticipation of the November 2001 repayment of $65 million of 9.5% notes. After the repayment of the $65 million notes, interest expense will decrease $0.8 million annually.

AAR signed a three year agreement under which AAR Aircraft Component Services will become an authorized service center for the maintenance and repair of components installed on aircraft manufactured by Embraer.

AAR was awarded a contract with Bombardier Transportation to provide the design, engineering and manufacturing of the car bodies for the new monorail system in Las Vegas, Nevada, applying AAR's aerospace composites manufacturing expertise to other transportation applications.
AAR (NYSE: AIR) is the preeminent provider of products and value-added services to the worldwide aerospace/aviation industry. Products and services include proprietary inventory management and logistic support services, encompassing supply, repair and manufacture of spare parts and systems. Headquartered in Wood Dale, Illinois, AAR serves commercial and government aircraft fleet operators and independent service customers throughout the world. Further information can be found at www.aarcorp.com.
AAR will hold its quarterly conference call at 10:00 AM (CST) on Thursday, June 28, 2001. The conference call can be accessed via dial-in (1-719-457-2692; conference code 762178). A replay of the call will be available (1-719-457-0820; conference code 762178) until 12 AM on Thursday, July 5, 2001.
This press release contains certain statements relating to future results, which are forward-looking statements as that term is defined in the Private Securities Litigation Reform Act of 1995. These forward-looking statements are based on beliefs of Company management as well as assumptions and estimates based on information currently available to the Company, and are subject to certain risks and uncertainties that could cause actual results to differ materially from historical results or those anticipated, depending on a variety of factors, including: general economic conditions, implementation of information technology systems, integration of acquisitions, marketplace competition, economic and aviation/aerospace market stability and Company profitability. Should one or more of these risks or uncertainties materialize adversely, or should underlying assumptions or estimates prove incorrect, actual results may vary materially from those described. These events and uncertainties are difficult or impossible to predict accurately and many are beyond the Company's control. The Company assumes no obligation to publicly release the result of any revisions that may be made to any forward-looking statements to reflect events or circumstances after the date of such statements or to reflect the occurrence of anticipated or unanticipated events.
                          AAR CORP. and Subsidiaries

    Comparative Statement
     of Earnings                Three Months Ended      Twelve Months Ended
    (In thousands except               May 31,                 May 31,
     per share data)               2001       2000        2001         2000
                                     (Unaudited)

    Sales                     $ 221,079  $ 206,988   $ 853,659    $ 957,525
    Pass through sales               --     18,091      20,596       66,808
    Total sales                 221,079    225,079     874,255    1,024,333
    Gross profit                 30,969(2)  37,861     136,467(2)   172,853
    SG&A                         24,367     29,639(1)   96,077     102,195(1)
    Operating income              6,602      8,222      40,390       70,658
    Interest expense              4,748      5,682      21,887       23,431
    Interest income                 516        370       1,717        2,299
    Pretax income                 2,370      2,910      20,220       49,526
    Provision for income taxes   (3,336)(3)    439       1,689(3)    14,363
    Net income                    5,706      2,471      18,531       35,163
    Earnings Per Share-Basic     $ 0.21      $0.09      $ 0.69        $1.30
    Earnings Per Share-Diluted   $ 0.21      $0.09      $ 0.69        $1.28
    Average shares
     outstanding-Basic           26,940     26,877      26,913       27,103
    Average shares
     outstanding-Diluted         27,028     27,114      26,985       27,415

    (1) Includes $4.0 million 4th quarter fiscal 2000 charge to increase bad
         debt reserves
    (2) Includes $5.4 million 4th quarter fiscal 2001 charge to increase
         inventory reserves
    (3) Includes $4.0 million 4th quarter fiscal 2001 reduction in income tax
         expense

    Balance Sheet Highlights                 May 31,                May 31,
    (In thousands except                      2001                   2000
    per share data)

    Current assets                         $ 485,856              $ 511,267
    Current liabilities                      125,392                163,816
    Working capital                          360,464                347,451
    Total assets                             704,353                740,998
    Long-term debt                           179,987                180,447
    Stockholders' equity                     342,711                339,515
    Book value per share                     $ 12.72                $ 12.64
    Shares outstanding                        26,937                 26,865

    Sales By Business Activity   Three Months Ended       Twelve Months Ended
    (In thousands)                      May 31,                  May 31,
                                    2001       2000         2001         2000

    Aircraft and Engines       $  90,856  $  73,835   $ 337,192     $ 440,285
    Airframe and Accessories     106,832    102,646     419,313       397,307
    Manufacturing                 23,391     30,507      97,154       119,933
                               $ 221,079  $ 206,988   $ 853,659     $ 957,525
    Pass Through Sales                --     18,091      20,596        66,808
                               $ 221,079  $ 225,079   $ 874,255    $1,024,333

         


SOURCE AAR CORP.
CONTACT: Timothy J. Romenesko, Vice President, Chief Financial Officer of AAR Corp., 630-227-2090, or tromenesko@aarcorp.com
Related news
See all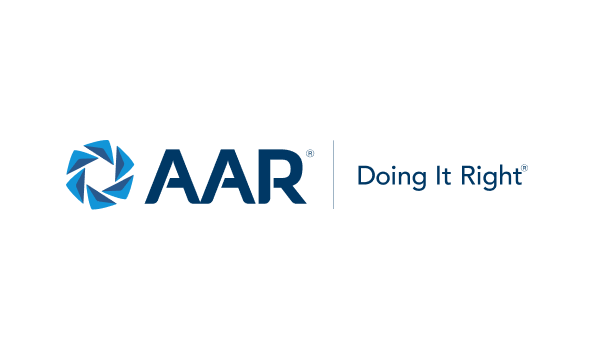 December 07, 2023
AAR to announce second quarter fiscal year 2024 results on December 21, 2023
Wood Dale, Illinois — AAR CORP. (NYSE: AIR), a leading provider of aviation services to commercial and government operators, MROs, and OEMs, today announced that it will release financial results for its second quarter of fiscal year 2024, ended November 30, 2023, after the close of the New York Stock Exchange trading session on Thursday, December 21, 2023.