Air Transport Industry Strengthens Its Ties with Aerospan.Com by Forming Advisory Board and Increasing Equity Participation
AMSTERDAM, Netherlands and WOOD DALE, Ill., /PRNewswire/ - The 30 airline and air transport organizations* which comprise the SITA Board of Directors have decided to further strengthen the air transport community's involvement with Aerospan.com(TM). Through their ownership of SITA, more than 700 air transport industry members currently own 50% of Aerospan.com. SITA's Board and Aerospan.com have decided to form an Advisory Board to support and guide the strategic development and features of the most comprehensive and neutral e-marketplace for the US$80-100 billion air transport industry.
"Embracing all the advantages of business-to-business (B2B) and e-commerce is vital to the future success of the entire air transport industry. Introducing an Advisory Board is yet another means of ensuring that, as a neutral e-marketplace, Aerospan.com continues to meet all the requirements of the air transport industry," said Rene Azoulai, SITA's Senior Vice President Marketing and Business Development. "Founded on the principles of cooperation, SITA continues to work in close partnership with the world's airlines and air transport industry, providing, for over 50 years, innovative solutions to meet their business requirements."
Additionally, launch customers of Aerospan.com will have the opportunity to acquire an additional equity stake through Aerospan.com's early adopter program, with customers gaining equity based upon the volume of business transacted in the early periods. At launch in mid-2000, Aerospan.com will enable 15,000 airlines, aviation/aerospace companies and other industry participants to source, buy and sell products and services online. Aerospan.com leverages SITA's global network and IT solutions capabilities and AAR's leadership in aviation supply chain management. SITA members that are customers of Aerospan.com will also qualify for equity in SITA's new commercial venture, SITA INC, in accordance with the company's equity participation scheme.
"Development continues on schedule using the best of breed software and development tools available to offer all participants the most advanced customer focused solutions. The neutral, buyer focused environment of Aerospan.com will provide participants with global access to a vast array of products and services as well as market-based pricing thereby driving down costs, maximizing efficiency and improving customer service and profitability," said Timothy Romenesko, AAR's Vice President and Chief Financial Officer.
About Aerospan.com
Aerospan.com will provide a neutral e-commerce marketplace for the entire array of supplies of the air transport industry and create a more efficient and better-informed global marketplace. At launch in mid 2000, it will create the most comprehensive and all-inclusive e-marketplace for the US$80-100 billion air transport industry and will enable over 15,000 airlines, aviation/aerospace companies and other industry participants to source, buy and sell supplies online. Joint venture partners SITA and AAR CORP (NYSE: AIR) will initially each own 50% of Aerospan.com, which leverages SITA's global network and IT solutions capabilities and AAR's leadership in aviation supply chain management. Aerospan.com has headquarters in Chicago, USA.
Further information can be found at http://www.aerospan.com .
About AAR CORP
AAR CORP (NYSE: AIR) is the preeminent provider of products and value-added services to the worldwide aerospace/aviation industry. Products and services include proprietary inventory management and logistic support services, encompassing supply, repair and manufacture of spare parts and systems. Headquartered in Wood Dale, Illinois, AAR serves commercial and government aircraft fleet operators and independent service customers throughout the world and has annual revenues of approximately US$1 billion. Further information on AAR CORP. can be found at http://twww.aarcorp.com
About SITA
SITA is the world's leading provider of integrated telecommunications and information solutions to the air transport industry. With over 51 years experience, SITA now has over 700 members, including airlines, airports, travel distribution and computer reservation systems, governmental organizations, aerospace and air-freight companies. All of the world's major airlines, including American Airlines, All Nippon Airways, Air France, British Airways, Continental, Delta Airlines, Japan Airlines, Lufthansa and Northwest Airlines, and aerospace manufacturers Airbus and Boeing are all long-standing SITA members and customers. SITA's strong portfolio and worldwide presence enable it to seamlessly meet both the domestic and global IT and communications requirements of its extensive customer base. SITA recorded corporate revenues of over US$1.4 billion in 1999. The SITA Group consists of a cooperative organization SITA SC with headquarters based in Geneva, Switzerland, and SITA INC, a value-added services company, with headquarters in Amsterdam, The Netherlands.
Further information on SITA can be found at http://www.sita.int .
*SITA's Board of Directors has 30 members from the following organizations representing the whole SITA membership: Aeroflot, Air France, AlItalia, Amadeus, American Airlines, British Airways, Cathay Pacific Airways, Delta Air Lines, DHL Worldwide Network, Egyptair, Galileo International, Iberia, Japan Airlines, KLM Royal Dutch Airlines, LanChile, Lufthansa, Malaysia Airlines, Malev, Northwest Airlines, Olympic Airways, Polynesian Airlines, Qantas Airways, Swissair, SAS, Southern Cross Distribution Systems, Thai Airways, Worldspan, United Airlines, Varig.
This press release contains certain statements relating to future results, which are forward-looking statements as that term is defined in the Private Securities Litigation Reform Act of 1995. These forward-looking statements are based on beliefs of Company management as well as assumptions and estimates based on information currently available to the Company, and are subject to certain risks and uncertainties that could cause actual results to differ materially from historical results or those anticipated, depending on a variety of factors, including: implementation of information technology systems, integration of acquisitions, marketplace competition, unidentified Year 2000 problems, economic and aviation/aerospace market stability and Company profitability. Should one or more of these risks or uncertainties materialize adversely, or should underlying assumptions or estimates prove incorrect, actual results may vary materially from those described. SOURCE AAR
CONTACT: Karl Moore, Public Relations Manager of SITA, 44 0 20 8476 4656, fax, 44 0 20 8476 4691, or e-mail, karl.moore@sita.int; or Dawn Kaiser, Investor Relations of AAR CORP, 630-227-2098, fax, 630-227-2104, or e-mail, dkaiser@aarcorp.com
Related news
See all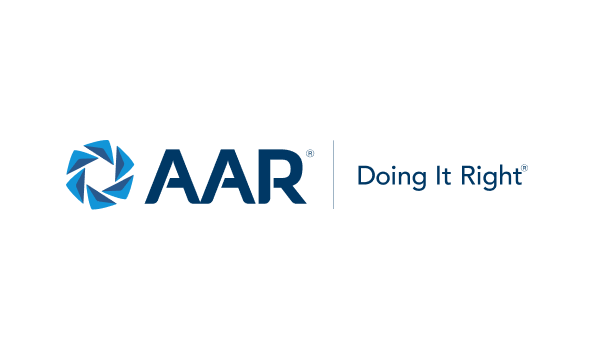 December 07, 2023
AAR to announce second quarter fiscal year 2024 results on December 21, 2023
Wood Dale, Illinois — AAR CORP. (NYSE: AIR), a leading provider of aviation services to commercial and government operators, MROs, and OEMs, today announced that it will release financial results for its second quarter of fiscal year 2024, ended November 30, 2023, after the close of the New York Stock Exchange trading session on Thursday, December 21, 2023.