AAR Reports Second Quarter Results - 2000
WOOD DALE, Ill., /PRNewswire/ -- AAR (NYSE: AIR) today reported diluted earnings per share of $0.16 and net income of $4.3 million for the second quarter of Fiscal 2001, which ended November 30, 2000. Sales for the quarter, excluding pass through sales, were $207.6 million. Total sales including pass through sales were $211.3 million. The Company generated $17.9 million in cash flow from operations during the quarter.
Sales and net income for the second quarter declined from $248.1 million and $10.9 million in the prior year, respectively, primarily due to lower aircraft and engine sales, engine parts sales and sales of products in support of U.S. Government rapid deployment activities.
Beginning with the fourth quarter of Fiscal 2000, the Company's results were adversely impacted by industry factors including higher fuel prices, higher interest rates, bankruptcies at certain airlines and financial pressures experienced by certain competitors. In light of this environment, the Company has reduced its investment in inventory, tightened its extension of credit and lowered expenses.
The earnings improvement over first quarter Fiscal 2001 results was principally due to continued strength in AAR's aircraft component repair businesses, improvement in its Landing Gear business, efficiencies in its engine parts supply and repair operations, and higher manufacturing margins.
"We continue to see sequential earnings improvement as we improve margins and lower expenses," said David P. Storch, AAR President and CEO. "During the quarter, the Company continued to adapt to the changing market and maintain its position as the premier supplier of products and services to the global aviation marketplace. We are encouraged by our progress navigating through this difficult period."
During the second quarter, AAR acquired substantially all of the net assets of Hermetic Aircraft International Corp, a wholly owned subsidiary of Honeywell International Inc. Hermetic, renamed AAR Hermetic, provides repair and distribution services to the North American aviation aftermarket on behalf of European aircraft component manufacturers. Sales were approximately $20 million during the most recent 12-month period prior to the acquisition.
"Hermetic has an excellent industry-wide reputation for service and technology," said Storch. "The acquisition expands our existing aircraft component services offerings to include European manufactured components sold in North America."
Other significant developments in the second quarter include the following:
AAR sold the majority of its ownership position in Aerospan.com to SITA, its partner in the e-marketplace joint venture. The sale resulted in the recovery of all of AAR's investment and a modest return that was partially redeployed to other e-business initiatives. AAR maintains a continuing interest in the success of Aerospan and expects to participate as an important supplier to and customer of the e-marketplace.

AAR was awarded a ten-year service center agreement by Honeywell as an authorized repair center for the maintenance, repair and overhaul of Honeywell environmental control systems in markets including Europe, Asia/Pacific, South America, Africa and most of the Middle East.

AAR purchased two narrow body aircraft on lease to British Airways and signed sales contracts to deliver these aircraft and one additional aircraft already in inventory during the next two quarters.

AAR was awarded a contract with Lufthansa Technik, Hamburg, Germany, one of the largest providers of aircraft-related technical services worldwide. Under terms of the contract, AAR will provide composite interior linings for twelve Boeing Business Jets (BBJ), with options for up to twenty additional linings.
Subsequent Event
On December 14, 2000, AAR and General Electric ("GE") entered into a series of agreements ("Agreements") whereby AAR ended its exclusive engine part support agreements with three GE engine repair facilities, sold to GE its interest in the Aviation Inventory Management Co. L.L.C. ("AIMCO") joint venture, dissolved the Turbine Engine Asset Management L.L.C. ("TEAM") joint venture and was named a GE preferred supplier.
"As GE's demand for certain parts declined, it became apparent that a change in the relationship was necessary. As a result of the actions taken, AAR will reduce its investment in inventory while still retaining GE as a customer," Storch said.
"Further, the anticipated benefits of the joint venture partnerships with GE were never fully realized," Storch continued. "With respect to the GE used serviceable engine parts market, AAR was a major player before the formation of the TEAM joint venture, we provided the facilities and personnel for the joint venture, and we expect to be a leader in this market going forward independent of TEAM. Regarding rotable leasing, we have identified other financial partners to replace GE in assisting us in structuring transactions for our customers."
Sales to GE under the engine parts support agreements for the last three quarters were between $10-15 million per quarter. The Company does not expect a significant change to sales in subsequent quarters as a result of the Agreements due to future sales to GE under the preferred supplier status and sales previously recorded by TEAM, an unconsolidated joint venture, which now will be recorded by the Company.
AAR Corp. (NYSE: AIR) is the preeminent provider of products and value-added services to the worldwide aerospace/aviation industry. Products and services include proprietary inventory management and logistic support services, encompassing supply, repair and manufacture of spare parts and systems. Headquartered in Wood Dale, Illinois, AAR serves commercial and government aircraft fleet operators and independent service customers throughout the world. Further information can be found at www.aarcorp.com.
AAR will hold its quarterly conference call at 10:00 AM (CST) on Wednesday, December 20, 2000. The conference call can be accessed via dial-in (1-719-457-2621; conference code 530407). A replay of the call will be available (1-719-457-0820; conference code 530407) until 12 AM on Wednesday, December 27, 2000.
This press release contains certain statements relating to future results, which are forward-looking statements as that term is defined in the Private Securities Litigation Reform Act of 1995. These forward-looking statements are based on beliefs of Company management as well as assumptions and estimates based on information currently available to the Company, and are subject to certain risks and uncertainties that could cause actual results to differ materially from historical results or those anticipated, depending on a variety of factors, including: implementation of information technology systems, integration of acquisitions, marketplace competition, impact of the change in the GE relationship, economic and aviation/aerospace market stability and Company profitability. Should one or more of these risks or uncertainties materialize adversely, or should underlying assumptions or estimates prove incorrect, actual results may vary materially from those described.
AAR CORP. and Subsidiaries
    Comparative Statement of Earnings   Three Months Ended    Six Months Ended
    (In thousands except per share data)   November 30,          November 30,
                                        2000        1999       2000       1999
                                          (Unaudited)           (Unaudited)

    Sales                          $ 207,637   $ 248,070  $ 432,525  $ 493,979
    Pass through sales                 3,698      12,170     20,580     32,944
    Total sales                      211,335     260,240    453,105    526,923
    Gross profit                      35,337      45,728     69,752     89,918
    Selling, general & admin & other  23,879      24,469     48,423     48,152
    Operating income                  11,458      21,259     21,329     41,766
    Interest expense                   5,718       5,961     11,706     11,770
    Interest income                      245         282        751        970
    Pretax income                      5,985      15,580     10,374     30,966
    Net income                         4,278      10,906      7,437     21,737
    Earnings Per Share-Basic          $ 0.16       $0.40     $ 0.28      $0.80
    Earnings Per Share-Diluted        $ 0.16       $0.40     $ 0.28      $0.79
    Average shares outstanding-Basic  26,913      27,199     26,886     27,296
    Average shares
     outstanding-Diluted              26,972      27,489     26,959     27,662


    Balance Sheet Highlights                 November 30,             May 31,
    (In thousands except per share data)        2000                   2000
                                             (Unaudited)        (Derived from
                                                            audited financial
                                                                   statements)

    Current assets                            $ 514,749             $ 511,267
    Current liabilities                         189,367               163,816
    Working capital                             325,382               347,451
    Total assets                                772,941               740,998
    Long-term debt                              180,173               180,447
    Stockholders' equity                        341,264               339,515
    Book value per share                        $ 12.67               $ 12.64
    Shares outstanding                           26,932                26,865

    Sales By Business Activity         Three Months Ended    Six Months Ended
    (In thousands)                        November 30,          November 30,
                                       2000         1999       2000       1999

    Aircraft and Engines             $77,012    $121,217   $174,685   $241,069
    Airframe and Accessories         107,170      96,586    211,379    192,753
    Manufacturing                     23,455      30,267     46,461     60,157
                                    $207,637    $248,070   $432,525   $493,979
    Pass Through Sales                 3,698      12,170     20,580     32,944
                                    $211,335    $260,240   $453,105   $526,923


SOURCE AAR CORP.
CONTACT: Timothy J. Romenesko, Vice President, Chief Financial Officer of AAR Corp., 630-227-2090, or tromenesko@aarcorp.com
Related news
See all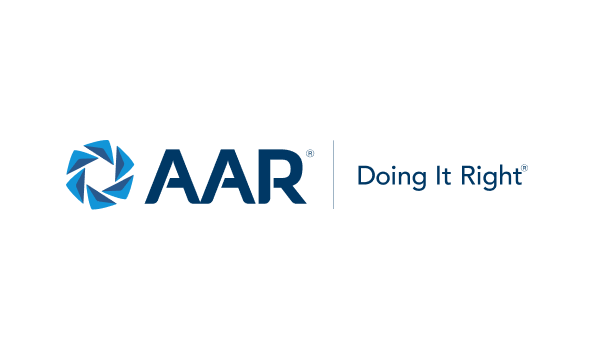 December 07, 2023
AAR to announce second quarter fiscal year 2024 results on December 21, 2023
Wood Dale, Illinois — AAR CORP. (NYSE: AIR), a leading provider of aviation services to commercial and government operators, MROs, and OEMs, today announced that it will release financial results for its second quarter of fiscal year 2024, ended November 30, 2023, after the close of the New York Stock Exchange trading session on Thursday, December 21, 2023.