AAR Reports First Quarter Results - 2000
WOOD DALE, Ill., /PRNewswire/ -- AAR (NYSE: AIR) today reported diluted earnings per share of $0.12 and net income of $3.2 million for the first quarter of Fiscal 2001 ended August 31, 2000. Sales for the quarter, excluding pass through sales, were $224.9 million. Total sales including pass through sales were $241.8 million. Although the Company continued to experience strength in its Airframe and Accessories businesses, first quarter sales declined over the prior year primarily as a result of lower revenue in the Company's aircraft sales business.
Net income and earnings per share were down from the prior year as a result of a reduction in gross profit margins, principally at the Company's engine parts, landing gear repair and general aviation parts distribution businesses. This decline was primarily attributable to pricing pressure on older technology engine parts, reduced demand from certain inventory management programs, deferred landing gear removals due to unusually heavy utilization during the peak summer months and lower demand for general aviation parts driven by higher fuel prices.
"We are working to resolve issues with a main program customer," said David P. Storch, AAR President and CEO. "As we reduce our investment in older technology engine parts consistent with reduced demand, we will be increasing our investment in aircraft, engines and newer generation engine parts. During the quarter we acquired three aircraft to expand our leasing activity. We are also investing in higher margin repair capabilities and are actively pursuing acquisitions of complementary businesses," Storch continued. "We expect these actions to result in sequential earnings improvement."
During the quarter, the Company entered into the following significant new contracts having an aggregate annual sales value in excess of $15 million:
A supply chain management services agreement by Northrop Grumman in support of their US Air Force contract for maintenance, training and upgrades for the E-8 Joint Surveillance Target Attack Radar System aircraft (JSTARS).

A multi-year contract to provide landing gear support to United Airlines in support of its fleet of 70 Boeing 777 commercial aircraft.

Multi-year landing gear support contracts with SkyWest and Comair in support of their combined fleet of over 200 Canadian Regional Jets.

A five-year support agreement with KLMuk Engineering for rotable component repair and inventory management in support of its fleet of BAe146 regional aircraft.

An agreement with Boeing Corp. to provide warranty management, rotable maintenance, inventory management and logistics handling in support of the new B717-200 aircraft.
AAR Corp. (NYSE: AIR) is the preeminent provider of products and value-added services to the worldwide aerospace/aviation industry. Products and services include proprietary inventory management and logistic support services, encompassing supply, repair and manufacture of spare parts and systems. Headquartered in Wood Dale, Illinois, AAR serves commercial and government aircraft fleet operators and independent service customers throughout the world. Further information can be found at www.aarcorp.com.
This press release contains certain statements relating to future results, which are forward-looking statements as that term is defined in the Private Securities Litigation Reform Act of 1995. These forward-looking statements are based on beliefs of Company management as well as assumptions and estimates based on information currently available to the Company, and are subject to certain risks and uncertainties that could cause actual results to differ materially from historical results or those anticipated, depending on a variety of factors, including: implementation of information technology systems, integration of acquisitions, marketplace competition, economic and aviation/aerospace market stability and Company profitability. Should one or more of these risks or uncertainties materialize adversely, or should underlying assumptions or estimates prove incorrect, actual results may vary materially from those described.
AAR CORP. and Subsidiaries
    Comparative Statement of Earnings                 Three Months Ended
    (In thousands except per share data)                  August 31,
                                                       2000        1999
                                                         (Unaudited)

    Sales                                           $ 224,888   $ 245,909
    Pass through sales                                 16,882      20,774
    Total sales                                       241,770     266,683
    Gross profit                                       34,415      44,190
    SG&A                                               24,544      23,683
    Operating income                                    9,871      20,507
    Interest expense                                    5,988       5,809
    Interest income                                       506         688
    Pretax income                                       4,389      15,386
    Net income                                          3,159      10,831
    Earnings Per Share-Basic                           $ 0.12       $0.40
    Earnings Per Share-Diluted                         $ 0.12       $0.39
    Average shares outstanding-Basic                   26,859      27,394
    Average shares outstanding-Diluted                 26,962      27,827


    Balance Sheet Highlights                         August 31,     May 31,
    (In thousands except per share data)               2000          2000
                                                   (Unaudited)  (Derived from
                                                                    audited
                                                                   financial
                                                                  statements)

    Current assets                                  $ 510,278     $ 511,267
    Current liabilities                               168,282       163,816
    Working capital                                   341,996       347,451
    Total assets                                      747,543       740,998
    Long-term debt                                    180,367       180,447
    Stockholders' equity                              339,253       339,515
    Book value per share                              $ 12.63       $ 12.64
    Shares outstanding                                 26,856        26,865


    Sales By Business Activity                         Three Months Ended
    (In thousands)                                         August 31,
                                                       2000          1999

    Airframe and Accessories                         $104,209     $  96,166
    Aircraft and Engines                               97,673       119,854
    Manufacturing                                      23,006        29,889
                                                     $224,888      $245,909
    Pass Through Sales                                 16,882        20,774
                                                     $241,770      $266,683


SOURCE AAR CORP.
CONTACT: Timothy J. Romenesko, Vice President, Chief Financial Officer of AAR Corporation, 630-227-2090, or e-mail, tromenesko@aarcorp.com
Related news
See all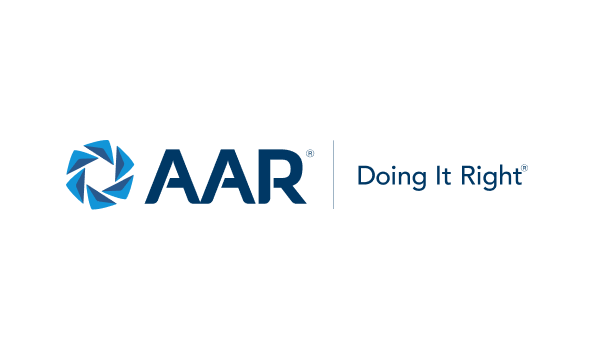 December 07, 2023
AAR to announce second quarter fiscal year 2024 results on December 21, 2023
Wood Dale, Illinois — AAR CORP. (NYSE: AIR), a leading provider of aviation services to commercial and government operators, MROs, and OEMs, today announced that it will release financial results for its second quarter of fiscal year 2024, ended November 30, 2023, after the close of the New York Stock Exchange trading session on Thursday, December 21, 2023.