AAR Announces Record Sales and Earnings in 4th Quarter and Fiscal 1999
*Fiscal 1999 Sales and Earnings Per Share Up 17% Over Fiscal 1998 * Diluted Earnings Per Share of $0.42 for Fourth Quarter, $1.49 for Fiscal Year * Business Conditions, Value-Added Services Fuel Growth* New Parts Distribution Integration On Track * Electronic Commerce Initiatives Underway
WOOD DALE, Ill., /PRNewswire/ -- AAR CORP. (NYSE: AIR) announced today that it posted the highest sales and net income in the history of the Company for both the fourth quarter and fiscal year. The Company reported diluted earnings per share (EPS) of $0.42 for the fourth quarter, an increase of 13.5% over the same quarter last year, and diluted EPS of $1.49 for fiscal year 1999, 17.3% higher than fiscal year 1998.
''I am extremely pleased with our financial results and the progress we've made on our key initiatives,'' AAR President and Chief Executive Officer David P. Storch said. ''Our customers continue to look for more efficient ways to supply and maintain their fleets. They are reducing the number of suppliers they deal with, entering into long-term supply agreements and outsourcing their inventory management. AAR has developed a carefully constructed portfolio of value-added products and services to take advantage of these changing market dynamics. This strategy yielded record sales and profits in fiscal 1999, and we anticipate continued strong growth in fiscal 2000.''
Net sales for the quarter were a record $245.6 million, an increase of 10.4% over the same period last year. Adjusting for the sale of the industrial products business, sales increased 13.0%. Net income grew 10.5% to $11.7 million, also a quarter record. During the quarter, AAR successfully completed the systems integration in its new parts distribution business.
''Fourth quarter results were driven by strong business conditions, which boosted sales in our Aircraft and Engines Group and our Manufacturing Group. In addition, the integration of our new parts distribution business has turned the corner, contributing to a 8.7% increase in revenue over the third quarter in the Airframe and Accessories Group,'' Storch said.
For fiscal year 1999, net sales grew 17.4 % to a record $918.0 million, and net income increased 16.9% to a record $41.7 million. After adjusting for the impact of acquisitions, divestitures and joint ventures, the sales increase was 20.8%. AAR experienced solid growth in all three of its business groups in fiscal 1999. Aircraft and Engine revenues grew 22.7% over fiscal 1998 to $416.2 million. Revenues in the Airframes and Accessories Group reached $376.3 million, an increase of 12.9%. Manufacturing Group revenues hit $125.6 million, 14.6% percent higher than the previous year despite the divestiture of its industrial products unit.
''AAR has built a strategic position as the preeminent provider of value- added products and services that can be customized to meet the needs of the aviation customer,'' Storch said.
As an example, Storch cited AAR's contract to provide comprehensive, Internet-based airframe inventory support for Grupo TACA's maintenance operations.
''Using newly developed Internet-based electronic commerce tools and a variety of other industry-leading capabilities, we partner with our customers to provide value-added services like outsourced inventory management. We believe this is a niche that will grow faster than the aviation industry as a whole,'' Storch added.
During fiscal 1999, AAR saw strong growth in the Asia Pacific and Central and South America geographic regions despite economic recessions in those areas. Asia Pacific sales grew 27.8%, while Central and South American sales more than doubled. ''Our fiscal 1999 results demonstrate that AAR is a geographically balanced company,'' Storch said.
In fiscal 1999, AAR also saw positive results from a number of its initiatives to improve operational efficiency. Selling, General and Administrative expenses as a percent of sales decreased to 10.4% from 10.7% in fiscal 1998. Cash flow from operations exceeded $25.0 million for the year, representing the 11th consecutive year of positive operating cash flow for the Company. Working capital turnover improved to 3.3 from 3.1 last year and return on equity increased to 13.3% from 12.5% in fiscal 1998.
                    AAR Significant Events In Fiscal 1999

    * AAR introduced its On-Line Parts Warehouse.  The warehouse enables
    customers to access AAR's extensive inventory of new, overhauled and
    serviceable components from anywhere in the world.  The Internet-based
    site provides registered customers with 24 hour real-time access to stock
    quantities, pricing and order processing.

    * Grupo TACA selected AAR Airframe & Accessories Group, Inc. to provide
    comprehensive internet-based airframe inventory support for the alliance's
    maintenance operations. Under the five-year agreement, AAR is Grupo TACA's
    exclusive supplier of certain airframe inventory and rotable repair
    services, with anticipated revenue of approximately $10 million per year.

    * AAR, GE Capital Aviation Services (GECAS) and GE Engine Services, Inc.
    created a joint venture rotable parts leasing company, Aviation Inventory
    Management Co. L.L.C. (AIMCO).  The new company combines AAR's inventory
    management, remarketing, repair and overhaul capability with the aviation
    services and technical expertise of GE Engine Services and the financial
    strength and lease structuring experience of GECAS.

    * AAR's aircraft maintenance facility in Oklahoma City won a five-year $67
    million contract, including options, to provide line maintenance,
    scheduled heavy maintenance and inventory supply and management on 12 or
    more aircraft operated by the United States Marshals Service and
    Immigration and Naturalization Service.

    * AAR acquired the assets of Tempco Hydraulics, Inc., a privately held
    regional aircraft landing gear repair and overhaul business, as part of
    its strategy to expand service and support capabilities for regional
    airlines and to become a full line supplier to this growing market.

    * AAR sold substantially all of the net assets of AAR PowerBoss, the
    company's industrial products manufacturing subsidiary.


AAR CORP. (NYSE: AIR) is the preeminent provider of products and value- added services to the worldwide aerospace/aviation industry. Products and services include proprietary inventory management and logistic support services, encompassing supply, repair and manufacture of spare parts and systems. Headquartered in Wood Dale, Illinois, AAR serves commercial and government aircraft fleet operators and independent service customers throughout the world.
This press release contains certain statements relating to future results, which are forward-looking statements as that term is defined in the Private Securities Litigation Reform Act of 1995. These forward-looking statements are based on beliefs of Company management as well as assumptions and estimates based on information currently available to the Company, and are subject to certain risks and uncertainties that could cause actual results to differ materially from historical results or those anticipated, depending on a variety of factors, including: implementation of information technology systems, integration of acquisitions, marketplace competition, unidentified Year 2000 problems, economic and aviation/aerospace market stability and Company profitability. Should one or more of these risks or uncertainties materialize adversely, or should underlying assumptions or estimates prove incorrect, actual results may vary materially from those described.
 

       AAR CORP. and Subsidiaries Comparative Statement of Earnings
     For the Three- and Twelve-Month Periods Ended May 31, 1999 and 1998

    (In thousands except
     per share data)                Three Months          Twelve Months
                                  1999      1998         1999      1998
                                    (Unaudited)
    Net sales                  $ 245,641 $ 222,569   $ 918,036 $ 782,123
    Operating income              21,503    19,827      77,381    64,716
    Pretax income                 16,836    15,288      59,786    51,157
    Net income                    11,735    10,622      41,671    35,657
    Earnings Per Share-Basic      $ 0.43     $0.38      $ 1.51    $ 1.29
    Earnings Per Share-Diluted    $ 0.42     $0.37      $ 1.49    $ 1.27
    Average shares
     outstanding-Basic            27,379    27,701      27,549    27,588
    Average shares
     outstanding-Diluted          27,690    28,536      28,006    28,174

             AAR CORP. and Subsidiaries Balance Sheet Highlights

    (In thousands except per share data)      May 31,1999    May 31,1998

    Current assets                            $ 508,186      $ 468,400
    Current liabilities                         173,586        149,148
    Working capital                             334,600        319,252
    Long-term debt                              180,939        177,509
    Stockholders' equity                        326,035        300,850
    Book value per share                        $ 11.91        $ 10.85
    Shares outstanding                           27,380         27,717

                        Net Sales By Business Activity

    (In thousands)                Three Months Ended    Twelve Months Ended
                                       May 31,               May 31,
                                    1999      1998        1999      1998
    Aircraft and Engines        $116,743   $96,583    $416,199  $339,299
    Airframe and Accessories      97,091    97,050     376,257   333,283
    Manufacturing                 31,807    28,936     125,580   109,541

        Total                   $245,641  $222,569    $918,036  $782,123

SOURCE: AAR CORP.
Related news
See all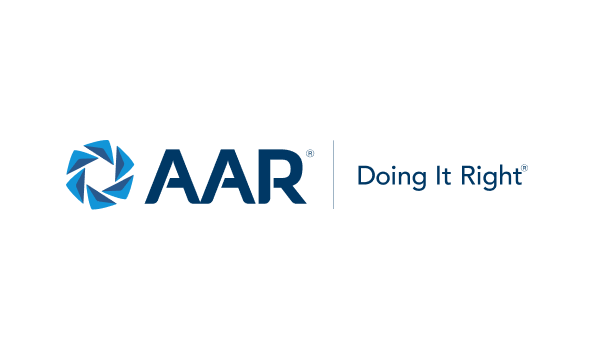 December 07, 2023
AAR to announce second quarter fiscal year 2024 results on December 21, 2023
Wood Dale, Illinois — AAR CORP. (NYSE: AIR), a leading provider of aviation services to commercial and government operators, MROs, and OEMs, today announced that it will release financial results for its second quarter of fiscal year 2024, ended November 30, 2023, after the close of the New York Stock Exchange trading session on Thursday, December 21, 2023.