AAR Announces Record Quarterly Sales and First Quarter Earnings
-- 14.7% Earnings Per Share Increase -- Nineteenth Consecutive Quarter of Year-Over-Year EPS Increases
WOOD DALE, Ill., /PRNewswire/ -- AAR CORP. (NYSE: AIR) announced today that for the Company's fiscal year 2000 first quarter ended August 31, 1999, net sales increased 13.9% to $245.9 million, the highest quarterly sales in the Company's history. After adjusting for the divestiture of the Company's industrial products manufacturing business, net sales increased 16.8%. Net income grew to a first quarter record $10.8 million, a 12.6% increase over last year, and diluted earnings per share increased 14.7% to $0.39 from $0.34 a year ago. It was the Company's 19th consecutive quarter of year-over-year earnings per share increases.
''I am pleased with our results in the first quarter of fiscal 2000,'' AAR President and Chief Executive Officer David P. Storch said. ''AAR's sustained growth in both revenue and earnings demonstrates the effectiveness of our strategy of providing customized, value-added products and services to a diversified customer base. In particular, we continue to benefit from our industry leading capabilities in providing outsourced inventory management and overhaul programs. ''
AAR's Aircraft and Engines revenues grew 33.1% over the same quarter last year to $119.9 million. Airframe and Accessories revenues reached $96.1 million, an increase of 3.5%. Manufacturing revenues were $29.9 million. Adjusting for the November 1998 sale of the industrial floor products unit, revenues in this group grew 8.6%.
''With a broad line of products and services, an international customer base, and an established presence in commercial, government/military and general aviation, AAR is well positioned to take advantage of growth opportunities wherever they present themselves,'' Storch said.
Other significant activities in the first quarter included the following:
    -- Condor/Cargo Technik of Frankfort, Germany awarded AAR an exclusive,
       multi-year agreement for the supply of exchange landing gear for
       Condor's fleet of 767 aircraft. As part of its service, AAR will employ
       its innovative, award-winning "Tiger Teams" to perform interim
       inspections of landing gear to keep Condor's fleet in compliance with
       both FAA/JAA and Boeing requirements.

    -- The U.S. Marshals Service exercised its option to renew its contract
       with AAR to provide line maintenance, scheduled heavy maintenance and
       inventory supply and management in support of its fleet of 12 or more
       aircraft.

    -- AAR was selected as sole distributor for Allied Signal's Grimes brand
       of lighting products, including anti-collision, interior, cockpit,
       emergency, navigational and landing lights for business and general
       aviation.


AAR CORP. is the preeminent provider of products and value-added services to the worldwide aerospace/aviation industry. Products and services include proprietary inventory management and logistic support services, encompassing supply, repair and manufacture of spare parts and systems. Headquartered in Wood Dale, Illinois, AAR serves commercial and government aircraft fleet operators and independent service customers throughout the world.
This press release contains certain statements relating to future results, which are forward-looking statements as that term is defined in the Private Securities Litigation Reform Act of 1995. These forward-looking statements are based on beliefs of Company management as well as assumptions and estimates based on information currently available to the Company, and are subject to certain risks and uncertainties that could cause actual results to differ materially from historical results or those anticipated, depending on a variety of factors, including: implementation of information technology systems, integration of acquisitions, marketplace competition, unidentified Year 2000 problems, economic and aviation/aerospace market stability and Company profitability. Should one or more of these risks or uncertainties materialize adversely, or should underlying assumptions or estimates prove incorrect, actual results may vary materially from those described.
 

         AAR CORP. and Subsidiaries Comparative Statement of Earnings
          For the Three-Month Period Ended August 31, 1999 and 1998

    (In thousands except per share data)        Three Months Ended August 31,
                                                 1999                1998
                                                       (Unaudited)

    Net sales                                 $ 245,909          $ 215,898
    Operating income                             20,507             18,039
    Pretax income                                15,386             13,806
    Net income                                   10,831              9,623
    Earnings Per Share-Basic                     $ 0.40             $ 0.35
    Earnings Per Share-Diluted                   $ 0.39             $ 0.34
    Average shares outstanding-Basic             27,394             27,713
    Average shares outstanding-Diluted           27,827             28,312


               AAR CORP. and Subsidiaries Balance Sheet Highlights

    (In thousands except per share data)      August 31,            May 31,
                                                 1999                1999
                                             (Unaudited)      (Derived from
                                                           audited financial
                                                                 statements)

    Current assets                            $ 497,652          $ 508,186
    Current liabilities                         156,581            173,586
    Working capital                             341,071            334,600
    Long-term debt                              180,800            180,939
    Stockholders' equity                        335,024            326,035
    Book value per share                        $ 12.23            $ 11.91
    Shares outstanding                           27,401             27,380

                         Net Sales By Business Activity

    (In thousands)                                 Three Months Ended
                                                         August 31,
                                                 1999                1998

    Aircraft and Engines                       $119,878            $90,067
    Airframe and Accessories                     96,142             92,916
    Manufacturing                                29,889             32,915
                                               $245,909           $215,898

SOURCE: AAR Corp
Related news
See all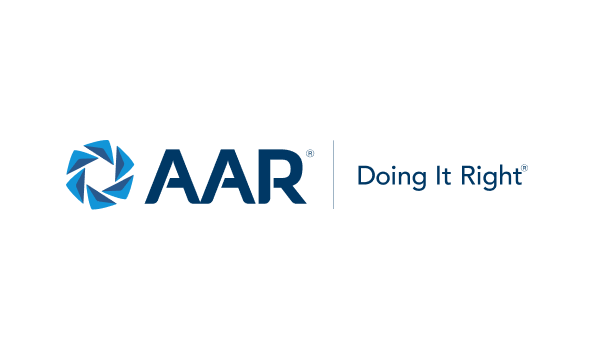 December 07, 2023
AAR to announce second quarter fiscal year 2024 results on December 21, 2023
Wood Dale, Illinois — AAR CORP. (NYSE: AIR), a leading provider of aviation services to commercial and government operators, MROs, and OEMs, today announced that it will release financial results for its second quarter of fiscal year 2024, ended November 30, 2023, after the close of the New York Stock Exchange trading session on Thursday, December 21, 2023.